On DVD: Preston Sturges Box Set
USA 1940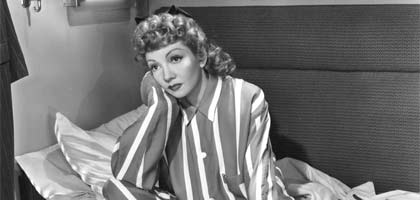 Reviewed by Brad Stevens
Review
Brad Stevens revisits the 1940s comic masterpieces Preston Sturges made at Paramount
The eight films Preston Sturges wrote and directed for Paramount between 1940 and 1943 represent one of American cinema's most remarkable bodies of work. The seemingly inexhaustible flow of comic invention is even more impressive given the director's latter output. The 15 years between Sturges' last Paramount feature and his death in 1959 saw him completing a mere four films, none of which is generally considered to be among his best - though Unfaithfully Yours (1948) is sublime, while The Diary of Major Thompson (1956) has its admirers.
Universal's DVD box set containing seven of the Paramount features (The Miracle of Morgan's Creek is curiously missing) is more than welcome, especially since only Sullivan's Travels has received a UK video release. Watching these films for the first time in several years, I was struck by how 'modern' they feel - Sturges' joyful contempt for America's various sacred cows (marriage, the military, _hero-worship, romance, sexual fidelity) anticipates attitudes usually associated with the 1960s. Indeed, his work often seems to belong to any historical period other than the one in which it was made. Sullivan's Travels, for instance, frequently evokes silent cinema: the seven-minute section in which Sullivan (Joel McCrea) visits a soup kitchen and sleeps in a shelter contains no dialogue, while a car chase features several Hal Roach staples (custard pies, a cop covered in mud, and so on). But rather than attempting to revive the spirit of slapstick, Sturges wistfully recalls a school of comedy existing only as memory. The visual humour appears, as it were, in quotation marks, and comes across as sweetly evocative rather than uproariously funny. By looking back, Sturges also looks forward to the modernist era. Indeed, Sullivan's namechecking of Capra, Lubitsch and Mae West is of the kind we associate with France's nouvelle vague, while the film's entire structure - in which a 'stalled' auteur realises that his experiences have helped clarify exactly what he should be making a film about - anticipates Fellini's 81/2 (both films are introduced by 'fantasy' sequences that end with someone falling into water from a great height).
The Lady Eve also acquires an unexpected resonance when seen from a modern perspective since it is essentially a comic variation on Alfred Hitchcock's Vertigo, made 17 years later. As the fact that Sturges was able to create a comedy from thematic material that would later provide the basis for one of Hollywood's greatest melodramas suggests, it is the sheer impurity of his work that accounts for much of its distinction: a film-maker who refused to respect America's ideals was hardly likely to honour genre barriers, which is why The Great McGinty initially appears to be a hardboiled noir, The Palm Beach Story begins with a scene that might have been the ending of another film, and the opening of Sullivan's Travels actually is the ending of another film (complete with a card reading 'The End').
The key Sturges work in this vein is The Great Moment, shot in 1942 and finally released, after being recut against Sturges' wishes, in 1944. Although Paramount attempted to turn this biopic, in which Joel McCrea plays the dentist who discovered anaesthetic, into a straightforward comedy, Sturges' intention - to make something both comedic and melodramatic - is still blatantly apparent (a transcript of the remarkable voiceover narration with which The Great Moment was supposed to begin can be found in Sturges on Sturges, published by Faber). Simultaneously the director's most problematic and most intriguing film, this rarely screened work is an important rediscovery.
On the whole Universal's DVDs look splendid, though some minor print damage eliminates a few seconds of footage 63 minutes 21 seconds into The Great Moment, and eight seconds of Barbara Stanwyck's phone conversation with Eugene Pallette 85 minutes 59 seconds into The Lady Eve is also missing. The films have been transferred full-screen at 4:3, but shots containing text (such as close-ups of newspaper headlines) are window-boxed, which can be distracting. The only extras are a fairly interesting commentary track by Terry Jones for Sullivan's Travels and trailers for each film except Hail the Conquering Hero. The trailers for The Lady Eve and The Palm Beach Story both contain specially shot footage showing, respectively, two women reading a book entitled The Lady Eve and William Demarest addressing the camera. The Great Moment's trailer begins with a shot of Sturges himself (somewhat ironic, given his lack of control over the final cut), and includes a brief moment of slapstick that is no longer in the film. The Lady Eve, Sullivan's Travels and Hail the Conquering Hero are also available separately.
Credits
The Great McGinty

Preston Sturges; US 1940; Certificate U; 78 minutes (MFB No.79)

Christmas in July

Preston Sturges; US 1940; Certificate U; 64 minutes (MFB No.85)

The Lady Eve

Preston Sturges; US 1941; Certificate U; 90 minutes (MFB. 89)

Sullivan's Travels

Preston Sturges; US 1941; Certificate PG; 87 minutes; Features: Terry Jones commentary, trailer (MFB No.98)

The Palm Beach Story

Preston Sturges; US 1942; Certificate U; 84 minutes; Features: trailer

The Great Moment

Preston Sturges; US 1942/1944; Certificate PG; 77 minutes; Features: trailer (MFB No.127)

Hail the Conquering Hero

Preston Sturges; US 1943; Certificate U; 96 minutes (MFB No. 132)