My father, the heroine
Film of the Month: Transamerica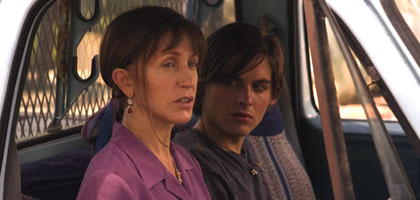 Linda Ruth Williams is delighted by Hollywood's latest attempt at queering the heartlands of conservative America: Duncan Tucker's beautiful and original trans-gender road movie
The title seems to say it all: a road movie in which a transsexual traverses the US continent. Yet this indie-spirited film is far from a high-concept off-the-peg folly. Instead, Transamerica affectionately delivers some familiar standards while twisting them with a new metrosexual spin. Pre-operative Bree (formerly Stanley) is about to complete gender realignment when she learns of the existence of her son Toby, who was conceived during a single night of heterosexual experimentation in Bree's college days. Without telling him who she really is, and urged by her counsellor to face up to the loose ends of her past, Bree bails Toby, a rent boy, out of a New York jail and the pair set off across America - initially to reunite the 17-year-old with his stepfather in Kentucky. How will the conservative southern states of America react to them, and what will they find in each other? Amazingly, a beautiful and original comedy has been crafted from this mix of old and new, which is orchestrated against a backdrop of standard straight roads and sublime sunsets, and played out to a musical soundtrack that moves from bluegrass to country to Tex-Mex as the states roll by.
Why, then, does transsexuality lend itself so well to the road-movie format? One answer might be that the genre is particularly well suited to indulging individualist self-discovery, a pioneerism of the mind as well as of the landscape. The 'new' territories discovered by Bree as she moves, like America's original white settlers, from east coast to west, are gendered and familial. The well-structured story is paced by the US map: first stop is the Kentucky home where Toby discovered his mother's body after her suicide and was sexually abused by his low-life stepfather. Next up it's a transsexual house party in Dallas ("come here - Felicia's showing us her new vagina!"). Then it's a night-time roadside pee on the Great Plains, when Toby discovers what's hidden in Bree's concealing underwear. Then onto New Mexico, and an encounter with a feckless hitchhiker (didn't Bree see Thelma and Louise?), before there's a glowing glimpse of possible post-operative happiness with a charming native-American cowboy. And all this is topped by an explosive visit to Bree's parents in Arizona, where much is revealed, confronted and reconciled.
The firm backbone of all this is Felicity Huffman's Golden Globe-winning and Oscar-nominated performance as Bree, whose expression is permanently poised somewhere between distaste, disgust and dismay. As Toby, Kevin Zegers is attractively dissolute but still something of a little boy, sexually amoral but in some ways more honourable than his parent. Fionnula Flanagan does a show-stopping turn as Bree's awful southern mother, all kitten-heeled mules and too much pancake. Indeed, the unholy trio resident in Bree's Phoenix family home - loud mother, unflappable father (Burt Young), barely on the wagon sister Sydney (Carrie Preston) - brilliantly underline the film's primary 'truth' that there is nothing normal under the hot US sun. But it is Huffman who has to keep most balls in the air (as it were) in order to accomplish the multifaceted charade that is Bree. As a father masquerading as a Christian missionary (from "the church of the potential father") come to rescue Toby at the beginning of the film, she can maintain her crisp attitude to moral guidance, and is perhaps the securest parent figure the boy has ever had. As man passing as woman (in "deep stealth") she pulls off a delicately orchestrated array of co-ordinated separates and matching scarves, facing the world with a worried look of demure determination. There are other motifs too that evocatively tell this story of 'passing' and failing: the voice-training video Bree studies (Find Your Female Voice); the opera record she slows with her finger, making the singer's voice descend from soprano to baritone; the little girl who asks her blankly, "Are you a boy or a girl?" Sydney says: "I can still see Stanley in you, but it's like you put yourself through a strainer and got rid of all the boy-pulp." And Huffman manages brilliantly to intimate that the pulp was once there. Spookily, even though we know she's a glamorous Hollywood star, she doesn't make a particularly convincing woman in Transamerica. Given the realism of the prosthetic penis incident, I'm sure that some viewers will assume Bree is played by a man. Perhaps trans-gender performance will become the next staple in Hollywood's 'uglying-up' vogue.
More worryingly, Transamerica presents a remarkably benign view of the sexual politics of the US interior. No one in this liberal version of America's 'red states' condemns Bree as harshly as she condemns herself. This may mean that conservative audiences take Transamerica to heart, armed with the knowledge that Bree's not really a he, but is instead that nice woman from Desperate Housewives. Perhaps Bree is just lucky in the folks she bumps into. Toby, of course, is streetwise enough to be supremely unfazed by proceedings: even the screamingly "gender-gifted" guests at the transsexual party in Dallas provoke the simple response "I thought they were nice". In contrast, Bree waxes on about "ersatz women". She says: "Ersatz means phoney. Something pretending to be something it's not." But it is Bree who is the most ersatz thing in the movie - not because she's a phoney female, but because she's a phoney missionary and a phoney friend. Toby finally has no problem with her gender realignment, only with her lack of openness ("you're not a freak; you're just a liar"). An Arizona policewoman is similarly accepting, barely batting an eyelid when told that Bree is Toby's father. Even Bree's 'ersatz' family quickly accept her: dad has no problem; Sydney wants to use Bree's deviance only "to freak mom out"; while mom herself (the least liberal character in the movie) manages to call her son Bree and finance a flight back to the operating theatre - and that barely 24 hours after first seeing him transformed into a woman.
Transamerica gets away with these slippages by being at times very funny, the humour serving to normalise the sheer sexual strangeness of everyone other than the delicately strained and brittlely asexual Bree. Her awful family are infused with a weird heat (there's a priceless exchange concerning whether the dog's docked tail stands up just like a "black and hairy" penis). Then there is Toby's speech proving that Lord of the Rings is a gay treatise, or Bree's justification of surgery via a Christian metaphor ("Jesus made me this way for a reason so that I could suffer and be reborn the way he was." To which Toby responds: "You're cutting your dick off for Jesus?").
Brilliant as director-writer Duncan Tucker's screenplay is, Transamerica is more a comedy of identities and misunderstandings than of language, a comedy exposing people divided by common assumptions concerning what proper men and women, or real mothers and fathers, are (or should be). Toby has kept one precious photo of his "real dad" (against which the present-day Bree is unrecognisable, unreal), spinning around it an image of Californian luxury and romantic native-American genes. Bree maintains a myth of Toby's down-home family upbringing which sustains her until the encounter with the child-molesting wicked stepfather. Strangers repeatedly refer to her as Toby's mother. She rejects the role; though, speaking to her counsellor over the phone, she does wail: "I really don't think I'm cut out to be a mother!" So in Transamerica people's views of each other are only partially accurate, though they may love each other despite the misunderstanding. Interweaving such competing images, Transamerica shows how necessary fantasy is as it shores up identities that are both tough and precarious.