NOZONE - Road to enlightenment
DVD review: The Magus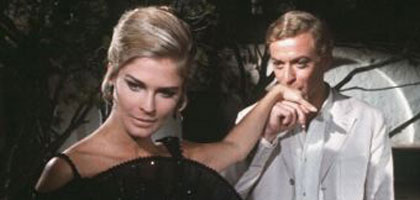 Tim Lucas finds a 1960s John Fowles adaptation to be pretentious, but no worse for that
Guy Green; UK 1968; 20th Century Fox Home Entertainment/Region 1; Aspect Ratio 2.35:1; Features: trailer, featurette
When his novel The Collector was chosen to be filmed by veteran director William Wyler, novelist John Fowles was not a happy camper. Though the resulting film is today considered a modest success, Fowles' recently published journal finds him immensely dissatisfied with the treatments, shooting script and female lead (Samantha Eggar), appraising the finished picture as "no better, and not much worse, than I expected." His grumpiness persisted through the film's 1965 premiere at the Cannes Film Festival, where he met star Terence Stamp's friend and former roommate Michael Caine, whom he subsequently diarised as "a Cockney boy made good... He can't act, but takes himself very seriously; hot for birds, for the dolce vita, for prestige. Very ugly, these new ultra-hard young princes of limelight." How pleased Fowles must have been, then, to win the right to adapt his bestselling sophomore novel The Magus for the screen, only to have Caine cast in the lead.
Entrusted to Guy Green - a gifted cinematographer (Great Expectations) and screenwriter - The Magus has become one of the few forgotten films of a decade so fecund with invention and brilliance that even its disasters (Casino Royale, Can Hieronymus Merkin Forget Mercy Humppe and Find True Happiness?) have spawned dedicated followers. Almost incidentally resurrected on DVD by 20th Century Fox as an ancillary release to another 1968 Caine feature (Bryan Forbes' Deadfall), The Magus is now available for reappraisal in its original 2.35:1 scope ratio for the first time in nearly 40 years. The brightly coloured anamorphic result is surprising, in that it's neither as bad as remembered nor as good as it had the potential to be. Though its tendencies to precious dialogue and pun-making symbolism (Caine's character is named Nicholas Urfe, being a modern-day Orphée) are a bit alienating, one is nevertheless grateful to be met by a film of some intelligence and pretension (not in a bad sense) to art, more interested in amplifying the viewer's mind with questions than in answering them. As one character declares emphatically, "Answers kill!" (Try pitching that idea today.)
Every inch the ultra-hard prince of the limelight, Caine plays the romantically shallow English teacher Urfe, who is eluding a love-affair turned too serious with air hostess Anna Karina. Accepting a teaching post in Phraxos, Greece, vacated by an instructor who committed suicide, Urfe finds a scrap of paper in the dead man's room bearing the words "The Waiting Room" - the first of many clues leading him to the palatial villa of the mercurial Conchis (Anthony Quinn), a possible psychic/psychiatrist/war criminal/revolutionary/film director who guides his narcissistic guest/victim through a maze of psychodramas towards a state of Zen-like enlightenment. The carrot used to bait our hero through this film-length series of time- and mind-bending hoops is Candice Bergen (not yet the warm-blooded actress of Carnal Knowledge), who may be an apparition, the personification of a Greek goddess, or someone far more down to earth. Fowles himself, uncredited, can be seen in the opening scene as a disgruntled shipworker.
Coldly acted, dispassionately directed, and filmed by cameraman Billy Williams (Women in Love) in a florid manner that hasn't aged well, The Magus nevertheless earns our interest as part of the great 'mind-fuck' movie tradition bookended by The Servant (1963) and The Stunt Man (1980), and as a not entirely phony Hollywood stab at the Art Film. Consciously or not, it may also have provided writer David Sherwin with a template of sorts for Lindsay Anderson's O Lucky Man! (1973), often compared to Candide but likewise about a narcissist replacing an absent but strongly felt predecessor on a mythic quest that leads through labyrinthine adventures towards the conclusive image of a cryptic smile.
Supposedly shot in Mallorca and Greece, the setting looks remarkably like the island of Capri, and The Magus shares with Godard's Capri-filmed Le Mépris (1963) a bronze statue of Odysseus which we encounter here like a beloved supporting player. It would have taken someone like Nicolas Roeg to make the most of this, but the version we have is more misfire than disaster - an amusing enough jigsaw puzzle, a few pieces short of a satisfying picture, whose pleasures are tied to process rather than placation.