Zodiac
USA 2007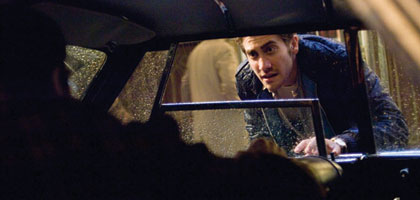 Reviewed by Graham Fuller
Synopsis
Our synopses give away the plot in full, including surprise twists.
California, 1969. Darlene Ferrin and her lover Mike Mageau are shot in Vallejo; Ferrin dies. Their assailant, 'the Zodiac', killed another couple in Benicia in 1968. He writes to Bay Area newspapers threatening more murders unless they publish his ciphers. Robert Graysmith, a cartoonist at the San Francisco Chronicle, works on the ciphers, earning the grudging respect of crime reporter Paul Avery. The Zodiac stabs Bryan Hartnell and Cecelia Shepherd at Lake Berryessa, Napa County; Shepherd dies. The Zodiac shoots cabdriver Paul Stine in Presidio Heights. San Francisco homicide inspectors David Toschi and Bill Armstrong work the case, liaising with detectives Jack Mulanax in Vallejo, Ken Narlow in Napa and others. A man claiming to be the Zodiac speaks by phone with celebrity lawyer Melvin Belli when he appears on a talkshow.
1970: near Modesto, Kathleen Johns accepts a lift from a man believed to be the Zodiac after her car breaks down; she and her infant daughter escape. On a blind date with Melanie (whom he marries offscreen), Graysmith awaits a call from Avery, who's following an anonymous tip in Riverside.
1971: Toschi, Armstrong and Mulanax interrogate suspect Arthur Leigh Allen. Handwriting expert Sherwood Morrill tells Toschi that Allen didn't write the Zodiac letters. Avery leaves the Chronicle. 1972: Toschi and Armstrong search Allen's trailer in Santa Rosa. 1976: Armstrong quits the homicide division. 1977: Graysmith visits Avery, who's stoned, and talks to Narlow, Mulanax, Mel Nicolai of the State Department, and Morrill. Toschi is demoted for allegedly forging a Zodiac letter. 1979: Graysmith interviews silent-film organist Bob Vaughn, who knew Zodiac suspect Rick Marshall. Melanie leaves Graysmith. He visits Linda, Darlene Ferrin's jailed sister, who tells him Darlene was frightened of a supposed killer called Lee. Graysmith believes it was Arthur Leigh Allen. Toschi says his evidence is circumstantial. 1983: Graysmith finds Allen at a Vallejo hardware store but doesn't confront him. 1991: Mageau identifies Allen from a police photograph. An end title reports that Allen died in 1992.
Review
David Fincher's sixth feature potently blends the dynamics of the newsroom drama with those of the police procedural. It was adapted from two books by Robert Graysmith, whose dogged research into five murders by 60s serial killer 'the Zodiac' revitalised official interest in the case while being discredited by other experts.
James Vanderbilt's dense screenplay seemingly provides Fincher with a protagonist after his own heart - a brilliant obsessive whose meticulousness leaves little room for the exploration of emotions. Yet Fincher's avowed disdain for his characters' motives can't mask their psychological make-up entirely. Jake Gyllenhaal's boyish Graysmith is a portrait in stuntedness, if not regression: he proudly admits to having been an "Eagle Scout, actually, first class", and corrals his children to work on the case with him; when wife Melanie hands him divorce papers, he gives her a vaguely worried look but doesn't protest. Although Graysmith says his quest is driven by a desire to stop the killings, this rationalises the addictive sleuthing that shields him from emotional involvement. It would be unwise to speculate that Zodiac suspect and convicted child molester Arthur Leigh Allen is Graysmith's alter ego, but the latter's readiness to enter the gothic vault owned by a creepy silent-film organist seems wilfully naive. The investigation that consumes him echoes the title of The Most Dangerous Game, the Richard Connell story about a human predator which may have inspired the Zodiac.
As games go, Zodiac - no less than Fincher's Se7en, The Game and Fight Club - is rigorously masculine, a double buddy movie that stretches over several years and underscores Graysmith's desperate need for fraternal approval, even as it folds and unfolds around the pivotal figure of Allen (the excellent John Carroll Lynch). The film's first act sets up the All the President's Men-style partnership of Graysmith and Paul Avery, a crime reporter on the San Francisco Chronicle, where Graysmith works as a cartoonist. The second act follows detectives David Toschi and Bill Armstrong, also investigating the killings; and the third depicts Graysmith's solo effort, in which he strives to recruit Toschi, haranguing him in the middle of the night.
The San Francisco Chronicle's newsroom is manned - literally, apart from a screaming secretary - by greying, balding men in shirtsleeves. Only Robert Downey Jr's posturing, beatnik-bearded Avery strikes a discordant note; it's amplified when he and Graysmith drink luridly blue cocktails at a bar, briefly sabotaging the crepuscular colour scheme. Toschi, Armstrong and the other cops and investigators reinforce the male enclave that is Zodiac's world, as Fincher steers the narrative through its accretions of forensic and bureaucratic detail; the real Toschi was the inspiration for 'Dirty' Harry Callahan, but Mark Ruffalo plays him like a less eccentric Columbo.
In keeping with Zodiac's all-male imperative, Fincher and Vanderbilt are commendably restrained in not exploiting the Dionysian countercultural excesses of the late 60s and early 70s, especially as the film centres on San Francisco and features the lawyer Melvin Belli, who negotiated the Rolling Stones' appearance at Altamont less than two months after taxi driver Paul Stine was murdered by the Zodiac. But, in this case, 'all male' is low on testosterone and devoid of heroics. Aside from moments of heightened mise en scène (achieved through tracking and crane shots, low angles and sporadic dabs of noirishness) and temporal condensing (a time-lapse sequence, a quick montage), the tone is pleasingly flat and mundane, evoking the demoralising grind of police work in a pre-feminist, pre-technological era. As such, Zodiac is considerably more adult than both Se7en, which salivates over the macabre cat-and-mouse game it plays with the audience, and the macho brinkmanship of Fight Club. In a film of scant action, Fincher reserves the menace for the killings front-loaded into the story: Darlene Ferrin and Mike Mageau are executed in a secluded parking lot within the first few minutes; as this chilling nocturnal scene closes, Fincher cranks up 'Hurdy Gurdy Man' on the soundtrack, only returning to the song at the end. As a concession to period detail, Donovan's TM anthem, inspired by his Himalayan jaunt with the Beatles, couldn't have been deployed more sardonically, though maybe Fincher is quoting its use in Michael Cuesta's L.I.E (2001), in which Brian Cox - Zodiac's Melvin Belli - played a paedophile.
Credits
Directed by

David Fincher

Produced by

Bradley J. Fischer
James Vanderbilt
Mike Medavoy
Arnold W. Messer
Ceán Chaffin

Screenplay

James Vanderbilt
This film is based upon Robert Graysmith's books Zodiac and Zodiac Unmasked, actual historical events and public records

Director of Photography

Harris Savides

Edited by

Angus Wall

Production Designer

Donald Graham Burt

Original Score/Piano Solos Performed by

David Shire