NOZONE - Inside room 12
DVD review: Breathless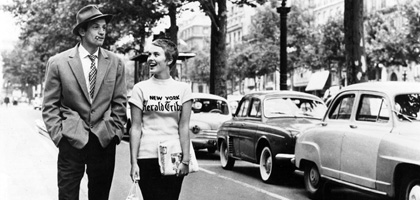 Tim Lucas on Breathless , the seminal new-wave film that broke all the rules of storytelling and form
Jean-Luc Godard; France 1959; Criterion/Region 1; Aspect Ratio 1.33:1; 90 minutes; Features: archival interviews with cast and crew, making-of documentary, new video interviews and essays by Mark Rappaport and Jonathan Rosenbaum, 'Charlotte et son Jules' (1959 short), French theatrical trailer, 80-page booklet
At one point early in Chambre 12, Hôtel de Suède (1993) - the 80-minute investigation into the making of Breathless (A bout de souffle) included on the second disc in this typically magnificent Criterion offering - host Claude Ventura works up the nerve to phone Jean-Luc Godard with some questions about the film, which was 33 years old at the time. Amazingly, the receptionist puts the unannounced caller right through, and Godard's response is as wonderful as it is predictable: "You must be dreaming," he says, dropping the receiver implacably. Regardless of how one feels about Breathless - whether one sees it as a trashy pastiche or as the moment when self-consciousness first dawned in the cinema - it is in many ways one of the movies' most compelling invitations to dreaming.
Rooted in a true story of the time about a smalltime hood who shot a policeman while driving a stolen car to visit his sick mother, Breathless opens with a dedication to Monogram Pictures (manufacturers of cheap American horror and noir movies of the 1940s) and proceeds to chronicle an eventfully plotless turn in the romance between a charismatic, Bogart-styled crook (Jean-Paul Belmondo) and a wholesome-looking, close-cropped American girl (Jean Seberg) who hawks the New York Herald Tribune on the Champs-Elysées. She brings out the best in him, but it proves his downfall that he brings out the worst in her. On-the-run Belmondo seems more than once a lighter shade of Robert De Niro's hellbound Johnny Boy in Mean Streets, but a still deeper impression is made by the warm yet unknowable, almost sculpturally bland beauty of Seberg. It is with her ambivalence particularly that the film continues to resonate - multiplied rather than dissipated in two haunting close-ups when her character breaks the fourth wall by turning from events around her to gaze into the abyss of us.
Generally considered the seminal moment of the nouvelle vague, Breathless is genuinely postmodern in that it breaks most traditional rules of storytelling, performance and even form, sprinting from one point to another by cutting into scenes to eliminate pauses and anything else non-essential from the largely improvised action. Shot on the fly by Raoul Coutard, who worked completely without artificial lighting, either holding the camera while standing or while being rolled about in a wheelchair for dolly shots, the film's night scenes were accomplished by splicing together lengths of ultra-sensitive 35mm still photograph stock. Criterion's restored high-definition master isn't (and shouldn't be) widescreen anamorphic, but it conveys a startling sense of depth in its subjective shots of Belmondo's drive though the French countryside and the climactic tracking shot of his final anguished trek down a Parisian side street, and it's possible to see the powder on Seberg's face in her close-ups. These are astonishing enhancements to a film that for the past 30-plus years has most commonly been seen in 16mm.
The first disc accompanies the feature with fascinating archival interviews of principal cast and crew from 1960s French television; the second includes the aforementioned Chambre 12, Hôtel de Suède, which takes its title from the cramped hotel room where much of Breathless was shot, and which was scheduled for demolition the week after Ventura used it as his centre of operations during his private-dick-like investigation into the making of the film. Ventura's nine-day odyssey is rewarded with encounters with Coutard, Claude Chabrol (who reveals that 'screenwriter' François Truffaut and he, the 'technical adviser', were merely beards for the autonomous Godard), Seberg's first husband, and an unexpected Belmondo (robust, white-haired, tanned, still radiant with the stardom Breathless brought him), as well as three hilarious brushes with Godard himself.