NOZONE - The imperfect alibi
DVD review: Alibi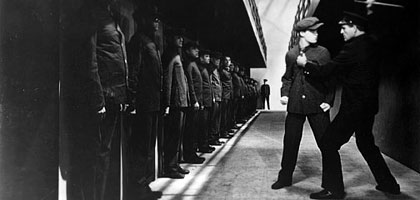 Tim Lucas watches while Roland West's 1929 Oscar-nominated jailbird drama goes gloriously over the top
Roland West; USA 1929; Kino on Video/Region 0; 83 minutes; Aspect Ratio 1.33:1
This early talkie, also shown in theatres as a silent and known in the UK as The Perfect Alibi, would seem to have everything going for it. It's an earlier teaming of the star (Chester Morris), producer-director (Roland West) and cameraman (Ray June) responsible for that wonderful barnstormer The Bat Whispers (1930); it's based on Nightstick, a successful play by the screenwriter of 1930's The Unholy Three (J.C. Nugent) and one of cinema's first women directors (Elaine S. Carrington, 1916's The Path of Happiness); its art direction is by none other than William Cameron Menzies (between his exemplary work on The Thief of Bagdad and the Doctor Strange-inspiring Chandu the Magician), and it received three 1930 Academy Award nominations - for best actor (Morris), best art direction and best picture. Kino's liner notes up the ante still higher, calling this, "America's first expressionist crime film" and "a stylish thriller that presaged the rise of film noir."
These remarkable descriptions are possibly true but, unfortunately, Alibi is not so perfect; it fails to conjure a story of sufficient substance or irony to warrant such impressive treatment. The plot is familiar to the point of seeming archetypal and the action, drowned in theatrical dialogue, brooding and 'dash it all' hand gestures, is little more than a woefully transparent foreground to Menzies' superbly imaginative backgrounds.
Chester Morris, who would later star in more than a dozen B-programmers as the crook-turned-good Boston Blackie, here plays Chick Williams, a former gangster who is released from prison after serving his sentence, seemingly reformed, only to resume his evil ways in the Prohibition-era underground. Upset that her police sergeant father (Purnell Pratt) and detective fiancé Tommy (Pat O'Malley) refuse to believe in Chick's rehabilitation, Joan Manning (Eleanore Griffith) pursues a patronising friendship with the ex-con and, soon enough, announces to her apoplectic pop that they have married. This early part of the film prepares the viewer for an engrossing inverted crime drama worthy of expressionistic treatment - a truly reformed criminal at odds with a corrupt police force determined to frame him or kill him - but Chick, of course, is exposed as the worst nightmare of the law enforcement set. Consequently, we're left with a melodrama whose overdressy self-importance lends class to an offensive 'once a jailbird, always a jailbird' philosophy - and not to any ironic purpose. Morris is the most naturalistic actor on view, and there are times when his devilish good looks anticipate the Ray Liotta of Goodfellas, but he too gets swallowed by the film's technique; once he's revealed as the baddie the coppers always knew him to be, he is treated to numerous satanic close-ups, glowering at the camera with such over-the-top intensity as to make us wonder if Bela Lugosi really wasn't, for his time, just plain folks. Eleanore Griffith, who later left acting to write the 1943 John Wayne western In Old Oklahoma, makes for a dreary heroine, watering down any sense of peril. But the cake is taken by young Regis Toomey (in his screen debut) as an undercover cop posing as a besotted Fitzgeraldian Wall Street broker, whose grating muggery culminates in an 'it's getting dark' death scene so protracted that it becomes unintentionally hilarious.
Kino's 1.33:1 presentation, licensed from the Douris Corporation, is acceptable but just barely. The missing main titles have been crudely reconstructed, and the primitive sound recording isn't helped by O'Malley's underplaying, nor by the ravages of time - some of the dialogue is impossible to decipher. In any case, this is a film better looked at than listened to, and students of expressionism and the craft of mise en scène should take note of it as worthwhile, if not essential, viewing. There are no extras, though the silent version would have been a good one, as it's likely to represent the contributions of those involved more favourably.