NOZONE: Prisoners of conscience
DVD Review: The Quare Fellow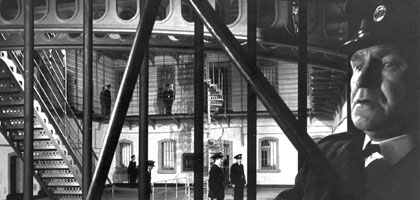 Tim Lucas on an unlikely screen adaptation of Brendan Behan's behind-bars drama 'The Quare Fellow'
The Quare Fellow

Arthur Dreifuss (as Arthur Dreyfuss); Ireland 1962; Kino on Video; Aspect Ratio 1.33:1; Features: 'Brendan Behan's Ireland' featurette (27-minute documentary by Norman Cohen), stills gallery
In 1942, Brendan Behan, a teenage Irish Republican who had already done three years in Borstal for being caught in possession of explosives with terrorist intent, was sentenced to nearly as many years as he had lived in Mountjoy Prison for attempted murder. More than the material drawn from his mischievous past, imprisonment made a writer of Behan; he wrote his first play behind bars, and after his early release in 1946, when amnesty for Republicans was declared, it was his fond memories of the way the inmates talked in Mountjoy that inspired his seriocomic play The Quare Fellow. In 1954, it played for six months straight at Dublin's Pike Theatre and was filmed at Ireland's Ardmore Studios four years later, when its author was still not yet 40. At 41, as famous for misadventurous drinking as for adventurous writing, Behan was dead.
For reasons one cannot begin to guess, the film version was entrusted to German-born writer-director Arthur Dreifuss, who began as a dance choreographer for George A. Hirliman Productions in America (the producers of Reefer Madness), continued as a producer of musical and mystery shorts at Columbia and smaller studios, became a director on Boston Blackie B-pictures and musical features, and concluded his career with a series of Hollywood LSD melodramas not far removed from the Reefer Madness mould (Riot on Sunset Strip, The Love-Ins, The Young Runaways). If anything can be said of his direction here it's that it doesn't stand in the way of his actors or the play he rewrote.
It's a loose and overly sober adaptation that is nonetheless worth seeing for Sylvia Syms, who plays Kathleen, the young, lonely and alcoholic wife of the title character, a man imprisoned for murdering his brother and scheduled for imminent hanging at Mountjoy Prison. While almost everyone else pitches their performance at an overly earnest, virtually sloganeering level, making the film as much an anti-capital-punishment pamphlet as an entertainment, Syms imbues her scenes with the sense of danger and wrenching human ambiguity the picture needs to function as compelling drama. We never see the face of her husband, 'the quare [queer] fellow', but to judge from the haunted palaver of his fellow inmates his 'quareness' may well be an aura of wronged innocence, which would run counter to the conniving, pipe-tapping ways of the place. (He's certainly not 'quare' in the gay sense, as is made clear by the arrival of a homosexual inmate played with surprising self-control by a young Aubrey Morris, later Mr Deltoid in A Clockwork Orange.) Syms plays opposite Patrick McGoohan as Thomas Crimmen, a fledgling warder at the gaol. In this early role, McGoohan has no use for the brittle swagger that is his usual ace in the hole.
As a character, Crimmen now recalls Edward Woodward's Sergeant Howie from The Wicker Man, the sort of man whose personal starch cries out for a uniform to wear, whose naive, black-and-white views on crime and punishment are the byproducts of a sheltered existence. But Crimmen's views are soon turned upside down by his first-hand observations of prison life (where his superiors, the warden and chief warder, admit to meeting as fellow prisoners during the Irish revolution) and a brief rooming-house involvement with the alternately seductive and volatile Kathleen. The sex lasts a single night and is filmed in accordance with McGoohan's well-known insistence on chastity (it's left for an impish cameo player to grab Syms' breast in a surprising scene for 1962), but it's long enough for Crimmen to commit to her. It's also long enough for her to admit culpability for the murder - as the mistress of her brother-in-law, who was slaughtered before her eyes by a husband driven temporarily mad with jealousy. Feeling that he has now wronged the condemned man in the same way, Crimmen joins with Kathleen to push for a stay of execution - though the hangman and his assistant have already arrived and are preparing for their job by liquoring up with the locals.
Shot on a very tight and obviously chilly prison set (you can see the actors' breath), the film builds to an unsettling moment of contact between Crimmen and the man he has wronged. The film isn't absolutely without Behan's irony and colloquial humour, but it is usually deployed too knowingly ("We never hang a man unless he's in the best of health," notes the chief warder), while the rest falls sparingly on the shoulders of an able supporting cast that includes such familiar faces as Hilton Edwards and T.P. McKenna.
Kino's presentation of this scarce film looks to be sourced from an aged master, letterboxed at 1.66:1 during the main titles, then zooming into a standard frame ratio. The mono sound had a tendency to halo the dialogue with hums from our subwoofer.