Pola X
France/Germany/Japan/Switzerland 1999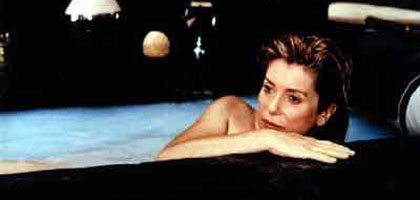 Reviewed by Gavin Smith
Synopsis
Our synopses give away the plot in full, including surprise twists.
France, the present. Wealthy young Pierre Valombreuse lives in Normandy with his mother Marie on the family's estate. He is the author of the best-selling novel In the Light. Pierre divides his time between visiting his fiancée Lucie and writing his second novel. When Lucie's brother Thibault returns after a long absence, he and Pierre have an uneasy encounter. Pierre becomes aware of a mysterious homeless woman who seems to be following him.
One night, he comes across the woman, Isabelle, wandering down a country road. Isabelle describes the atrocities she has witnessed in an unspecified Eastern European country and explains she is the illegitimate daughter of his late father, a celebrated diplomat, long kept a secret by Marie. Stunned, Pierre renounces his former life and leaves for Paris with Isabelle and her companions, refugee Razerka and her young daughter. But after the death of Razerka's daughter, he and Isabelle move in with a commune in a warehouse where he is left alone to concentrate on his writing. Marie dies in a motorcycle accident. Lucie finds Pierre, but gradually realises he and Isabelle are now lovers. Pierre finishes his manuscript but it is rejected by his publisher. At wit's end, Pierre steals a gun from the cult's leader, tracks down Thibault and kills him. As he is being led away by the police, Isabelle throws herself in front of an emergency vehicle and is killed.
Review
Whether one regards Pola X as a preposterous self-indulgent folly or as an improbable triumph of romantic audacity - in fact it's a bit of both - there's no denying Léos Carax's intense imagination and commitment. His act of hubris and commercial perversity in updating and transposing to contemporary France Herman Melville's critically savaged 1852 novel Pierre, or the Ambiguities may be freighted in more ways than one. As a not-so-distant scion of the Dupont dynasty, Carax himself hails from a background similar to Pierre's. Carax has indicated that the book has been an important one to him for many years and it's not such a great leap to discern some degree of over-identification with Melville's critical and commercial misfortunes. The film's very title, an acronym of the book's French title (Pierre, où les Ambiguitiés), foregrounds the act of adaptation, bringing us back to authorial will. On one level the film is an unmistakable if masochistic act of self-parody comparable to Melville's. Even without the comedy of Pierre's metamorphosis from graceful novelist of leisure into caricatured starving artist, there's little doubt the publisher's evaluation of his manuscript ("A raving morass that reeks of plagiarism,") is a just one. On another level, the film, in all its deranged grandeur, represents a defiant refusal to capitulate to the dictates of commerce after the failure of Les Amants du Pont-Neuf and nearly ten years in the wilderness.
At the same time, more than in any of his previous films, Carax invests the narrative with highly charged subtext. Pierre's relationships with his mother and Thibault are visibly fraught with intimations of prior or latent sexual interest. Pierre and Marie address one another as "brother" and "sister" and enjoy an unusual level of intimacy. Pierre's blonde cipher-fiancée Lucie and the dark waif Isabelle seem equally passive manifestations of Pierre's implicit psychosexual crisis. Lucie is little more than a projection of Pierre's own self-absorbed aristocratic entitlement, but as his cousin and a mirror image of his mother, she represents the next best thing to Marie herself.
Isabelle by contrast is a projection of Pierre's guilt and self-loathing, a return of the repressed in both personal and historical terms. As his half-sister, she represents an opportunity to succumb to his desire for an "unnatural" (incestuous) relationship. At the same time she is a reproachful spectre, an incarnation of the unspeakable suffering that has underwritten a century of European genocide in which his father and his class are implicated. This is made manifest in the film's stunning prologue montage: an image of the earth from space accompanied by a voiceover quotation from Hamlet ("The time is out of joint..."), smash-cuts to dropping bombs. From this Carax cuts to the paradise of the Valombreuse estate, making an explicit connection between Pierre's privilege and the horrors of 20th-century war.
Carax doesn't idealise Pierre or the world he falls from any more than the cold industrial urban hell he descends into. In fact, the film's most remarkable formal aspect is its bold use of visuals to balance the two realms. In one of the film's pivotal scenes, Isabelle's audaciously over-extended monologue explains her backstory as she and Pierre make their way through the woods at twilight. Carax tests legibility and exposition to breaking point in this scene, and its visual liminality becomes a metaphor for the contradictions in the director's uniquely self-defeating talent. His narrative and formal risk-taking are indistinguishable from failure.
Credits
Director

Léos Carax

Producer

Bruno Pesery

Screenplay

Léos Carax
Lauren Sedofsky
Jean-Pol Fargeau
Inspired by the novel Pierre; or, the Ambiguities by Herman Melville

Director of Photography

Éric Gautier

Editor

Nelly Quettier

Art Director

Laurent Allaire

Music

Scott Walker
©Arena Films/Pola Production/Théo Films/
France 2 Cinéma/
Pandora Filmproduktion/
Euro Space/Vega Film

Production Companies

Arena Films presents in association with Pola Production/Théo Films (Paris)/Pandora Filmproduktion (Cologne)/Euro Space (Tokyo)/Vega Film (Zurich)
With the participation of Canal+/La 7 - Arte/ARD-Degeto/Télévision Suisse Romande (TSR)
With the support of Eurimages/Filmstiftung Nordrhein-Westfalen/
Filmförderungsanstalt Berlin/Centre National de la Cinématographie/
Procirep/L'Office Fédéral de la Culture du Département Fédéral de l'Interieur (Berne)/
Amuse Video/Digital Media Lab/TV Tokyo/
Taiwa Inc/Dentsu (Japan)

Executive Producers

Albert Prévost
Raimond Goebel

WDR Commissioning Editor

Wolf-Dietrich Brücker

Associate Producers

Karl Baumgartner
Kenzo Horikoshi
Ruth Waldburger

Production Managers

Sylvie Barthet
Dschingis Bowakow

Unit Production Managers

Christophe Frossard
Odile Marcel
Germany:
Detlev Jansen
Marcelo Busse

Post-production Supervisor

Françoise Piraud

Assistant Directors

Gabriel Julien-Laferrière
Émile Louis
Mathilde Cukierman
Arnauld Mercadier
Richard Kravetz
Delphine Lemoine
Myriam Segall
Diane Stein-Bois
Germany:
Surk-Ki Schrade
Jürgen Jansen

Script Supervisor

Élie Poicard

Casting

Antoinette Boulat
Germany:
Eve Kirchner
Outcast

Steadicam Operators

Carlos Cabecerán
Patrick de Ranter

Special Digital Effects

Ex Machina (Paris)

Special Effects

Ex Machina (Paris)
Germany:
Flash Art

Set Decorators

Régine Constant
Germany:
Anique-Fatum Celikasian

Sculptors

Jean-François Grand
Anne Dollet
Laurent Garenne
Michel Tancelin

Wardrobe

Corinne Bruand
Camille Ballouhey
Germany:
Claudia Maria Braun
Elke Freitag

Make-up

Bernard Floch
Germany:
Esme Sciaroni
Kerstin Baar

Hairdressers

Stéphane Malheu

Music Supervisor

Negus-Fancey Co Ltd

Music Recordist/Mixer

Geoff Foster

Soundtrack

themes "Light", "Isabel" by Paris Philharmonic Orchestra, conducted by Jean-Claude Dubois, Christophe Guiot (1st violin); electronic theme "Pola X" by Ian Thomas, Ralph Salmins (tambours), John Giblin (bass guitar), Hugh Burns, Clem Clempson, Steve Donnelly, Jay Stapley (guitars), Brian Gascoigne (keyboards), Alasdair Malloy, Martin Owen, Julian Poole (percussion); other themes by Sean Andrews (rapper)

Sound

Jean-Louis Ughetto
Béatrice Wick
Jean-Pierre Laforce

Sound Re-recording

Vincent Montrobert
Frank Mettre

Co-sound Re-recordist

Stéphane Thiebault

Recorders

Carl Goetgheluck
Benjamin Viot

Dialogue Editor

Valérie Deloof

Sound Effects

Pascal Chauvin
Pascal Dedeye

ADR Recordists

Jean-Pierre Houel
Jean-Louis LeBras

Post-synchronization

Marion Lorthioir

Equestrian Adviser

Mario Luraschi

Armourer, Germany

GOS Filmservice

Animal Trainer

Pierre Cadéac
Fauna & Films Villemer
Cast
Guillaume Depardieu
Pierre Valombreuse

Katerina Golubeva

Isabelle

Catherine Deneuve

Marie

Delphine Chuillot

Lucie de Boisieux

Laurent Lucas

Thibault

Patachou

Marguerite

Petruta Catana

Razerka

Mihaela Silaghi

the little girl

Sharunas Bartas

the boss

Samuel Dupuy

Fred, houseboy

Mathias Mlekuz

TV presenter

Dine Souli

taxi driver

Miguel Yeco

Augusto

Khireddine Medjoubi

café owner's son

Mark Zak

Romanian friend

Anne Richter

chef's wife

Myriam Defremont

Michel B. Duperial
Pascal Parmentier
Jean-Jacques Colin
policemen

Bill 'Smog' Callahan

Mario Gremlich
Bobo
Kerstin Fischer
Tom Ivison
Tom Liwa
Thomas Klein
Peter Sarach
Fritz Wittek
Till Lindemann
Steve Donnelly
Christoph Schneider
Stefan Claudius
Stuart Grimshaw
Roland Höppner
Markus Kirschbaum
Axel Neumann
Martin Siry
Julia Zanke
Kersten Ginsberg
musicians

Mouloud Larabi

Blanche de Saint Phalle
Marie Thomas
Albert Prévost
Sandrine Fleischmann
Catherine Genièvre

Certificate

18

Distributor

Artificial Eye Film Company

12,087 feet

134 minutes 18 seconds

Dolby Surround/DTS

In Colour
Subtitles