The Damned United
UK/USA 2009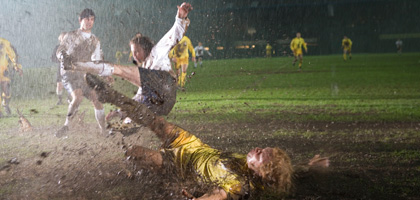 Reviewed by Mark Fisher
Synopsis
Our synopses give away the plot in full, including surprise twists.
Leeds, 1974. Leeds United are champions of the football league but their highly successful manager Don Revie has just left to take over the England team. He is unexpectedly replaced by young manager Brian Clough, who has been an outspoken critic of Leeds United's style of play.
In intermittent flashbacks, we learn about Clough's previous career. With his partner Peter Taylor, Clough took Derby County from the bottom of the second division to league champions, but was forced out of the club by chairman Sam Longson after a series of disputes. Clough and Taylor then moved to third-division team Brighton, where they were less successful. Taylor refuses to go to Leeds with Clough.
At Leeds, Clough predictably comes into conflict with the senior players. He vows that Leeds will play in a new style - more attractive and less brutal. But in the opening game of the season, the Charity Shield match at Wembley against FA Cup winners Liverpool, the Leeds captain Billy Bremner is sent off for violent conduct. When the league season starts, Leeds struggle, and manage only one win in their first five games. As discontent grows, the Leeds board calls a meeting with the players to discuss Clough's methods. Clough is sacked after only 44 days in charge. Clough drives to Brighton, where he is reconciled with Peter Taylor.
End titles reveal that Clough and Taylor went on to success with Nottingham Forest, winning the League Championship once and the European Cup twice.
Review
On the face of it, you wouldn't expect the team that has brought David Peace's extraordinary novel to the screen to have much affinity with the writer's febrile vision. Director Tom Hooper (drafted in after Stephen Frears left the project) has a background in fairly unremarkable television, while the schtick of screenwriter Peter Morgan and lead actor Michael Sheen - as established in The Queen and Frost/Nixon - doesn't have any obvious fit with Peace's fractured and abrasive modernism. Still, Peace is certainly capable of inspiring his adapters to raise their game: the directors of C4's astonishing adaptations of his Red Riding novels had little in their previous CVs to indicate that they would be capable of the expressionist naturalism they conjured for those films. Sadly, though, Peace's writing hasn't had anything like the same alchemical effect on Hooper, Morgan and Sheen, and they live down to expectations. They haven't adapted Peace; they have eliminated him. Hooper's film returns us to the real-life narrative - Brian Clough's bitter 44-day stint as manager of Leeds United in 1974 - that Peace used as the raw material for his 'fiction based on a fact'. What's missing is everything that Peace brought: the bite of a Real that will always elude (bourgeois) realism; and the shaping power of a gnostic mythography in which the most malign entity is the cursed land of Yorkshire itself.
It can be tiresome to criticise a film adaptation simply for the ways in which it differs from its source novel. In this case, however, a close comparison of the two versions of The Damned United is instructive, for two reasons. Firstly, because, in erasing Peace's signature, the film in effect competes with his rendition of the Clough/Leeds story; and secondly, because Peace's pulp modernism precisely offers British culture an escape from the kind of good-humoured, well-balanced, middle-of-the-road, middlebrow realism that Hooper and Morgan trade in.
At the press screening, Morgan said that when he read The Damned United it brought a nostalgia rush "like eating Farley's rusks". Yet surely even the most guileless reader of Peace's novel could see that it tastes not of the warm mush of baby food but of bile, Scotch and refluxed stomach acid. In Hooper and Morgan's hands, Clough's story is reduced to all the givens, all the off-the-shelf narrative and thematic pegs: he was a 'misunderstood genius', struggling against an establishment represented by puffed-up provincial patriarchs like Derby County chairman Sam Longson (well played by Jim Broadbent); he was self-destructive, and he needed his partner Peter Taylor (Timothy Spall) to curb his excesses; he was locked into an oedipal struggle with the man he replaced at Leeds, Don Revie. Even this is told more than it's shown, and throughout, the audience is treated as witless: dialogue is too often used for clumsy plot exposition or to crudely telegraph themes. Not only do Hooper and Morgan fail to evoke Peace's existential terrain, his blighted vision of Yorkshire, they also convey little of his intense sense of territoriality. In the novel, Leeds' Elland Road ground is the site of a struggle over space in which Clough is up against both the spectre of Don Revie and the animal aggression of the players Revie has left behind. (A striking image from the novel - of Clough chopping up and burning Revie's desk in an attempt to exorcise the absent father's ghost - inexplicably never made it to screen.) The intense fear that colours everything in Peace's novel is dissolved in a tone that is frequently jaunty.
Then there is Michael Sheen. The problem with Sheen's now well-established approach to historical characters is that it deprives the film's world of any autonomous reality - everything is indexed to a reality external to the film, judged only by how well it matches our already existing image of the character, whether that be Clough, Kenneth Williams, Tony Blair or David Frost. Certainly, Peace has an advantage over the film-makers here: written fiction can move beyond received television images of figures from recent history far more quickly than film can, but Sheen might have reached beyond physical appearances to grasp a truth of Clough not accessible via the TV footage. Instead, he offers his usual tracing of mannerisms and verbal tics, devoid of any of the signs of the tortured inner life that Peace gave to his Clough. Even if the acting were uniformly superb, it would have needed far more than Hooper provides in order to summon the dread and misery of Peace's world; but the indifferent photography and the often appalling soundtrack make Hooper's The Damned United feel more like a dramatisation of actual events than a film of Peace's novel.
Credits
Directed by

Tom Hooper

Produced by

Andy Harries

Screenplay

Peter Morgan

Based on the novel by

David Peace

Director of Photography

Ben Smithard

Editor

Melanie Oliver

Production Designer

Eve Stewart

Music by/Score Conducted by

Rob Lane