Ray
USA/UK 2004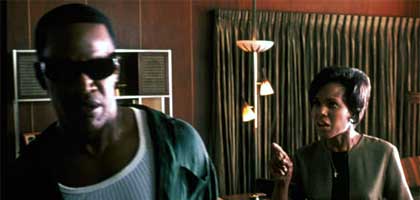 Reviewed by Sam Davies
Synopsis
Our synopses give away the plot in full, including surprise twists.
Florida, 1948. Seventeen-year-old Ray Charles Robinson (Jamie Foxx) boards a Greyhound bus to Seattle, where a job as a nightclub pianist awaits him. He soon discovers he is being taken advantage of and escapes through a contract with Jack Lauderdale's Swingtime Records, using the name Ray Charles. As a lonely touring musician, haunted by memories of his brother's tragic drowning, he turns to heroin.
Atlantic Records picks Charles up and label bosses Ahmet Ertegun (Curtis Armstrong) and Jerry Wexler (Richard Schiff) nurture him into America's _pre-eminent jazz and R&B musician. He meets and marries Della Bea (Kerry Washington), but though they start a family he continues to use heroin and seduces his co-vocalist Mary Ann Fisher (Aunjanue Ellis). Teenage vocal trio The Cookies are redubbed The Raelettes, and while on the road with Charles, their leader Margie Hendricks (Regina King) replaces Mary Ann in his affections. When rival label ABC/Paramount offers a deal Atlantic cannot match, Charles abandons Ertegun and Wexler.
Armed with unprecedented wealth and clout, he makes an abrupt musical departure, eschewing the raw mix of gospel, blues and R&B which has made his name for country music. The risk pays off with further commercial success, but when Charles refuses to play lucrative segregated shows in Georgia, his principled stand sees him banned from performing in the state. Caught in possession of heroin on a flight from Montreal to Boston, Charles faces federal charges and personal ruin. An emotional showdown with the long-suffering Della Bea leads Charles to undergo rehab and he emerges emotionally as well as physically rehabilitated, freed of the burden of guilt and grief over his brother's death.
Review
Ray clearly and self-consciously aligns itself with a Hollywood sub-genre of films chronicling the lives of black cultural icons, and like Angela Bassett as Tina Turner in What's Love Got to Do with It, or Will Smith in the lead role of Ali, Jamie Foxx is bound to receive Oscar consideration. Of course, playing a troubled genius ticks another box beloved of the Academy but, cynicism aside, Foxx's performance is superb in its naturalism and meticulous in its attention to detail. Charles' vocal and physical mannerisms are carefully observed and caricature is eschewed. Without a Charles of this quality, Ray would risk being an unexceptional, if dutiful, contribution to the genre.
Director Taylor Hackford (who filmed Chuck Berry's 60th birthday concert film Hail! Hail! Rock 'n' Roll! before making polished studio dramas such as Dolores Claiborne and The Devil's Advocate) lets the story tell itself, trusting Foxx to bring some charisma and drive to a very familiar format. James L. White's debut screenplay seems to embrace the clichés and broad strokes of biopic form: sound engineers exchange knowing smirks of congratulation as future number ones are laid down; headlines stud the film as historical shorthand; after Charles' move into country music, his manager marvels "You were right again, Ray - they did love it!" Adversity is conquered and the human spirit triumphs. The film's colouring is suitably bold, particularly in the saturated greenery and red earth of Charles' Georgia childhood. There's also a deliberate emphasis on atmosphere, conveyed through the chiaroscuro of natural lighting and smoke, in jazz clubs and hotel rooms.
The element that unsettles the film's otherwise slick and accomplished surface is Ray's memory of his brother's drowning, recalled in fragments whenever the hero is threatened by fear, loneliness or betrayal. Charles recoils as the suitcase he is packing is suddenly filled not with clothes but water and a child's arm; a corridor seems flooded and his reaching hands brush a still foot. These sequences have an economy missed by the bulk of the film, conveying the sensory uncertainty of blindness and the metaphoric seeping of Charles' haunted unconscious. By contrast Charles' heroin addiction is treated almost perfunctorily; in this sense, Ray supports Charles' assertion that it did not hamper his creativity or productivity but it produces a somewhat artificial crisis and resolution within the narrative arc, imposed presumably by the lack of incident in Charles' career after 1966. Interestingly, it does touch on the contractual specifics of Charles' success - interesting because his nous in negotiating favourable deals and claiming ownership of his own master tapes is part of an important narrative within black musical history, from the exploitations of Elvis' black songwriters to the canny franchising of today's rap moguls, who turn their musical identities into consumer brands of all descriptions.
Charles' music of course plays a major role, and Hackford and White seek to write it in as organically as possible. The furious argument that terminates the affair with Margie Hendricks occurs during a rehearsal of Hit the Road Jack and segues immediately into a vicious live performance. The music provides the most straightforward pleasure in an enjoyable and straightforward film, especially when heard through the full sound system of a cinema.
Credits
Director

Taylor Hackford

Producers

Taylor Hackford
Stuart Benjamin
Howard Baldwin
Karen Baldwin

Screenplay

James L. White

Story

Taylor Hackford
James L. White

Director of Photography

Pawel Edelman

Edited by

Paul Hirsch

Production Designer

Stephen Altman

Original Score Composed/ Arranged by/Choral Arrangements by

Craig Armstrong