Enemy of the State
USA 1998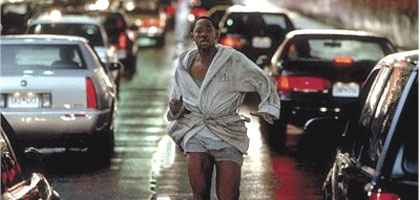 Reviewed by Kim Newman
Synopsis
Our synopses give away the plot in full, including surprise twists.
Washington, DC. National Security Agency man Reynolds has his right-hand man murder a congressman who was threatening to veto a bill that would grant the NSA increased powers. By chance, the murder is recorded on a video set up by environmentalist Daniel Zavitz. Reynolds has his team kill Zavitz, although Zavitz manages to plant the tape on Robert Dean, a lawyer whom he meets accidentally. (Dean is unaware he has the tape). Dean is involved in a case against mobster Pintero, whom he plans to incriminate with another tape supplied by Brill, a shadowy surveillance expert who deals with him through Dean's ex-girlfriend Rachel Banks. Reynolds puts Dean under extreme surveillance, has him fired, puts pressure on his marriage and incriminates him on several charges, including Rachel's murder. While fleeing, Dean makes contact with someone he thinks is Brill but who's really an NSA imposter. He's approached by the real Brill, an ex-NSA agent named Edward Lyle. Brill agrees to help Dean.
Dean discovers the video, which is then ruined in an explosion when Reynolds' men home in on Lyle's hideout. After the pair are seized, Dean dupes Reynolds by saying that Pintero has the video. He takes the NSA crew to the mobster's headquarters which he knows is being watched by the FBI. When Reynolds demands the video from Pintero, the gangster assumes he is after the evidence against him. In a shoot-out, Reynolds, Pintero and most of both gangs are wiped out. Dean's life is restored, and Lyle vanishes again.
Review
Surveillance has been the watchword of the paranoia thriller ever since Fritz Lang's The Thousand Eyes of Dr Mabuse (1960) introduced the much-imitated figure of the shadowy mastermind who sits before a bank of monitor, eavesdropping on everyone. The assumptions of the genre - that security agencies are entitled to violate everyone's freedoms in the name of democracy - were first seriously questioned in The Prisoner television series. This brand of conspiracy movie became a commonplace in the Watergate era, from The Anderson Tapes (1971) to Three Days of the Condor (1975), in which it was established that the evil government was spying on everyone. Enemy of the State is a definitive late-90s updating of this style of thriller, its plot serving as a demonstration for all manner of high-tech snooping equipment, from bugs sewn into trouser seams to geostationary satellites 150 miles up.
Crimson Tide (1995), the last Tony Scott-Jerry Bruckheimer-Gene Hackman epic before this, was a retooling of The Bedford Incident (1965) with an unimpeachably ethnic but apolitical hero pitted against an establishment psychopath whose personal misdemeanours did not reflect government policy. In this light, it's no surprise that Enemy of the State balances its scares with the get-out clause that its villain is an NSA rogue, explicitly condemned by his superiors. One of the things the crowded script has no time to establish is the extent to which Reynolds' crew know or care that their quarry is actually an innocent man.
As in Crimson Tide (and unlike, say, The Parallax View, 1974) any implied criticism of the system is mitigated by star power. In other words, the film doesn't say it's terrible that unaccountable men have been given power over ordinary people. Instead, it's only wrong to use all these gimmicks when the victim is someone as all-round decent as Will Smith, whose slightly self-satisfied screen persona is ideally suited to the role of a man slowly stripped of his life and identity. Given Smith's dressiness (he sneers when Hackman tries to get him into a Hawaiian shirt), a frisson is generated by divesting him of his classy threads and forcing him to continue his flight in underwear, later pulling on a decidedly proletarian hooded sweatshirt. The fact that all is put right so cleverly marks it out as a 90s movie. The 70s version would end with Smith's Dean shot dead by an anonymous sniper or reduced to living unnoticed on the streets, with Reynolds smiling smugly as the congressional bill granting him unlimited powers is passed.
Aside from Tony Scott's technically brilliant marshalling of the chase scenes, incorporating surveillance images and the comments of the voyeurs into the breathless action, the chief delight of the film is its clever casting. When Gabriel Byrne appears briefly as the fake Brill, the movie seems as if it will turn into a sequel to The End of Violence, where Byrne played a paranoid observer. But Gene Hackman's appearance as the real Brill/Lyle makes it a continuation of The Conversation (it even uses a still from The Conversation for Lyle's NSA file photo). His appearance feels like the cameo Kevin McCarthy made in the remake of Invasion of the Body Snatchers (1978) or the guest spots found for original cast members in big-budget remakes of cult television shows. He provides a welcome physical link to what went before but is also shuttled off to one side so Smith can carry the whole thing in an uncomplex 90s way.
Hackman's presence resonates with that of Jon Voight and Jason Robards (also early 70s faces), but the cleverest stroke comes in the casting of Reynolds' team, who are played by Generation X faces, mostly familiar from indie films (Ian Hart, Loren Dean, Barry Pepper and so on) with second-generation hard men (Jake Busey, Scott Caan) as the thick-headed muscle. The gossipy callousness of the crew - they steal Dean's prized blender and use it to whip up fruit drinks while watching Dean run from pillar to post - makes them more amusingly hateful than the assassins who populated 70s movies. It also adds an interesting level of generational conflict between those, like Hackman and Smith, who have earned their expertise and those who have simply been raised on computer games and turned loose on the real world.
Credits
Producer

Jerry Bruckheimer

Screenplay

David Marconi

Director of Photography

Dan Mindel

Editor

Chris Lebenzon

Production Designer

Benjamin Fernandez

Music

Trevor Rabin
Harry Gregson-Williams

©Touchstone Pictures and Jerry Bruckheimer, Inc

Production Companies

Touchstone Pictures presents a Don Simpson/Jerry Bruckheimer production in association with Scott Free Productions

Executive Producers

Chad Oman
James W. Skotchdopole
Andrew Z. Davis

Associate Producer

Pat Sandston

Production Co-ordinator

Holly Hagy

Unit Production Manager

Eric McLeod

Location Managers

Janice Polley
Washington DC:
Carol Flaisher

Post-production Co-ordinator

Kristin Parker

Assistant Directors

Artist Robinson
Frederic Roth
Deanna L. Stadler
Charles Simmers

Script Supervisor

Julie Pitkanen

Script Co-ordinator

Karin Anderson

Casting

Victoria Thomas
Baltimore:
Pat Moran
LA, Associate:
Kim Coleman
LA, Additional:
Aisha Coley
Voice:
Barbara Harris

Director of Aerial Photography

David B. Nowell

Camera Operators

Martin Schaer
P. Scott Sakamoto
Paul Edwards

Visual Effects Supervisor

James E. Price

Special Visual Effects

Mill Film Ltd (London)
Executive Producer:
Robin Shenfield
Digital Effects Supervisor/Lead Compositor:
Tim Burke
Visual Effects Producer:
Robin Griffin
Digital Effects Producer:
Emma Norton
Visual Effects Co-ordinator:
Diana Stulic
Lead CGI Artists:
Ben White
Tim Zaccheo
CGI Artists:
Kevin Modeste
Chris Shaw
Digital Compositor:
Hani Alyousif
Visual Effects Editor:
John Seymour

Visual Effects Director of Photography:
John Mathieson
Motion Control Cameraman:
Malcolm Wooldridge

Digital Visual Effects

Digiscope
Executive Producer:
Mary Stuart-Welch
Digital Effects Supervisor:
Dion Hatch
Digital Effects Producer:
Laurel Lyn Schulman
Lead Digital Artist:
Todd Mesher
Digital Artists:
Grady Cofer
Naomi Sato
Lawrence Carroll
Brennan Prevatt
Rob Blue
Marty Taylor
Mechanic Effects
Co-ordinator:
Mike Meinardus
Set Foreman:
David Fletcher
Powder Foreman:
Anthony Simonaitis
Foreman:
Robert S. Henderson
Technicians:
Morgan Guynes
Chris Brenczewski
Pat Huggins
Steven B. Wolke

Structural Effects Implosion

Controlled Demolition Incorporated

Miniatures

Asylum Models & Effects Ltd

Graphic Designer

Jason Sweers

Digital Graphics Supervisor

Chris B. Holt

Research/Video Co-ordinator

Vanessa Kirby Bendetti

Computer Graphics

Blackbox Digital Inc

Associate Editors

Joel Negrõn
David Dresher

Art Directors

James J. Murakami
Jennifer A. Davis
Donald B. Woodruff

Set Designers

Lead:
Peter J. Kelly
Baltimore:
Andrew Menzies

Set Decorator

Garrett Lewis

Costume Designer

Marlene Stewart

Costume Supervisor

Christopher B. Lawrence

Key Make-up Artist

Ellen Wong

Make-up Artists

Francisco X. Perez

Make-up Effects

Kevin Yagher Productions, Inc

Hairstylists

Danny Valencia

Main Title Design

Garson Yu
uY + Co

Titles

Title House

Opticals

Pacific Title/Mirage

Optical Supervisor

Ladd Lanford

Additional Music

Tim Heintz

Orchestra Conductor

Gordon Goodwin


Orchestrations

Bruce Fowler
Gordon Goodwin

Executive in Charge of Music for Buena Vista Motion Pictures Group

Kathy Nelson

Score Co-ordinator

Paul Linford

Music Editor

Bob Badami

Music Programmers

Paul Linford
Steve Jablonski

Score Recordist/Mixer

Steve Kempster

Additional Music Recorder

Rick Norman

Soundtrack

"O Come All Ye Faithful" by Margaret Dorn, Linda Lawley, Danny Pelfrey, performed by The Accidentals; "Good King Wenceslas" arranged by Dick Walter; "Trigger Hippie" by Paul Godfrey, Ross Godfrey, Skye Edwards, performed by Morcheeba; "Hark the Herald Angels Sing", "The Twelve Days of Christmas" arranged by Richard Harvey; "Guilty" by Lennox Brown; "Rockin' Around the Christmas Tree" by Johnny Marks, performed by Jive Bunny

Sound Design

Christopher Boyes
Shannon Mills
Tom Myers

Sound Mixer

Bill Kaplan

Stage Engineers

John Banuelos
Mike Kaufman

Field Recording

John Fasal

Re-recording Sound Mixers

Kevin O'Connell
Greg P. Russell

Re-recordists

Dan Sharp
Grant Schmitz

Supervising Sound Editor

George Watters II

Sound Editors

F. Hudson Miller
R.J. Palmer
Suhail Kafity
Gary Wright
Adam Kopald
Ed Callahan
David Arnold

Supervising Dialogue Editor

Teri E. Dorman

Dialogue Editors

Gloria D'Alessandro
Kimberly Lambert

ADR

Recordist:
Rick Canelli
Mixer:
Thomas J. O'Connell
Supervising Editor:
Fred Stafford
Editors:
Nick Korda
Andrea Horta

Foley

Artists:
Dan O'Connell
John Cucci
Recordist:
Linda Lew
Mixer:
James Ashwill
Supervising Editor:
Pamela Bentkowski
Editors:
James Likowski
Christine Danelski
Fred Burke
Valerie Davidson

Location Consultant

Marshall Vernet

Technical Advisers

Larry Cox
Harry Humphries
Martin Kaiser
Anthony Pellicano
Steve Uhrig
Chase Brandon

Technical Consultant

Don Ferrarone

Stunt Co-ordinator

Charles Picerni Jr

Animal Wranglers

Studio Animal Services

Aerial Co-ordinator/Helicopter Pilot

Alan Purwin

Helicopter Pilots

Dirk Vahle
Rick Shuster

Cast

Will Smith

Robert Clayton Dean, 'Bobby'

Gene Hackman

Edward Lyle, 'Brill'

Jon Voight

Thomas Brian Reynolds

Regina King

Carla Dean

Loren Dean

Agent Hicks

Jake Busey

Krug

Barry Pepper

Agent David Pratt

Jason Lee

Daniel Leon Zavitz

Gabriel Byrne

NSA agent, 'Brill'

Jack Black

Fiedler

Jamie Kennedy

Jamie

Scott Caan

Jones

Lisa Bonet

Rachel Banks

Stuart Wilson

Congressman Sam Albert

Laura Cayouette

Christa Hawkins

Ian Hart

NSA Agent Bingham

James Le Gros

Jerry Miller

Dan Butler

Shaffer

Bodhi Pine Elfman

Van

Jacob Chambers

Davis

Alexandra Balahoutis

Martha

Anna Gunn

Emily Reynolds

Jascha Washington

Eric Dean

Rebecca Silva

Marie, the Clayton's nanny

Bobby Borriello

Dylan, Eric's friend

Carl Mergenthaler

Mike, law firm

Mattias Kraemer

gas station cashier

Lillo Brancato

young worker

John Capodice

older worker 1

Vic Manni

Vic, old mobster

T.R. Richards

cook

Ivana Milavich

Ruby's sales clerk

Patsy Grady Abrams

accident bystander

Beatriz Mayoral

Reynolds' nanny

Kasey Lynn Quinn

Reynolds' daughter

Elizabeth Berman

Ruthie

Donna Scott

Jenny

Allison Sie

hotel desk clerk

Mike Andolini

Sal

Arthur Nascarella

Frankie

Grant Heslov

Lenny

John Cenatiempo

young mobster 1

Joyce Flick Wendl

waitress

Frank Medrano

bartender

Dennis S. Fahey

cop with ambulance

Albert Wong

Mr Wu

Christopher B. Lawrence

paramedic

John Haynes Walker

Joe Patrick Kelly
firemen

Lennox Brown

tunnel maintenance worker

Martin Bosworth

bike messenger

Nancy Yee

Mrs Wu

Troy Anthony Cephers

ANA hotel security

Carlos Gomez

Robert Gersicoff
Arnie Alpert
FBI agents

Greg Collins

FBI supervisor

Doug Roberts

hijacked car driver

Larry King

himself

Warren Olney

Penny Griego
TV anchors

Rhonda Overby

field reporter 1

Eric Keung

David Han
Mambo Kitchen workers

Mandy Kriss

Noel Werking
Sam De Crispino
reporters

Wayne A. Larrivey

doorman

Mandy Kriss

Lillie Shaw Hamer
Brenna McDonough
field reporters

Callison Slater

Colin Brodie
children

Daniel Cano

hallway lawyer

Joy Ehrlich

mom in diner

Eric Olson

Thomas Troy
Adam Karkowsky
aides

Steve Uhrig

electronic store employee

Robyn Killian

Laura Eizenia aka Johnson
Angelica Pamintuan
Vené Arcoraci
Charlie Curtis
models

Raichle Watt

Becky

Michael J. Walker

union official

Jackilynn Ward

Pintero's sister

Jason Welch

Joshua Ward
Pintero kids

Pete Sutton

cop at Dean house

Thomas M. Quinn

tunnel technician

Robert O'Rourke

John Allendorfer
Henry Sandler
FBI observers

Chris Holt

himself
[uncredited]

Jason Robards

Rep. Philip Hamersly

Seth Green

Seth

Philip Baker Hall

Brian Silverberg

Brian Markinson

Mark Blake

Tom Sizemore

Pintero

Betsy Brantley

FBI agent 1

Paul Herman

Paulie, young mobster 2

Certificate

15

Distributor

Buena Vista International (UK)

11,881 feet

132 minutes

Dolby digital/SDDS/Digital DTS sound

In Colour
Prints by
Technicolor

Anamorphic [Panavision]