Pas sur la Bouche
France/Switzerland 2003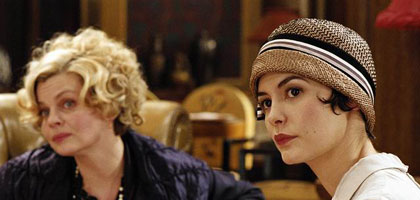 Reviewed by Ginette Vincendeau
Synopsis
Our synopses give away the plot in full, including surprise twists.
Paris 1925. The dialogue in this film is part sung, part spoken. Gilberte Valandray, a smart Parisian society lady happily married to industrialist Georges Valandray (Sabine Azéma), entertains several suitors, including Charley (Jalil Lespert), a young 'modern' artist - though she loves her husband, as she confesses to her sister Arlette (Isabelle Nanty).
Meanwhile young Huguette Verberie (Audrey Tautou) is in love with Charley and wishes to marry him, but he only has eyes for Gilberte. The arrival of American businessman Eric Thomson (Lambert Wilson) disturbs this cosy arrangement as he was Gilberte's first husband, unbeknown to her present husband who firmly believes in the importance of being his wife's first lover (this earlier marriage, having taken place in the US, was not legally valid in France, hence the deception).
Charley puts on a show in the Valandray home, in which all the main characters participate and the various relationships become further entwined. All is about to be revealed and Gilberte's reputation ruined as the six main characters end up meeting in the same apartment, spied on by the concierge Madame Foin. The situation however is happily resolved: Gilberte and Georges stay blissfully married, Huguette seduces Charley and Eric Thomson sweeps Arlette off her feet.
Review
That the director of modernist masterpieces Hiroshima mon amour (1959) and L'Année dernière à Marienbad (1961) could make such a light and frothy concoction as Pas sur la Bouche could only surprise those unfamiliar with both Alain Resnais' more recent films - such as I Want to Go Home (1989) and On connaît la chanson (1997) - and his longstanding love of popular culture. Pas sur la Bouche is based on an operetta by André Barde, with music by Maurice Yvain, one of the masters of the genre in the 1920s and 1930s. Depending on one's attitude to this type of theatrical entertainment, the film will delight or exasperate (it delighted French audiences when it came out in late 2003, just as the original operetta Pas sur la Bouche! had been a triumph in 1925).
But there is no doubting Resnais' real and direct engagement with the form. His is not the posture of the high-art auteur bending down to, or 'reworking', a popular genre (à la Lars von Trier with Dancer in the Dark). With Mélo in 1986 Resnais had paid tribute to the 'serious' boulevard theatre of the 1920s and 1930s; here he offers homage to the comically frivolous productions of the period. The film follows the original operetta's three-act structure, and Resnais has hardly changed anything to the plot, in which the arrival of American businessman Eric Thomson temporarily threatens the bourgeois world of Gilberte and Georges Valandray, as he had been Gilberte's first husband - a marriage she kept secret because of Georges' obsession with being 'first'. Misunderstandings and double-entendres abound, as two other couples are involved, but all is resolved in the classic farce location: the gentleman's love-nest, where all characters are reconciled, after much banging of doors.
Pas sur la Bouche delivers the unadulterated pleasures of operetta in its post-World War I 'light Parisian' musical comedy incarnation: the familiar characters trapped in improbable yet inexorable imbroglios (naturally based on adultery); the music and the songs; the witty dialogue and innuendo: the art-deco settings and costumes, stylised yet darkly sumptuous in Renato Berta's photography.
But while he respects the operetta form in both style and letter, Resnais shows that part of the attraction is also its distanced nature - the modernist director has not entirely disappeared. This is true of a number of overt devices, such as the shot of empty chairs in the middle act, the direct appeals to the spectator and the way characters disappear at the end of scenes, spirited away by a trick of the camera - a neat cinematic transposition of the theatrical exit, as well as a wink to early cinema. The attraction is also, in a more profound sense, to be found in the genre's own intrinsic type of distanciation. As Roland Barthes once commented, the 19th-century vaudeville farces of Labiche and Feydeau were already 'modernist' in their knowing display and replay of their own narrative codes. Barde and Yvain's operetta took on this mantle with gusto, as does Resnais' film.
Part of the genre's knowingness and sophistication lies also in its discourse on gender. The French filmed operetta and filmed theatre of the 1930s already provided a surprisingly more advanced and certainly more explicit discourse on gender than the serious realist films, in particular those of poetic realism, in which patriarchal domination was naturalised. In theatrical comedies (musical or not), the oppressiveness of gender relations - the marriage imperative, the gender (im)balance of power, the double standards of adultery - rather than being hidden are the actual topic.
Pas sur la Bouche in this respect pivots around a song in which the husband crows about his need to be, and satisfaction at being, 'first', using surprisingly explicit images such as stamping his presence on his wife forever, like a metal imprint. The fact that he was not actually her first lover (and that he will not find out) makes him the traditional cuckold of vaudeville farce. At the same time the crudity of the metaphor, only partly hidden by the humour of the song, speaks volumes about masculinity. Virginity in women is no longer fetishised in western culture, but male fantasies of domination have not disappeared; in this way Resnais' film is modern under its archaic veneer.
Like the theatrical masters of the 1930s, such as Yves Mirande, Sacha Guitry and Marcel Pagnol, Resnais uses his faithful troupe of actors, notably Sabine Azéma, Pierre Arditi and Lambert Wilson, with new additions such as Audrey Tautou and Isabelle Nanty (both from Amélie), Daniel Prévost (Le Dîner de cons) and Jalil Lespert (in a startlingly different register from his part in Ressources humaines). Resnais' challenging decision was to make all the actors sing their own songs, with admittedly uneven results. Nevertheless, all clearly relish playing their parts and communicate a delightful exuberance as befits the genre. Singers and musical arrangements also reproduce Yvain's musical sophistication. The closing song, in typical self-reflexive fashion, comments that this was light comedy but that the authors hope spectators were entertained. This reviewer certainly was.
Credits
Director

Alain Resnais

Producer

Bruno Pesery

Director of Photography

Renato Berta

Editor

Hervé de Luze

Art Director

Jacques Saulnier

Music

Based on the operetta 'Pas sur la bouche!' by
André Barde
Maurice Yvain