Vertigo-inducing: Corridor of Mirrors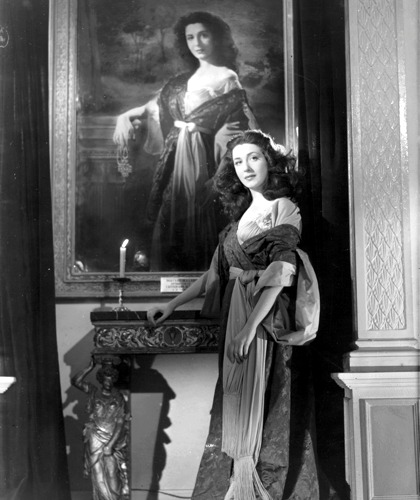 Edana Romney as society girl Mifanwy Conway – and a Borgia muse
Kim Newman reviews a familiar-yet-weird rococo makeover romance – the directorial debut of future James Bond director Terence Young
---
Web exclusive, 26 April 2011
---
In the immediate post-war years, it seemed as if austerity and rationing applied also to the imagination, as that singular, mystic, peculiar region of British cinema which critic Julian Petley calls "the Lost Continent" was submerged by the drab, the mundane and the matter-of-fact.
And yet the strain is stubborn. Ealing's Dead of Night (1945) prompted a cycle of ghost stories, as informed by grief and wistfulness as horror. Gainsborough's bodice-ripping period romances cut a dash in a manner which would mutate into Hammer horror. Michael Powell and Robert Hamer found the fantastical in English landscapes and streets, David Lean hit on Dickens, melodramas were build around psychoanalysis, and extraordinary one-offs like Pandora and the Flying Dutchman (1951) were greeted with head-scratching befuddlement by critics unprepared for this sort of thing, who responded mostly with variations on "we don't understand it and wouldn't like it if we did."
Even in this context, Corridor of Mirrors (1948), Terence Young's first feature, is a strange beast. Taken from a novel by Christopher Massie, source author for the Jennifer Jones vehicle Love Letters (1945), it's scripted by producer Rudolph Cartier – later prominent in television as producer and, though no-one had quite worked out how to credit him as such, director of Nigel Kneale's Quatermass serials (1953) and Nineteen Eighty-four (1954) – and star Edana Romney, who gets a special 'and introducing' credit but did not establish herself as a leading lady and essentially disappeared.
Young proceeded to sensible British war and adventure films (Valley of Eagles (1951), The Red Beret (1953)), crafted the James Bond franchise (with Dr No (1962), From Russia With Love (1963) and Thunderball (1965)) and made international films of variable quality (Wait Until Dark (1967), Red Sun (1971), The Klansman (1974), Inchon (1981)). He never again made anything quite as odd as Corridor of Mirrors, but – frankly – few British directors did. With Romney's creative participation, there's a distinct whiff of the vanity production about it, which adds even more to the strangeness. What patron gave her this chance?
We begin in Wales with narrator Mifanwy Rhys (Romney) surrounded by happy, nagging children and a bluff, devoted husband (Hugh Sinclair). She makes a trip to London to keep a mysterious appointment in the Chamber of Horrors of Madame Tussaud's, where she admits she is meeting her lover. But this isn't some Brief Encounter tale of a straying wife. The lover turns out to be one of the wax murderers, prompting a segue into flashback (as tourist Thora Hird reads out the gory details of famous crimes from the guide-book) as the statue fades into Paul Mangin (Eric Portman) as he first sets eyes on the young Mifanwy Conway and a smart set (including early bits from Lois Maxwell, later a Bond mainstay, and Christopher Lee) and begins working up an obsession.
Mangin is a lifestyle fantasist who drives about 1930s London in a hansom cab dressed as an Edwardian rake, then retreats further into history and an identification with Cesare Borgia that extends to roping in Mifanwy as Cesare's doomed love interest (the lady he reputedly strangled with her own hair). In a manner which prefigures the make-over fetish of Vertigo (1958) but also the search-for-the-reincarnation-of-the-lost-love bit commonplace in mummy and vampire movies, Paul draws Mifanwy into his palazzo and his obsession, seducing her with the possibility that she really is his renaissance princess reborn and directing her to play the part of his ideal fantasy woman (no wonder so many movie directors love this plot).
We know from the frame story it's going to end up with Paul on the gallows, but there are feints about who's going to be the victim if Mifanwy's alive, whether or not the fatal man is really guilty, and who sent that letter summoning the heroine to find out how the story ends. Portman, a few years after his Glue-Man turn in A Canterbury Tale (1945), is a mesmerising obsessive, spending much of the film dressed and fringe-bearded as a Borgia, leading man rather than a movie monster. That year, Ronald Colman took a not dissimilar role in A Double Life and won an Academy Award; Portman, for my money, does better.
Overheated, of course, with rickety plot turns, fashionable-for-1948 reams of psychoanalytic twaddle and a performance from Romney which see-saws (aptly) between simpering and smouldering, Corridor of Mirrors is a difficult film to evaluate. It embraces its ridiculousness completely and draws power from owning up to just how insane it is. It has smart talk, good supporting turns (Barbara Mullen, later Dr Finlay's housekeeper, is a very different servant here), a Xanadu-like bad taste antiques sanctum and the trappings of the Chamber of Horrors to recommend it.
The title evokes an image from Citizen Kane, but is literalised in Mangin's home, which contains a corridor where mirrors are also the fronts of cabinets containing disturbingly corpse-like wax statues of Borgia women – adding a little Bluebeard into the mix as the heroine opens one after another to find versions of herself staring back. Long hard to see, this is an astonishing rediscovery.
'Corridor of Mirrors' screens on 27 April 2011 in the BFI Southbank's Projecting the Archive strand
See also
Under the influence: Robin Buss on Hitchcock's influence on French suspense films (May 2006)
Impulse: David Thomson judges the films of Otto Preminger (May 2005)
Nul Britannia: Nick James investigates British films' poor showing in the Sight & Sound Greatest Films of All Time poll (September 2002)
Bride of Chucky reviewed by Linda Ruth Williams (July 1999)