Polytechnic: early British video art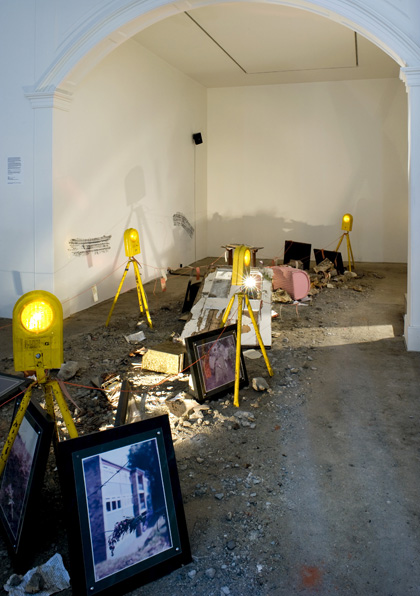 Roberta Graham's Campo Santo
Colin Perry takes a trip back in time to Britain's intimist 1980s
---
Raven Row, London, UK
9 Sept–7 Nov 2010
---
Unlike the USA, we've never really had a famous canon of early video artists in Britain. But, of course, that doesn't mean we've not had great artists using the medium. Far from it, as this exhibition of vital, acerbic and unsettling British video art from the late 1970s and early 1980s reveals. Largely to blame for this obscurity was a dire lack of support from London's commercial gallery network in those salad years. Abandoned by the big money, many of these artists have sat out a comfortable but quiet living as tutors in universities and former polytechnics (as hinted at by the exhibition's title).
Compared with video art from the 1990s – all giant installations and whizz-bang technology – this body of work is surprisingly intimate. The early Thatcher years were a time of mass unemployment, race riots, and the erosion of socialist ideals.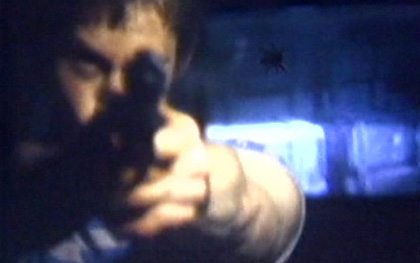 Yet a sort of personable humour is here in abundance. One of the best examples is John Adams's Sensible Shoes (1983). It's a love story as told by an amnesiac spectator. On the soundtrack, we hear a woman ad-libbing a narrative based on sequences of trashy daytime television, cop shows, and adverts for such wonderfully demodé brands as Interflora and Quantro. Our narrator is continuously distracted, and shuns the real world, as if entranced by the gloss and glamour of television itself.
A majority of the videos attempt to make sense of television's less savoury qualities. Catherine Elwes' Kensington Gore (1981) features a close-up of a man's neck being slathered with theatrical make-up – representing a deep crimson cutlass wound – while a female narrator describes a real accident that took place whilst filming an historical drama for television. For the narrator, the near-fatal accident unfolded like a scene from the drama, and fiction blurs alarmingly with fact.
Stuart Marshall, one of the best artists of this period, is represented here with The Love Show (parts 1-3) (1980), an analytical take on the mechanisms that television uses to communicate narratives of desire. A more open-ended and television-friendly approach is evident in Graham Young's mesmeric series of shorts Accidents in the Home (1984), which was broadcast on Channel 4 in 1985. In each two-minute film an accident seems to be about to unfold: in 'No. 17 Gasfires' a man throws a paper or balsa wood aeroplane in his sitting room toward a gas fire – but, beautifully, the video ends just before it strikes.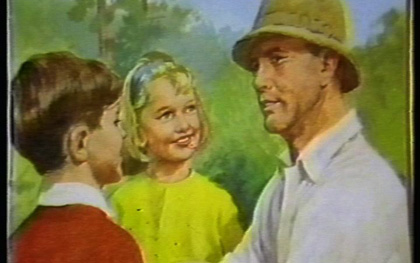 We Have Fun Drawing Conclusions
Language, and its misuse by figures of authority, is central to many of these videos. Steve Hawley's We Have Fun Drawing Conclusions (1981) takes on the classic childrens' book series Peter and Jane in order to reveal how language structures gender roles. Thankfully, it's more enjoyable than it sounds.
Another artist who made a successful leap into television broadcast was lefty artist-poet Ian Breakwell, whose Ian Breakwell's Continuous Diary (1984) follows the artist on his morning bike ride to his studio in Wapping. One morning he encounters a 'victory parade' for the Falklands War, and is unsparing in his criticism of the crowds of "grey, mean, stupid faces… waving their little sodden flags."
In Ian Bourn's brilliantly performed Lenny's Documentary (1978) the artist assumes the persona of a dyspeptic beer-swilling cockney living in Leytonstone, East London. It's a gritty, tour-de-force performance that was actually shot in Bourn's studio at the Royal College of Art, where he was a student. Lenny's vocabulary is socialist-punk (buildings are within "flobbing distance"), but the machismo wears thin over the course of the 45-minute video. As Lenny becomes increasingly drunk he confesses, "I believe I have it in me to become a normal person like anybody else."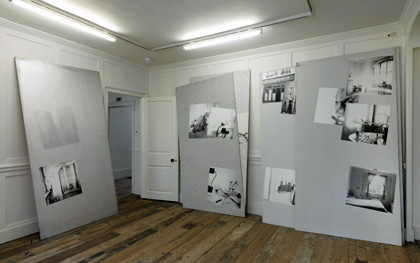 Other works here had a unashamed grace and beauty. Marc Camille Chamowicz's dandyish installation Here and There (1978) is a series of boards featuring filmic images that could have come straight from a Louis Malle or Jean Eustache movie – a man broodily smoking in an elegantly bohemian-minimal apartment, snapshots of phone calls being made, typewriters abandoned.
Cordelia Swann's elegant Mysteries of Berlin (1979-82) and David Critchley's rather confrontational Pieces I Never Did (1979) similarly mine the fine line between the fake and the real. Swann's work is the more visually impressive: a thunderous jazz soundtrack accompanying a dizzying slideshow of images that appear to be taken in Berlin – but are, in fact, images appropriated from picture books depicting scenes from other cities.
Susan Hiller's Monument (Colonial Version) (1980-81) and Roberta Graham's Campo Santo (pictured at top, 1981) both attempt to turn moments of trauma into an experience of solidarity. The latter pays harrowing tribute to the victims of the Yorkshire Ripper, Peter Sutcliffe, while the former work memorialising ordinary civilian victim-heroes of the Victorian age. Both works are moving, if a tad melodramatic.
This exhibition is evidence that the British visual culture in the 1980s was subversive and fiercely intelligent. Curator Richard Grayson, a video artist who co-founded the artists' collective the Basement Group in Newcastle (1979–1984), has cleverly selected works of import for today's emerging video artists. Contemporary artists such as Emily Wardill, Jennet Thomas, Nathaniel Mellors and others explore issues of narrative and language. We can understand their complex work better by recalling the lineage from which they draw. 'Polytechnic' should be the beginning of a process in which we place the radical work of the 1980s at the centre of recent British art history, not on its margins.
See also
The deathly hallows: Artist Mat Collishaw on Armenian shrines, YouTube sheep sacrifices and his homage to the strange world of Sergei Parajanov (online, March 2010)
Eastern dusk: George Clark on the final Aurora festival of artists' moving images (online, November 2009)
Project me: Isabel Stevens on the Jarman Award artists who straddle the worlds of gallery and screen (online, October 2009)