Review / From the archives
The African Queen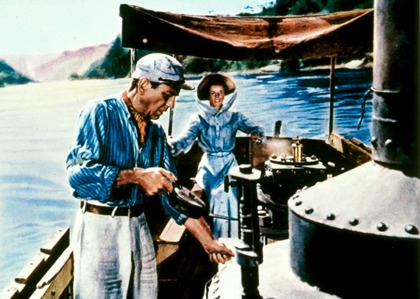 John Huston's odd-couple action romance sets steam for fantasy land, argued Clarissa Bowen in our original 1952 review
The African Queen
UK 1951
Director: John Huston
With Katharine Hepburn, Humphrey Bogart, Robert Morley
103 mins | Cert PG
This is a tall story – the kind that must be true to be believed. The conjunction of the prudish spinster and the gin-swigging rough diamond on the latter's flat-bottomed tug moving down a tropical river promises – one doesn't know what; and when the lady in her 1914 clothes and umbrella turns out to have a will of steel hitherto concentrated on the propagation of the Gospel, we willingly accept her dominance over the bewildered Charlie. At a punch, too, we can accept her stout resolve to avenge her brother's death and contribute to the war effort by blowing up a German gunboat.
But later events plunge the couple into a world increasingly Swiss Family Robinson; at some point in the adaptation of C.S. Forester's novel a spirit of hilarity seems to have overwhelmed writers and director. The novel, apart from a more plausible ending, had a realistic treatment that contrived to make its other improbabilities convincing, but John Huston's film wavers disconcertingly and a little aimlessly between life and fairy tale. Both Katharine Hepburn and Humphrey Bogart give brilliant performances, of such detail and subtlety that it comes as a shock, halfway through, to recognise how far they have escaped from reality.
Nothing in the cinema is more charming than fantasy, more absorbing than character in action, more exciting than the pursuit of adventure. The African Queen has something of each of these qualities, but the difficult problem of resolving them into a satisfactory whole has not altogether been surmounted.
Clarissa Bowen, Sight & Sound, April-June 1952
'The African Queen' is re-released at the BFI Southbank and around the UK from 4 March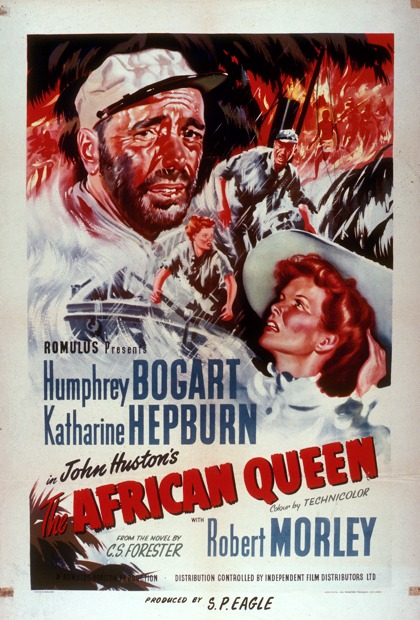 See also
The Big Sleep reviewed by John Pym (Monthly Film Bulletin, October 1978)