Review / From the archives
Breakfast at Tiffany's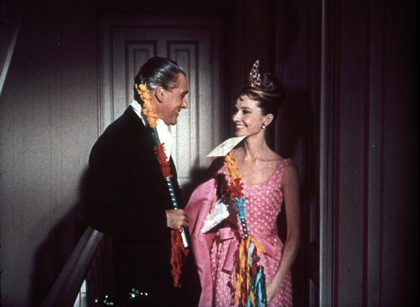 Under Audrey Hepburn's spell, Blake Edwards' adaptation of Truman Capote's novel is incorrigibly away with the fairies, says James Breen. From our Winter 1961/62 issue
Breakfast at Tiffany's
USA 1961
Director: Blake Edwards
With Audrey Hepburn, George Peppard, Patricia Neal, Mickey Rooney, Buddy Ebsen, José-Luis de Villalonga, Martin Balsam
115 mins | Cert PG
Breakfast at Tiffany's (Paramount) is a charming, rather cock-eyed, whimsical, fantastical, sentimental fairy story, with a whopping part for Audrey Hepburn. It is a modern fairy story, of course, with smartish, literate and often very funny dialogue (part Truman Capote, part George Axelrod), but it is a fairy story nevertheless, for the simple reason that Miss Hepburn is playing the lead – and Miss Hepburn is a fairy princess. The Modigliani head and neck are exquisitely poised above the Givenchy clothes and she sports the longest cigarette-holder since Harpo's in A Night in Casablanca; she has been married at fourteen and now she is painting the town red; we see her drunk, and in principle she should obviously go to bed with the beaux from whom she habitually claims fifty dollars for a visit to the powder-room (though equally obviously Miss Hepburn doesn't); yet, at the end of it all, we cherish her and weep with rapture when she finally melts into the arms of the kept young writer (George Peppard) who has loved her from the start and walked out on his rich mistress for Holly's sake. I haven't read the Truman Capote story on which Breakfast at Tiffany's is based, but if, as everyone says, its unhappy ending was right, it must have been a very different kettle of fish from the film. Miss Hepburn is a spellbinder and her personality so transforms the material that, whatever Holly may be in the story, in the film she remains a frightened innocent.
Further, the director Blake Edwards firmly propels the picture towards a happy ending. Holly's tireless pursuit of a green-backed husband and the ducks and drakes she plays with the young writer's affections should repel, but they don't because the director's sympathies are entirely with her. And the day that she and Mr. Peppard spend doing things they have never done before – in particular a scene, deftly and wittily scored by Henry Mancini, where they pinch a couple of masks from Woolworths – is handled with such lyrical closeness, and the New York backgrounds are photographed so prettily and with such affection, that there can be no doubt the two have fallen in love. The final coming together in a cloudburst – after a good deal of symbolic play with a no-name cat – is inevitable.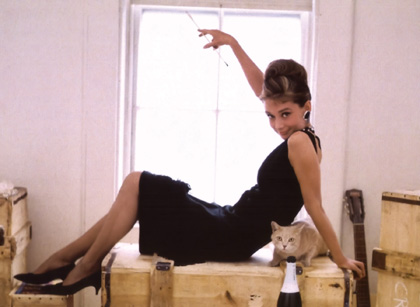 The episodes involving dope-rings and millionaires are presented in a mood of high fantasy, and most of the other characters are as fabulous as Holly herself: the rangy, middle-aged ex-husband, the courtly assistant in Tiffany's (John McGiver) and the toothily explosive Japanese (grotesquely impersonated by Mickey Rooney) in the apartment upstairs. And although Patricia Neal, as the writer's rich patronne, gives indeed a beautifully hard, glittering performance, she, in a way, is at odds with the film because, with her smart, possessive ways and ever-open cheque-book, she comes from the real world and is apt to make one feel that the whole thing ought to end squalidly.
The film doesn't finally stand up to detailed psychological examination; it can be faulted as a narrative and it doesn't take a serious moral view. But the people who querulously insist on such points have clearly not surrendered to Miss Hepburn's magic spell – and the good thing about fairy princesses is that you can take them or leave them.
— James Breen, Sight & Sound, Winter 1961/62
Breakfast at Tiffany's is re-released from 21 January at the BFI Southbank
See also
Capote reviewed by Tim Robey (March 2006)
Self-made heroes: Henry Bean on George Axelrod's Paris – When It Sizzles and Spike Jonze's Adaptation (August 2005)
Theatre of complicity: Geoffrey Nowell-Smith on the unseen artistry of Catherine Deneuve (April 2005)
Other Voices, Other Rooms reviewed by Rob White (July 1999)