We all scream for…
experimental kids' films?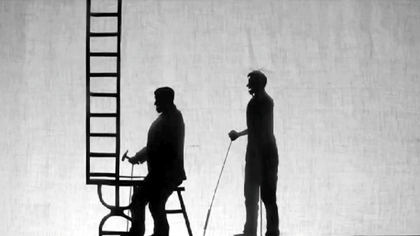 Ulla van Brandenburg's Two Men and the Wild Boar
Gareth Moore invited five artists to contribute to his Children's Films series – but as Ian Francis discovered at a screening in Birmingham, there is artistic jouissance and there is ice cream
---
Children's Films
Venues around Birmingham, UK | 16 May-16 June 2012
+ Whitstable Biennale | 1-16 September
---
Web exclusive, 30 May 2012
---
Putting on films for children is a treacherous business. The range of good material to choose from is that much narrower. If younger audiences don't like something, they tend to let you know about it. And as with grownups, it's difficult to predict what will strike a chord. At our last festival, the bona fide hit of the family programme – from among an array of handmade gems and finely crafted award-winners – was Animal Beatbox, a two-minute piece from Australia with cut-outs and an outrageously catchy tune that infected households, including our own, for weeks afterwards.
As for many others, the catalyst for Gareth Moore's Children's Films project was the experience of parenthood, and in talking to other artists with kids, he started to think about a series of films specifically designed for younger viewers. Citing as an influence Terry Fox's Children's Tapes, a series of filmed experiments Fox made in 1974 to entertain his child, Moore has begun by commissioning five films from artists and compiling them onto one 16mm reel, bookended by his own title sequences.
The screening context seems to be as important as the work itself. No adults allowed unless accompanied by a child, and no art institutions – the theory being that the films should meet the audience on their own territory. So it was that I found myself hunting the upper floors of Birmingham's soon-to-be-vacated Central Library on a Wednesday afternoon with two offspring aged five and ten, lured by the promise of ice cream afterwards.
"Are they showing Animal Beatbox?" was the first question from my youngest (let's call him Siskel) on seeing the projector. Ebert sat herself in the front row with notebook at the ready, primed for the task at hand. Julia Feyrer's The Little Hunchback opened proceedings, with mirrors and shadow-puppets conjuring up a world beneath the pavement. Although I liked the music – murky harp and flute taken from a Canadian kids' TV show – the kids pronounced the whole thing "too weird".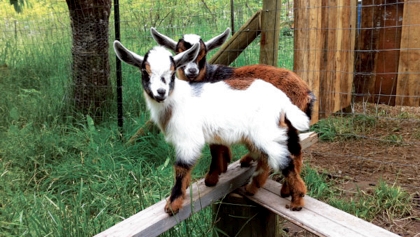 Harrell Fletcher's Pippi and Thelonius
Pippi and Thelonius (Harrell Fletcher) featured phone footage of two very cute baby goats, and then there were more shadow-puppets in Two Men and the Wild Boar. Ulla van Brandenburg recently presented a live shadow theatre at Frieze in New York, and here she offers an austere, silent parable, which may be about capitalist exploitation. In an effort to increase productivity a fat boss kicks his downtrodden employee in the backside, sending the worker off into the woods in a melancholy strop where a wild boar grants him a wish.
After we were abruptly deprived of a fairy-tale conclusion, I began to wonder whether certain characteristics of artists' film – avoidance or overturning of narrative, privileging of the conceptual over the aesthetic, interrogation of the viewer's relationship with the image – are useful ingredients in engaging children. By this point Siskel was making his own shadow-puppets and rearranging the furniture. To put a charitable spin on it, the films allowed him the space to offer his own creative interpretation, and certainly Ebert's notes ("are they half dog? no, half horse!… fish! lasers! you are under my pow-er!") reflected a level of fertile confusion.
The fourth film, Tina Fenomena, rescued the afternoon and was greeted with thumbs up all round. Perhaps that's because Keren Cytter has simply reworked an existing film without making any obvious concessions to children, a plaintive song for her cat as she comes to terms with being neutered: "You can't lick your belly with a collar". Mainly it's because Cytter, an Israeli artist based in Berlin, has an oddball sense of humour. (Her Vimeo channel is worth a look, though is probably not family viewing.)
To finish, Geoffrey Farmer's The Drawer was doomy and Kenneth Anger-ish, with a masked boy daubing over pictures of Greek gods, intercut with some nice droplet patterns. While they admired the way Farmer used the idioms of theatre and performance as analogies of the process of meaning construction (ref: Wikipedia), by now my colleagues were more preoccupied with pudding.
Children's Films was commissioned by International Project Space in Bournville, Bielefelder Kunstverein, and the Contemporary Art Gallery, Vancouver. It tours venues around Birmingham until 16 June, then travels to the Whitstable Biennale in September.
See also
Inflammable desires: Tony Rayns on Kenneth Anger's Magick Lantern Cycle (July 2009)
The Orphanage reviewed by Maria Delgado (April 2008)
Castles in the sky: Andrew Osmond on Miyazaki Hayao and Howl's Moving Castle (October 2005)
A little learning: Peter Matthews on Abbas Kiarostami's Homework (June 2002)
Muppets from Space reviewed by Leslie Felperin (January 2000)
The Apple reviewed by John Mount (January 1999)