Eastern dusk: Aurora festival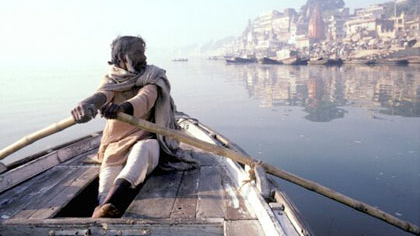 Norwich's Aurora festival has been at the forefront of recent artists' moving-image appreciation in the UK. George Clark reports from its sudden wake
Since 2006, when director Adam Pugh renamed the long-winded Norwich International Animation Festival as simply Aurora, the relaunched festival has established itself as one of the key festivals in the UK dedicated to artists' film and video, holding signature events and retrospectives with great figures such as Walerian Borowczyk, Robert Beavers, Robert Breer, Jim Trainor, Michael Robinson and Koji Yamamura.
Aurora is not alone in its commitment to and championing of the blossoming arena of artists' moving-image in the UK (witness, for example, the excellent Flatpack Film Festival in Birmingham or Dundee's similarly innovative festival of sound and vision Kill Your Timid Notion), but it's one of the passionate few dedicated to presenting the diversity and range of contemporary and historical artists' practice. It is therefore all the more bewildering that Norwich University College of the Arts – the very organisation that brought the festival into being in the first place, whose core funding expired at the beginning of this year – seems to have blocked Aurora's organisers from pursuing other avenues of funding, reassigned the festival's trademark and begun to wind up its managing company. This, apparently, was to be the final edition of this flourishing festival.
Under the circumstances, this year's festival was a defiant event focusing on the micro-communities brought together by the promise of innovative and stimulating films and discussion. Under the title 'Common Ground', the festival fashioned a programme split into two distinct but interconnected parts. The Festival Week, from 5–12 November, featured a range of evening screenings – Robert Gardener's sublime Forest of Bliss (1986, pictured above) screened with live music on Bonfire Night – and workshops exploring everything from the subtle art of Super-8 film-making to 'video sniffin'' – media artist Richard Wright's technique of tapping into live CCTV feeds through wi-fi.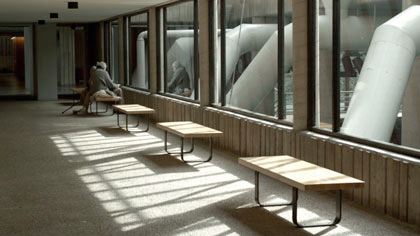 The subsequent Festival Weekend consisted of a series of events gathered under the roof of the excellent multi-purpose Norwich Arts Centre, with meals served for the attendees. This experiment in spontaneous community, inspired by civil-activist movements such as Climate Camp and music festivals such as All Tomorrow's Parties, meant that the usual anxiety of missing screenings and the frantic rush for food between films were removed as everyone came together for an entire weekend of events. The programme mainly consisted of short and medium-length works, including new films by British artists such as Ben Rivers' road movie about geological apocalypse I Know Where I'm Going and Nick Collins' precise study of water as energy Mimente, and the Arabic travelogue Triangulum by Berlin based film-makers Melissa Dullius and Gustavo Jahn. Panels considered topics such as collective practice and social networks, inspired by Beatrice Gibson's A Necessary Music (pictured) – an adaptation of Adolfo Bioy-Casares' novel The Invention of Morel, made with and about residents of New York's Roosevelt Island – and Shezad Dawood's Feature, a re-framing of identity politics as a genre-hopping zombie Western.
Maverick film-maker Andrew Kötting presented two films by Danish kindred spirit Jon Bang Carlsen – It's Now or Never (1996), which follows the search to find a wife for a lonely fiftysomething sheep farmer in the remote west coast of Ireland, and its companion piece How to Invent Reality (1996), a film essay exploring Carlsen's distinct process of casting and collaborating with non-professionals, which further blurs the margin between documentary and fiction. There were also profile screenings dedicated to New York street chronicler Jem Cohen and Berlin-based Super-8 film-maker Milena Gierke, each of whom works in a starkly different registers within the observational tradition – Cohen critiquing the homogenised corporate world, Gierke diarising her life from early '90s Berlin to New York's contemporary queer community.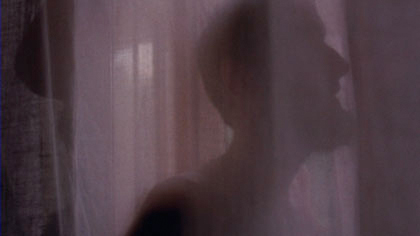 The intimate configuration of the festival, rather than feeling claustrophobic, led to all sorts of discussions which spilled out from the screenings into the communal dining-table and bar, turning the entire weekend into a series of conversations spiralling around the festival's main thematic programmes and questions of artistic independent, social engagement and alternative models for cultural organisations. Given that unity between films and discussion, it's difficult to isolate any single event or film from the weekend; but one finely crafted highlight was the event by Scottish musician Alasdair Roberts and Jarman Award-winning film-maker Luke Fowler, currently making a film about the former. Their partnership stems from a shared interest and engagement with tradition – for Roberts a reworking and exploration of folk songs, for Fowler an interrogation of the formal and aesthetic traditions of avant-garde film – and the presentation offered a glimpse into their collaborative process through both live performance and a screening of Fowler's 16mm rushes (pictured). It was a fittingly humble and intimate centrepiece of a festival dedicated to removing barriers between artists, film-makers and audiences.
See also
Tropical rocket: Tony Rayns on Apichatpong Weerasethakul's Primitive installation at the inaugural Abandon Normal Devices Festival of New Media and Digital Culture in Liverpool
Project me: Isabel Stevens on the artist film-makers nominated for the 2009 Jarman Award