Argentine cinema: state of the grain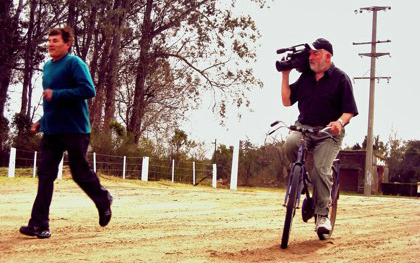 Audience Award winner El ambulante
Launchpad of the New Argentine Cinema, the Buenos Aires Independent Film Festival this year hosted 86 new local movies. Maria Delgado is your guide to the top 19
The evolution of the Buenos Aires Festival Internacional de Cine Independiente (BAFICI) has been irrevocably bound up with the New Argentine Cinema it screened and promoted. In the early days the festival was rough and ready, making the rules as it went along. Pablo Trapero's Mundo grúa (Crane World, 1999) embodied the BAFICI spirit: breaking free of traditional modes of cinematic narrative and opting for a grainy neorealist aesthetic and extended dialogues that were able to capture something of the mood of a nation grappling with the implications of economic freefall.
Now in its 12th year, the festival's Argentine competition is still a showcase for first and second features, while its international competition allows select domestic features and documentaries the opportunity to compete alongside key independent pics from around the globe. More radical wares find a competitive niche within the Cinema of the Future section, while an array of retrospectives and interlinked panorama strands (as well as the children's programme Baficito) bring together what this year amounts to a record-breaking 422 films. There's been no increase in BAFICI's subsidy this year, but there are more Argentine pics – 86 in all – and a 10 per cent increase on the box office to a record attendance of 280,000. There have been laments in recent years that Argentine cinema lacks the formal edge and innovation that characterised the wave of film-makers that emerged in the late 1990s. Certainly, BAFICI harbours its quota of duds. But nevertheless it remains a central reference point for charting the moods and priorities of Argentine film-making.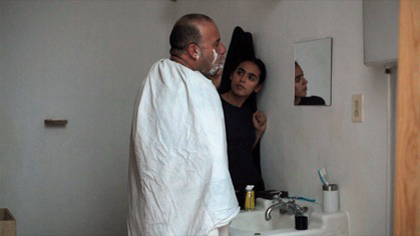 Argentine Official Selection winner Invernadero
The state of the nation remains a key point of engagement, although refracted this year through a preoccupation with reflecting on the creative process. The Argentine competition winner, Gonzalo Castro's Invernadero (Winter House), offers a stylistically elegant if overlong contemplation of the experimental one-armed Mexican novelist Mario Bellatín, a famed prankster who here engages with his daughter and friends (all fictional characters) in an interrogation of biography (itself a central conceit in Bellatín's fiction). Carmen Guarini's Gorri turns to Argentine conceptual artist Carlos Gorriarena, capturing – albeit rather too referentially – the preparations for an exhibition of his work being prepared in the aftermath of his death. Both Marcos Pastor's Ensayo (Fragmentos de Sarah Kane) (Rehearsal [Fragments of Sarah Kane]) and Norma Fernández's Camila, desde el alma (Camila, from the Soul) use theatrical rehearsals and performances to comment on wider issues around gender, sexuality and identity formation.
The best of this crop was directing trio Eduardo de la Serna, Lucas Marcheggiano and Adriana Yurcovich's El ambulante (The Peddler), an engrossing documentary on a self-taught director, Daniel Burmeister, who travels remote villages shooting am-dram flicks with such lurid titles as Let's Kill Uncle and Terror in the Abandoned House. The film-makers follow Burmeister as he lands in the sleepy town of Benjamín Gould and begins the process of securing permissions and then a cast and crew for his proposed project. As much a reflection on the craftsmanship of film-making as it is a study of small-town life, the film has a gentle humour and unfussy style that make it a worthy recipient of the festival's audience award.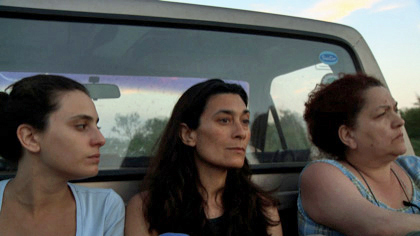 El ambulante was one of a conspicuous number of features realised by a team of two or more directors. This could be to do with the pragmatics of securing funding in a climate of ever-diminishing state resources – or part of a wider trend that sees screenplay collaborations extended into the directorial process. Santiago Loza and Iván Fund's Los labios (The Lips), also in Cannes's Un Certain Regard, follows three women medics who head for an impoverished hamlet in the Santa Fé province to treat and advise a population trapped by scarce resources, poor sanitation and limited education. The local inhabitants (all non-professional actors) recount their tales nonchalantly. Camerawork and editing avoid sensationalising or censoring the first-person testimony. The result is a compelling poetic encounter: anthropological cinéma vérité that avoids voyeurism in favour of a more measured (and refreshingly unsentimental) consideration of the boundaries between the authentic and the staged.
None of the other treatments of the nation's underclass matched the narrative sophistication of Los labios. Andrés Livov-Macklin's unscripted fly-on-the-wall documentary Un lugar llamado Los Pereyra (A Place Called Los Pereyra) turns its attention to the politics of charitable aid as privileged private schoolgirls from Buenos Aires descend on an isolated rural community close to the Paraguayan border. Julian D'Angiolillo's pulsating Hacerte feriante (Become a Stallholder) follows the immigrant traders who ply their illicit wares in the sprawling La Salada market on the outskirts of Buenos Aires. Firmer editing would have eradicated some of the unnecessary repetition that creeps into the film's final half-hour.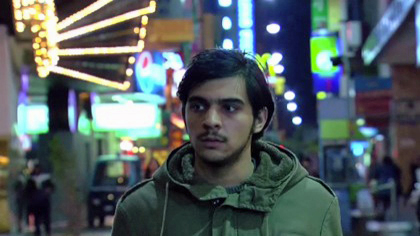 A cluster of films focused on disaffected, frustrated teenagers-cum-young adults ambling through a world where economic security is no longer a given and employment is anything but an inherited right. In both Daniel Gimelberg's Antes (Before) and Juan Villegas and Alejandro Lingenti's Ocio (Idleness), Nahuel Viale (above) becomes the poster boy for this slacker generation. In the former he is a middle-class architecture student who struggles to cope in the aftermath of a traumatic accident. But while his performance captures both the character's vulnerability and frustration, Gimelberg's storytelling remains overly convoluted because the two time frames are never sufficiently demarcated. In Ocio, an eagerly awaited adaptation of Fabián Casas' cult novel, too much seems to have been lost in the transition to screen, resulting in over-elliptical characterisation and narrative shortcomings. Clara Picasso's droll debut El pasante (The Intern), meanwhile, sees a lanky student porter become embroiled in the fantasies of a swish hotel's prim receptionist. The plot of a missing mistress is never quite pulled off, but Picasso's lucid style announces a film-maker to watch.
There's something of the quirky eccentricity of Wes Anderson's The Darjeeling Limited in Julián Borrell and Demián Santander's rambling road movie Rodríguez. Twenty-year-old Mariano Blanco's debut Somos nosotros (It's Us) also depicts marginalised teens on an odyssey. Winner of the Argentine competition's Jury Prize, it employs minimal dialogue and a pace that suggests real time in its depiction of a group of teenage skateboarders passing time in a deserted, out-of-season Mar del Plata. While it evidently animated a young local audience, I found the idea more gripping than the execution.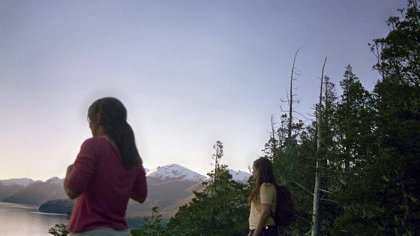 Best Actresses Pilar Gamboa and María Villar in Lo que más quiero
Lisandro Alonso's former assistant and editor Delfina Castagnino proffered what in my view was the most accomplished of the youth flicks. Lo que más quiero (What I Love the Most) charts a series of conversations between two friends hanging out over a summer break. But it is what's left unsaid that makes the film so striking. Pilar Gamboa and María Villar (who shared the Best Actress award) are superb as the two unnamed women whose friendship is tested by elements and emotions neither can entirely control.
BAFICI director Sergio Wolf has testified to the increased political slant in this year's festival, which was discernable in the tone of Inés de Oliveira Cézar's laboured El recuento de los daños (The Counting of the Damages), in which the secrets of the nation's junta regime come back to haunt a bourgeois family. Sebastián Martínez's Centro (Downtown) fashioned an expressionist journey through Buenos Aires' central consumerist thoroughfare, Calle Florida. Jonathan Perel's El Predio (The Lot) similarly deployed poetic ellipsis in its treatment of the former naval college that served as a central torture centre during the 'Dirty War'. In both cases, if you didn't know the history of the place, the film's resonance was largely lost.
Both the opening and closing-night films also tackled the thorny process of historical memory. Rafael Filippelli's Secuestro y muerte (Abduction and Death) adopted a forensic tone in recounting the kidnapping and execution of former Argentine President Pedro Eugenio Aramburu by Peronist guerrillas. Isaki Lacuesta's Spanish-funded The Damned, first seen in San Sebastián, sees two old friends come together to unearth the body of a colleague who disappeared during what we presume is Argentina's military dictatorship or the period immediately preceding it. Indeed, the commercial success of Juan José Campanella's Oscar-winning El secreto de sus ojos (The Secret in Their Eyes), the country's biggest box-office hit of the past 34 years, provides further evidence that tackling the country's problematic past history – albeit through the prism of a romantic thriller – may no longer be perceived as box-office poison.
See also
BirdWatchers reviewed by Sophie Mayer (October 2009)
A trilogy of closed observed characters: Quintín on the Lisandro Alonso trilogy (November 2008)
Liverpool: Maria Delgado interviews Lisandro Alonso (November 2008)
Born and Bred (Trapero) reviewed by Maria Delgado (Film of the Month, September 2007)