At the end of the earth
Film of the month: Born and Bred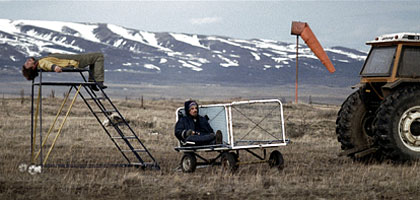 Has New Argentine Cinema pioneer Pablo Trapero sold out? Not once 'Born and Bred' discards its veneer of designer chic to reveal an austere portrait of grief played out in bleakest Patagonia, says Maria M. Delgado
Pablo Trapero has established himself as one of the most innovative talents within New Argentine Cinema. As a producer with his company Matanza Cine, he has nurtured and promoted the works of colleagues in his native country and beyond. While some of his fellow film-makers have followed a particular stylistic route - as with Martín Rejtman's wry black comedies or Lucrecia Martel's dissections of fraught familial relations - Trapero has redefined himself with each new feature. Crane World (1999) offered a neo-realist portrait of unemployment in a society in economic freefall. El bonaerense (2002) provided an impressionist view of police corruption through the journey
of an ex-con navigating the bureaucracy and brutality of life in the force. Rolling Family (2004) proved a leisurely road movie that threw together four generations on an epic cross-country journey. And in Born and Bred Trapero explores a new brand of naturalism that eschews classical narrative models and character construction.
The opening section of the film might lead us to believe that Trapero has sold out to populism in the form of a slick domestic drama. Santiago (Guillermo Pfening) and his elegant wife Milli (Martina Gusman) live in a Buenos Aires apartment that seems lifted from a home-decor magazine. Off-white walls, pristine granite surfaces and stylish accessories dominate. Everything has a place - including the couple's pretty, precocious daughter (Victoria Veccio) who dispenses kisses on demand and dutifully marches off to school, breakfast in hand. Santiago and Milli run a successful interior-design firm and a sense of style permeates every aspect of their lives, from their matching tattoos to colour-coordinated outfits that blend with the palette of their home. The film's credits run across artfully framed photographs of this ideal family posing in staged portraits of domestic contentment: a tableau of the family visiting Milli's mother Victoria is a study in middle-class manners set in the emblematic space of domestic drama, the drawing-room.
But Trapero soon scratches the veneer of this supposed idyll. Santiago's nocturnal awakenings, his irritation when Milli blows smoke in his face, the stillness of the gated complex where the family live protected from a city still reeling from the social discontent that followed the 2001 economic collapse, and the domestic fracas initiated by daughter Josefina's refusal to play the 'contained' child of the family photos all point to impending tragedy. Even the catchy opening number 'Sangre' (Blood) suggests that its spillage may be imminent.
The aftermath of a family car accident is as disorienting for the viewer as it is for Santiago. Trapero moves from the black emptiness that follows the crash (with Santiago's screams ripping through the darkness) to the blinding whiteness of the Patagonian landscape. Ever the master of understatement, the director never accounts for Santiago's presence in this desolate terrain. The narrative will gradually explain why he's there without ever revealing how he arrived.
He is shown first as a stain on the landscape, hunting animals for skins that are then sold in the bleak outpost where he now ekes out a living maintaining a desolate airstrip with his ambling roommate Robert (Trapero regular and the film's sound designer Federico Esquerro) and the stoic Cacique. The men's rituals - sweeping the airfield, preparing the strip for the rickety planes that land with a mere handful of passengers, ushering travellers through the makeshift terminal - are captured with Trapero's characteristic attention to detail. The director has an artisan's eye for the minutiae of manual labour without ever romanticising the harsh conditions in which the men work. The pace is languid, with sequences that extend the usual time rules to build a compelling picture - both visually through Guillermo Nieto's austere cinematography and aurally through Esquerro's busy soundscape - of the rhythms of the forgotten world Santiago inhabits.
This is a film of suggestion, of showing rather than telling. The landscape is a windswept, uninviting vista of relentless snow and muddy roads and there is nothing glamorous about any of the characters' lives. Escape takes the form of heavy drinking and a fumbling threesome where Santiago and Robert indulge in clumsy sex with a local waitress. Cacique (a marvellously understated performance by singer Tomás Lipán) nurses his terminally ill wife, at once devoted and devastated by the demands of round-the-clock care. Moments of resentment puncture the men's drinking bouts, with Cacique verbally lashing out at a daughter who tries to entice him home and Robert avoiding his pregnant ex-girlfriend's repeated attempts to locate him via his mobile phone.
Born and Bred is as much a film about communication as was Rolling Family - only here the extended nuclear family of the earlier film has been replaced by an alternative clan established by Santiago and his two colleagues. Characters struggle to make themselves heard above the dodgy airport tannoy, the drone of conversation in the local bar, or over long-distance phone lines. Only when alcohol flows do conversations move beyond the minimal, and even then they are marked by irrational fears and past histories to which we are not privy.
Santiago's grief manifests itself as remorse, guilt and evasion. It rises up when least expected to rupture the present of his Patagonian existence. The camera moves across his filthy nails and unkempt hair, cautiously observes his burn-scarred body from a distance as he showers, peers guardedly in during one of his regular panic attacks, unobtrusively capturing his traumas without commenting on them. The respectful distance continues in shots of the almost absurdist tractor-led funeral cortege that announces Cacique's wife's burial and serves as the catalyst for Santiago's final breakdown.
Trapero balances Santiago's emotional journey with the trials and tribulations suffered by Robert and Cacique, ensuring that this is not just a tale of redemption and penance but as much a portrait of two Argentinas as the more obviously social-minded work of Sandra Gugliotta or Albertina Carri. Indeed when Santiago returns to Buenos Aires, it is to a city where the sounds of the street perpetually intrude and the graffiti-marked walls suggest contact with the social realities from which he and his family initially appeared protected.
The film's performances are as unmannered and compassionate as we have come to expect from Trapero's blend of professional and non-professional actors. The surprise casting of television heartthrob Guillermo Pfening as Santiago pays dividends in a role that negotiates extremes of emotion without recourse to excess. Trapero's wife Martina Gusman's appearance as Milli may suggest an autobiographical slant, but while this is in many ways Trapero's most personal film to date, it defies such easy conjecture. Not everyone will find Trapero's uncompromising storytelling and quiet camerawork to their liking, but once more with Born and Bred he demonstrates a masterful ability to unite the physical and the metaphorical, the social and the sensual in a film where the cinematic language of 'less' is often shown to be 'more'.