Cannes: doom, chills and bewilderment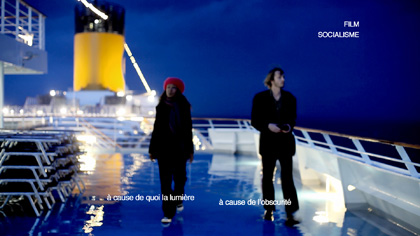 La lumière / l'obscurité: Jean-Luc Godard's Film Socialisme
---
Cannes, France
May 2010
Sender: Nick James
---
When Godard is put in Cannes' second-string selection you need to look hard at what's going on. This year's challenges to normalcy were not to be found in the Competition but in the Un Certain Regard section.
Godard himself bewildered us the most with his pleasure-cruise meditation Film Socialisme, a home movie of read quotations and flashes of found compositions so wedded to its final intertitle 'No Comment' that you get as much from the speeded-up trailer version as you do from the film as projected here.
The Debussy theatre's state-of-the-art sound-and-image projection made Pablo Trapero's Carancho feel like a physical assault. This gruellingly vivid drama describes the love that develops between a compromised ambulance chaser and an ambulance nurse, and is the most excitingly doomy slice of Latin-American noir I've seen for years.
Few chilly boardroom sex dramas are as emotionally engrossing and formally cool as Christophe Hochhäusler's The City Below.
And while Jia Zhangke's I Wish I Knew, a generous and sensitive tribute to Shanghai and its place in film history, was too hypnotic in its rhythms to get my full concentration in the low-energy 4pm slot, I can't wait to see it again.
Lastly, there were two more Romanian films of terrific quality. Cristi Puiu's Aurora, a quotidian study of a quietly disturbed man enduring the last vestiges of his social and work life as he seeks to right certain personal slights, was too much of a marathon at three hours, but a two-and-a-half-hour cut could constitute another masterpiece of slow cinema. And if Radu Muntean's Tuesday, After Christmas is not quite in the same league, it is an incredibly subtle telling of the old love-triangle dilemma – should a husband tell his wife about a mistress? It ought to win Mirela Oprisor, who plays the wife with enormous conviction, the award for Best Actress. UCR, therefore, has been the liveliest section, and one can't say that most years.
See also
Cannes 2010: time for TV?: Nick James hails Olivier Assayas' small-screen epic Carlos (online, May 2010)
Cannes 2006: Uncertain regard: Geoff Andrew on the Europeans at Cannes (plus other festival coverage, July 2006)
I, a man of the image: Michael Witt interviews Jean-Luc Godard (June 2005)
Born and Bred (Trapero) reviewed by Maria Delgado (Film of the Month, September 2007)
24 City reviewed by Tony Rayns (May 2010)
Eastern promise: Nick Roddick on the New Romanian Cinema (October 2007)