Sins of the fathers
Film of the month: Daratt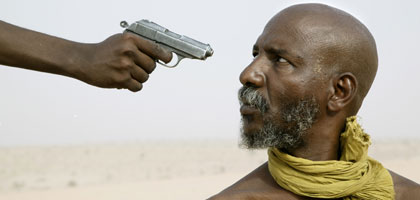 Daratt explores issues raised by the amnesty that followed Chad's civil war through the story of a boy sent to avenge his father. Its emphasis on small gestures and cooperation bodes well for the future, says Roy Armes
The latest film from Mahamat-Saleh Haroun focuses on issues raised by the decision of Chad's truth and reconciliation committee to grant amnesty to all those who robbed, raped and murdered during the country's long and bitter civil war, in which tens of thousands of citizens died. A study of loss and disorientation, filled with silences, ambiguities and unspoken affinities, Daratt (Dry Season) is shot in a carefully composed style and communicates through small gestures and physical interactions rather than striking visual effects. Dialogue is kept to a minimum and the slow pace allows the audience to reflect on a situation of potential violence as the plot unfolds. How can the people of Chad move forward after the horrors they have endured? How can a new generation cope with the burden of the past?
The Chadian director is one of the most forceful and creative figures within a group of Francophone African film-makers born after national independence in the late 1950s and now based in France, where most of them trained. By happy circumstance, their desire to explore the problems and politics of their African home countries intermeshes with the French government's wish to keep alive its links with its former colonies and to establish itself as the centre of a world network of cultural film-making that informs the west about issues in Africa and other developing areas. The Paris-based group is cohesive and mutually supportive, and Haroun had three fellow directors - the Chadian Issa Serge Coelo, Zeka Laplaine from the Democratic Republic of Congo and Régina Fanta Nacro from Burkina Faso - to help him on his first two features. Daratt was produced through a company headed by Haroun's Mauritanian contemporary Abderrahmane Sissako and was supported by the New Crowned Hope initiative in Vienna, an arts festival staged to celebrate the 250th anniversary of Mozart's birth that included several specially commissioned films (see box).
Haroun, who moved from journalism to film-making at the beginning of the 1990s, has demonstrated from the start an appreciation of the range of possibilities offered by both film and video. The- three features he has shot in Chad since 1999 are eclectic in approach but all show clear marks of the impact of exile. His pseudo-autobiographical debut feature Bye Bye Africa is a chronicle not of a departure but of a first return to his native country after an absence of ten years. Whereas this first feature mixes film and video, fiction and documentary in dazzling fashion, his follow-up Abouna is a more straightforward fiction, tracing with loving detail the impact on two children of the unexplained departure of their father, who has, one assumes, emigrated for economic reasons. Haroun's film narratives are always shaped by ambiguities and absences: is it really his father he meets in Bye Bye Africa (the credits make clear it is an actor playing the role); or can the man the boys think they recognise on screen at the local cinema actually be their lost parent (it seems unlikely)?
Daratt begins as if it were going to be an action film, with the teenage Atim summoned by his blind grandfather, given his father's pistol and sent out to find and kill his father's murderer. But the way Haroun handles the riot caused elsewhere in the town by the radio announcement of the amnesty -- shouts and shots off-screen and the discovery by Atim of a street filled with the discarded shoes of fleeing protesters -- foreshadows the restrained and reflective manner in which the rest of the story unfolds.
Atim's first experiences in the capital N'Djamena seem to conform to the conventional tale of the naive village boy who arrives in the big city, is befriended and led into petty crime. But the film takes on a richer tone when he meets his father's killer. Nassara is on the surface a pious Muslim who visits the mosque, works as a baker and gives bread daily to the poor. Though nothing is said, there is an immediate tension between the two men, as if each is aware of the other's identity and purpose. But Nassara does not recoil or even require Atim to explain his presence. Instead he takes him on as his apprentice: bread, he explains, has to be made with love if it is to taste good, and this is a lesson Atim learns.
Though they work together, there is virtually no exchange of words between the two men: no explanations are offered in the film as to why Atim's father was killed or how Nassara had his throat cut so- he can now speak only with the aid of a mechanical device. In terms of the narrative, the past is put aside and instead the focus is on the present, in particular on the physical work the pair carry out side by side. There are bad moments, as when Atim forgets the yeast, and good ones as when the teenager is at last able to bake bread successfully on his own.
Atim initially carries his father's gun at all times but he can never bring himself to pull the trigger. Nassara, it is clear, knows the danger he faces and he confiscates the weapon when Atim leaves it unattended. But he also gives Atim access to his own well-stocked gun cupboard, saying that every man needs a gun. Atim refuses to take advantage of his offer, instead acquiring a firearm by beating up a soldier who had abused him on his way to N'Djamena - an incident that in retrospect points to the way he is putting the negative aspects of Chad's past behind him, though at the time nothing is said.
An injury to Nassara's back throws more responsibility on Atim - and still his communication with his boss remains almost wordless. (His only real conversation is with Nassara's young wife Aïcha, an indiscretion for which she is severely beaten - in typical Haroun style, off-screen.) Yet the relationship between the two men moves gradually from being that of master-apprentice to something resembling father-son. Now, for the first time, Nassara questions Atim about where he comes from, who his father was. When Aïcha loses the child she is carrying Nassara decides to adopt Atim formally, for which he needs the consent of the teenager's family.
This leads the two back to Abéché (the town where Haroun was born) for a confrontation with the blind grandfather. He can sense that Atim has not returned alone and realises who his companion must be. He orders retribution, but Atim fires his two shots into the air. As he leads his grandfather away and the film's end-titles unfold, the message is clear: positive developments can come from enemies working together in the present; repentance for past crimes need not be verbalised to be real. The grandfather's rage, though totally understandable, is shown by this ending to be blind.