Film review: Lourdes
Austria/Germany/France 2009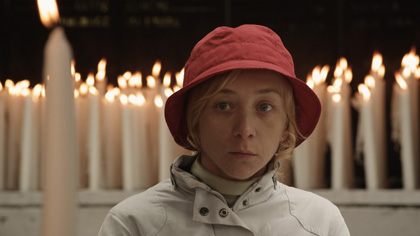 Reviewed by Michael Brooke
Synopsis
Our synopses give away the plot in full, including surprise twists.
Lourdes, France, the present. A coach party of pilgrims arrives, including Christine, Frau Hartl, Herr Hruby, Frau Huber, Frau Spor and young Anna and her mother. Several are confined to wheelchairs, including Christine, who has been allocated a young Order of Malta volunteer, Maria, to attend to her various needs. Christine's itinerary comprises repeated trips to the baths, assorted Catholic services and religious processions, during which Maria becomes increasingly distracted by Kuno, an older man who also works for the Order and who previously met Christine on a cultural trip to Rome. Eventually, Frau Hartl takes over pushing Christine's wheelchair, at one point helping her queue-jump. She is chided by Cécile, an older volunteer who takes her mission and its protocols very seriously. The sceptical group are shown a video testimony by a man claiming to have been cured by his pilgrimage. While preparing for a farewell party, Cécile collapses, her wig sliding to the floor.
That night, Christine sits up in bed, then gets up, and Maria is startled to find that she has dressed herself the next morning. The group greet this indication of miraculous recovery with applause that masks their evident envy. A medical examination proves inconclusive. Christine accompanies the more able-bodied members on an excursion to the vertiginous Pic du Jer, during which she becomes increasingly close to Kuno (to Maria's annoyance). At the party, Christine is awarded the prize for the best pilgrim, and dances with Kuno. Exhausted, she returns to her wheelchair.
Review
Jessica Hausner's third feature – following troubled-teen drama Lovely Rita (2001) and psychological horror Hotel (2004) – is a low-key but often beguiling oddity that attempts an ambitious fusion of the sublime and the corporeal in the unlikely form of a wry comedy of manners. If it's ultimately rather too schematic to make it wholly satisfying (many characters are little more than single-function pieces on the narrative chessboard), connoisseurs of the deadpan pleasures proffered by Juan Pablo Rebella and Pablo Stoll's Whisky (2004) or the films of Aki Kaurismäki will find much to enjoy.
The film revolves around a few days in the lives of pilgrims travelling to the French town that has become synonymous with the notion of miraculous cures. Hausner has a keen eye for the meticulously marshalled ghastliness of cultural/spiritual package tours, and while she makes no overt criticism of the way much of Lourdes has become a giant marketplace for religious tat, she constantly frames backdrops of souvenir shops offering endless rows of Virgin Mary effigies– a conveniently Oscar-sized version comprises the award for 'best pilgrim'.
Christine (Sylvie Testud) is one of the potential contenders. Confined to a wheelchair and almost completely paralysed by multiple sclerosis, she's painstakingly helped in and out of bed by two Order of Malta volunteers: the young and easily distracted Maria (Léa Seydoux) and the older, purse-lipped Cécile (Hal Hartley's sometime muse Elina Löwensohn). A stickler both for protocol and religious respect (eagerness is all very well but God dislikes queue-jumpers), Cécile repeatedly claims she doesn't believe in miracles, despite a midpoint revelation making it clear that she's in greater need of one than many.
The group's itinerary largely consists of trips to the baths and various religious services (both equally ritualised), while fellow pilgrims scrutinise each other for evidence of miracles in between spreading often misinformed gossip – two garrulous Fraus, Huber and Spor, form a kind of elderly Greek chorus. After a couple of false alarms, Christine becomes the focal point of the group's admiration and envy as she walks unaided for the first time in years.
Is this an authentic Lourdes miracle? Hausner isn't saying, but she leaves plenty of room for speculation, official investigation and widespread bafflement as to why it happened to someone so ostensibly ordinary. Much of her fellow pilgrims' resentment concerns Christine's apparent lack of piety, certainly in comparison with Cécile or the far more devout Frau Hartl. As Christine herself confesses to Kuno (Bruno Todeschini), the male volunteer on whom Maria also has designs, trips such as this are the only way someone like her can get to see the world. Accordingly, her reaction to a potentially life-changing event is distinctly low-key: no great plans, merely tentative steps towards the possibility of leading a 'normal' life. An alarming eleventh-hour wobble on the dancefloor suggests she's right to be cautious.
Hausner's cool visual approach involves tight compositions, little camera movement bar the occasional slow pan and zoom, and a colour scheme dominated by blue with the occasional vivifying splash of red. Until the karaoke-fuelled final party, the music mostly consists of very familiar spiritual standards – Schubert's 'Ave Maria', Bach's 'Ich ruf' zu dir, Herr Jesu Christ' – which may even be diegetic: it's easy to imagine Lourdes authorities using it as on-site muzak. They have apparently responded warmly to the film, despite or possibly because of its ambivalence: spiritually flawed and often cynical though Hausner's pilgrims undoubtedly are, they're all too recognisably
human.
See also
El baño del papa reviewed by Michael Brooke (Film of the Month, August 2008)
Down with liberty Michael Wood on Buñuel's The Phantom of Liberty (September 2000)
Credits
Director

Jessica Hausner

Producers

Martin Gschlacht
Susanne Marian
Philippe Bober

Screenplay

Jessica Hausner

Director of Photography

Martin Gschlacht

Supervising Editor

Karina Ressler

Supervising Art Director

Katharina Wöppermann