Kinoteka 2010: Celestial mail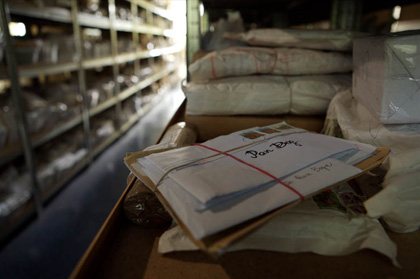 Poste Restante
Marcel Łoziński's 14-minute, prize-winning documentary fantasia 'Poste Restante' reminds Michael Brooke of a history of correspondences between the British documentary school and its great Polish counterpart
Although the Kinoteka Film Festiwal (sic) is largely dedicated to screening work by up-and-coming directors, on Sunday 7 March they're serving a delectable double bill of the latest films by two great Polish masters. Andrzej Wajda's Sweet Rush will understandably garner the lion's share of advance publicity, but Marcel Łoziński's Poste Restante is arguably the better film, or at least the more perfectly achieved.
Winner of 2009's European Film Award for Best Short Film, this 14-minute mini-masterpiece is notionally a look at the work of the Polish postal system, specifically the activities of the Unsent Mail Office in Koluszki in central Poland. It's partly a tribute to Britain's GPO Film Unit (whose 1930s creative explosion had a significant influence on the Polish documentary movement when its finest examples were shown on film-school courses), but when a letter turns up addressed to 'God, Heaven', the film starts delving into metaphysical areas more characteristic of the work of Łoziński's friend, colleague and occasional collaborator Krzysztof Kieślowski – who also produced an outstanding body of documentary work before switching decisively to fiction.
Łoziński and Kieślowski specialised in documentary when studying at the Łódź Film School in the late 1960s, because they believed the form represented Polish cinema at its most creatively challenging. They were taught by Kazimierz Karabasz, the doyen of the older generation of documentary-makers, and each later paid tribute by citing Karabasz's The Musicians (1960) as a favourite film – Kieślowski included it in the top ten he submitted to Sight & Sound's decennial poll in 1992. This was no apple-for-the-teacher tokenism, but a heartfelt acknowledgement of how much Karabasz's work had meant to them.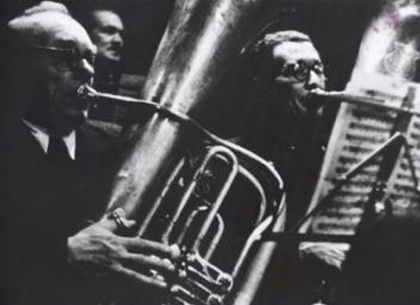 The Musicians
At a time when Polish cinema was emerging after seven years of rigidly-imposed Stalinist Socialist Realism (1949-56), Karabasz and colleagues such as Włodzimierz Borowik, Jerzy Hoffman, Andrzej Munk, Edward Skórzewski, Władysław Ślesicki and others devised a subtle, allusive, distinctively Polish variant on British documentary pioneer John Grierson's famous definition of the documentary as "the creative treatment of actuality". (Grierson and Karabasz even had a brief correspondence in the early 1960s.) While Poland's Communist government was engaged in widespread social engineering, the films of Karabasz and his colleagues were widely seen as asking the kind of probing questions that the mainstream media was either ignoring or censoring.
This is one of the reasons that Polish documentaries were so fondly received and remembered by the public – but another is the quality of the films themselves, which at their best rank with the finest world cinema of recent decades. Since 2005, Poland's National Audiovisual Institute (NInA, formerly PWA) has been issuing a series of scholarly DVD sets, complete with essays and subtitles in English. Each of the dozen volumes to date has been a revelation, whether of a substantial additional body of work by film-makers better known for their fiction (Kieślowski, Munk, Marek Piwowski), or the discovery of people hitherto little-known outside Poland – Marcel Łoziński and his son Paweł; Maciej Drygas, master archaeologist of archive footage; the unclassifiable Wojciech Wiszniewski, who, like Munk before him, died far too early. Wiszniewski in particular blurred the distinction between fiction and documentary to the point where it became almost irrelevant – a practice that dates back to the 1950s, when Munk's The Warsaw Old Town Walk (1958) followed a gifted music student wandering around Poland's capital, her ever-active aural imagination tasting and blending everyday sounds as though she was a top-class chef.
Poland's non-fiction achievements had been recognised internationally as early as 1947, when Jerzy Bossak's The Flood won the documentary Palme d'Or at the Cannes Film Festival, no mean feat for a country whose film industry had been effectively shut down for the duration of World War II. In 1958, Lindsay Anderson and Karel Reisz's predilection for things eastern European led them to devote the fourth of their six seminal Free Cinema programmes entirely to Polish cinema, screening Karabasz and Ślesicki's Where The Devil Says Goodnight (1956), Borowik's Article Zero (1957) and Jan Łomnicki's House of Old Women (1957) alongside what are now much better-known shorts by Roman Polanski, Walerian Borowczyk and Jan Lenica – but British big-screen airings since then have been few and far between.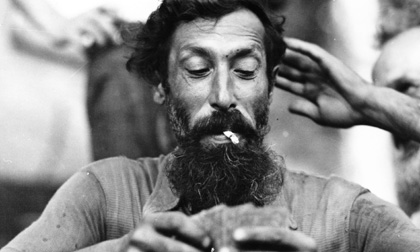 Before Leaves Fall
Kinoteka is including The Flood, The Warsaw Old Town Walk and The Musicians in two programmes of classic Polish documentaries showing on consecutive Sundays in March (14th and 21st). Others include Karabasz's People of the Road (1961), discreetly observing circus performers between shows; Ślesicki's Before Leaves Fall (1964) and Family Man (1966) – studies, respectively, of gypsy and peasant families; Andrzej Brzozowski's This Is An Egg (1965), a portrait of a school for blind children that flirts with abstraction through extreme close-ups of fingers caressing Braille text before moving onto eggs and their contents; and Kieślowski's Hospital (1976), an unflinching examination of a day in the lives of overworked and underequipped surgeons that will trigger an involuntary mea culpa from any British viewer who's ever complained about the NHS.
It is, of course, impossible for two programmes of just 13 titles to do more than scratch the surface of one of European cinema's richer seams, but this should at least whet the appetite for more. Unlike the history of Polish feature films, which has sputtered in creative fits and starts, Polish documentaries have maintained an enviably consistent quality threshold for over 60 years. One of the most heartening discoveries made during a jury stint at the Off Cinema festival in Poznań is the wealth of emerging talent – recent favourites include Edyta Wróblewska's PRL De Luxe (2008), a guided tour of the absurdities of Krakow's communist past, Matej Bobrik's Where The Sun Doesn't Rush (2009), an almost wordless portrait of a Slovak village whose population is slowly dying out, and Tomasz Wolski's The Lucky Ones (2009), a wry study of an office recording births, marriages and deaths that plays like a series of Alan Bennett observations translated into Polish. Truly, all human life is here.
The 8th Kinoteka Polish Film Festival runs on selected days between 4 March and 13 April at venues around London. See www.kinoteka.org.uk for details
See also
Tricks reviewed by Philip Kemp (October 2009)
Lest we forget: Andrzej Wajda discusses Katyn with Michael Brooke and Kamila Kuc (June 2008)
The Pianist reviewed by David Thompson (February 2003)
Kind of 'blue': Nick James on Kieślowski's Blue (April 2002)
The Cruel Seaside: Iain Sinclair on Pawel Pawlikowski's The Last Resort (March 2001)