The Pianist
France/Poland/Germany/UK 2002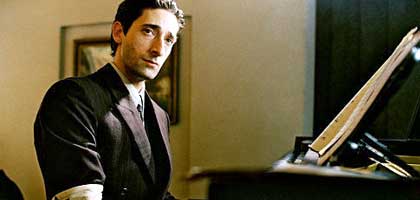 Reviewed by David Thompson
Synopsis
Our synopses give away the plot in full, including surprise twists.
Warsaw, 1939. Wladyslaw Szpilman (Adrien Brody), a concert pianist and composer, is performing at a radio station when a bomb blast announces the imminent Nazi invasion. The German army takes control of the city and forces the Jewish population into a ghetto. Szpilman makes a living playing in a café, and witnesses the increasing poverty and mounting atrocities in the streets. When his family is rounded up for deportation in August 1942, Szpilman is dragged away by a Jewish police officer from the crowds being herded into trains.
After finding work as a labourer, Szpilman manages to escape from the ghetto and go into hiding. By May 1943 a street battle outside forces him to take refuge in a second apartment. In August 1944, Szpilman flees the building when an insurrection breaks out in the street and he takes cover in a hospital. To escape the Nazis, he makes his way into a devastated part of the city, and hides away in the attic of a house. But he is discovered by a German officer, Captain Wilm Hosenfeld (Thomas Kretschmann). Learning Szpilman is a pianist, Hosenfeld invites him to perform at a grand piano in the house. After hearing him play a Chopin ballade, Hosenfeld protects Szpilman and gives him food supplies. The Nazis move out, and Szpilman is found by Russian troops. Hosenfeld is detained in a camp and pleads with a friend of Szpilman's to ask him for help. When Szpilman visits the site of the camp, it no longer exists, and his friend says he did not clearly hear the officer's name.
Review
Winning the Palme d'Or at last year's Cannes Film Festival apparently did Roman Polanski few favours. Many critics dismissed The Pianist as a conventional exercise in Holocaust horror, displaying little of the Polish director's expected flair for the macabre and absurd. Basing his film on a memoir by Wladyslaw Szpilman, a Jewish pianist essentially known only in Poland (and then largely for his legacy as a composer of popular songs), Polanski declared himself at last able to filter his own childhood memories of the war through a personal story of survival in the ghetto. In effect then, the historical situation brings with it such a brew of fear, suspicion and the arbitrary nature of death that the flamboyant dramatics of Repulsion (1965) or The Tenant (1976) should be an unnecessary superimposition. The director was also impressed by the "surprising objectivity" of Szpilman's book, which describes appalling human misery, including the loss of his family, without any false rhetoric or sentimentality.
Re-reading Polanski's notoriously dispassionate autobiography, it's not surprising to find a similar attitude - that survival in the face of genocide is down to single-minded determination and often sheer luck. Polanski was six when war broke out, and escaped bombing in Warsaw with his father to be reunited with his mother in the Cracow ghetto. Like Szpilman, the young Polanski was saved by non-Jewish patrons of variable loyalty, he lost his mother (though not his father) to the camps, and then after the war he left his experiences behind him. Many images from his own life are echoed in Szpilman's account: watching the wall of the ghetto being built from an upstairs window; the sudden shootings; the round-up of deportees in a square; and the physical impact of a bomb blast. All of these are faithfully evoked in The Pianist, along with Polanski's personal memory of evading mass deportation, when Szpilman is casually advised "Walk, don't run".
The absolute conviction of its detail is what gives Polanski's vision of life in the ghetto its almost hallucinatory quality. This is, in part, due to the triumphant production design (some of it on the original locations in Warsaw), but it also stems from a palpable sense of precise recollection from both parties. The enforced dancing at the road crossing between ill-matched Jewish couples might at first seem the indulgent invention of the prankish director of Dance of the Vampires (1967), but it is in fact a faithful realisation of Szpilman's account. Szpilman's 'scientific' descriptions of events - brutish Nazis tipping an old man out of his wheelchair from a high balcony, a woman shot in the street falling into a crouching position - find their perfect cinematic counterpoint in Polanski's unerringly direct placement of his camera. And just as that camera always stayed very close to Jack Nicholson's private eye in Chinatown (1974), making the film a compelling subjective experience, Szpilman himself is virtually always the point of reference throughout the film. Like Catherine Deneuve in Repulsion or Polanski himself in The Tenant, Szpilman becomes a lonely, desperate victim of alien, peeling apartments, disturbing voices beyond the walls, and menacing neighbours.
Pace those first critics then, the power of The Pianist derives largely from its dogged adherence to fact as well as its grim humour and restraint. Music is very sparingly applied, so that even a soaring crane shot over the devastated city of Warsaw is denied a swelling John Williams score of Spielbergian dimensions, but simply comes to rest with a plaintive clarinet solo. When Szpilman finally is allowed to play a Chopin ballade in order to prove his identity, music has been such a 'lost' sound that the performance has a rare emotional intensity. The lighting of this scene, in which Adrien Brody's nose seems almost transparent in its frozen redness and the bitter cold is palpable in his steamy breath, is perfectly judged. Brody gives an admirably selfless performance throughout, conveying the unexceptional nature of Szpilman's personality without ever suggesting he is undeserving of our interest.
The least impressive aspect of the film is Ronald Harwood's English language script, which is frequently more functional than inspired. The early family scenes have been attacked in some quarters for their heavy-handed exposition (compounded by casting that leans too heavily for some British viewers on familiar television faces). But this section of the film is relatively short, and the greater part dealing with Szpilman's lonely struggle to survive is free of such connotations, and often wordless. Ultimately, The Pianist is a far greater film than Polanski's recent variable track record suggested it might be, a work of sustained tension and ferocious clarity, and as near-perfect a marriage of subject and artist as could be imagined.
Credits
Director

Roman Polanski

Producers

Roman Polanski
Robert Benmussa
Alain Sarde

Screenplay

Ronald Harwood

Based on the book by

Wladyslaw Szpilman

Director of Photography

Pawel Edelman

Editor

Hervé de Luze

Production Designer

Allan Starski

Music

Wojciech Kilar