London Film Festival:
World Premiere reviews, part three
Nowhere Boy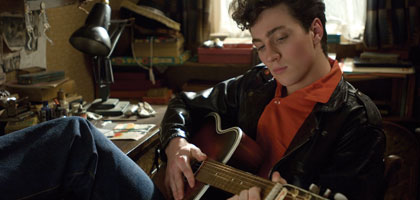 UK 2009
Director: Sam Taylor-Wood
With Kristin Scott Thomas, Aaron Johnson, Thomas Sangster, Anne-Marie Duff, David Morrissey, Ophelia Lovibond, Sam Bell
95 mins
Strange as it may seem that a fine artist of reputation should want to make a mainstream biopic, that is what Sam Taylor-Wood has done with Nowhere Boy, which sits indeterminately somewhere in the territory between the handsome dash of Walk the Line and the sociological grit of Control. The early years of John Lennon, framed as tug-of-love between his aunt Mimi and mother Julia, and covering the period up the formation of The Band That Cannot Be Named (for financial reasons), here become a vehicle for the charismatic angst of young star Aaron Johnson in a very tidy, chic and shiny 1950s Liverpool.
Lennon is given many opportunities to express the agony of genius tortured by unreliable sources of love and by a mother given to flirting with his teenage pals. The acting all round is pretty good, especially from Kristen Scott-Thomas as Mimi and Anne-Marie-Duff as Julia, but the story itself is given to a sense of drift, as if the film itself doesn't know any better than Lennon what it wants. The music and clothing are evocative if a little cleaned up, and it's good on the details of being young and in bands, yet at the same time it is a touch sweeter than boys in bands might like. It will be interesting to see if it makes a huge star out of Aaron Johnson.
Nick James
Shed Your Tears and Walk Away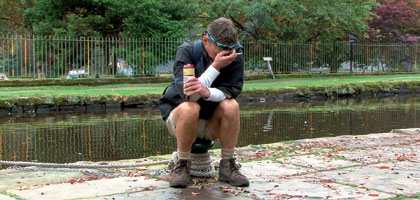 UK 2009
Director: Jez Lewis
90 mins
Hebden Bridge in West Yorkshire seems idyllic on superficial acquaintance, but Jez Lewis' debut documentary exposes – with ferocious urgency – some of the darker realities beyond the green hills and tourist purview. Lewis, who grew up in Hebden but now lives in London, was deeply disturbed by the number of his former school friends dying, either by their own hand or of drug overdoses. Taking his small digital camera into the local parks and pubs, Lewis comes upon heartwrenching despair and alienation at every turn, brought on by lack of work and other life opportunities, with solace inevitably sought in a camaraderie of the marginalised fuelled by manic consumption of drugs and super-strength lager.
Lewis makes no attempt to be detached and objective – at one point an arm emerges from behind the camera to comfort one of his old mates – and the film is stronger for it, so that it becomes virtually impossible not to share his frustration and growing anger. In fact that obliteration of distance between filmmaker and those being filmed carries over into the viewer's experience, an intimacy so raw and visceral you can practically smell the alcohol on his subjects' breath. It's a relief too that Lewis cleaves to one small group of people, rather than interviewing, say, local councillors or 'experts', since his subjects are more than eloquent and insightful on the roots of their and the town's demise (a typical post-industrial scenario, but with the added ingredient in Hebden's case of the legacy of a middle-class hippie culture, in which partying and drug consumption was the routine norm). The film is particularly sharp on how tightly-wound bonds of friendship become double-edged in difficult circumstances, both vital support network but also a trap. Lewis' film gradually resolves into the story of one addict-friend's attempts to escape Hebden's claustrophic clutches and excesses for a new start in London, the fragility and tentativeness of which becomes all too apparent. No happy endings here, or pat solutions, but clear-eyed stoicism is just one of this admirable film's qualities.
Kieron Corless
Starsuckers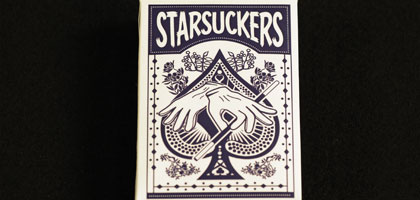 UK 2009
Director: Chris Atkins
103 mins
"Do practice your story", instructs a teacher to her enthralled class in Chris Atkins' Starsuckers, a documentary about the cult of celebrity that holds us all in its grip. The class in question is at the New York Reality TV School, where students are paying to learn how to preen their life-story in the hope that they too will be blessed with fame and fortune.
With the now customary formula of animation aimed at infants, a whirlwind of talking heads and stunts à la Moore and Spurlock, Atkins interrogates the media machine that he holds culpable for our celebrity infatuation. At times, it's a reductive and patronising diatribe. Said villain – referred to throughout as The Media – narrates the film and appears on screen as a magician giving a lesson to You, the eponymous sucker, about his tricks to cultivate your desire for fame from early childhood and keep you under his control.
Atkins aptly exposes how celeb-obsessed society has become, with scenes of pushy parents and wannabe child stars, footage of Max Clifford admitting the lengths he would go to to disguise one of his clients' wandering hands, and interviewees for a fake celebrity-P.A. role admitting that they would do anything for their beloved stars, from turning a blind eye to underage sex to taking a bullet.
But in demonstrating how ravenous for all things A- to Z-list we have become, the why isn't probed so deeply. There's lots of tut-tutting at corrupt showbiz-crazed newspapers who are willing to bypass any press regulations and to print the most ludicrous, unfounded gossip. Anthropologists and journalists, addiction specialists and psychiatrists all muse on a manner of subjects – from the increased levels of narcissism evident today (apparently 80 percent of people now consider themselves important) to experiments with monkeys and theories of evolution – but not in any real depth. The public are either sneered at or cast as victims, and throughout the psyche of the celeb-addict remains elusive. Atkins also takes aim at the invasion of stardom into politics - a topic that needs its own 100 minutes.
Like the stargazing public, Starsuckers aims too high. At best Atkins holds up a mirror to celebrity worship, but he merely provides an overview of this complex subject, rather than the dissection desperately needed.
Isabel Stevens
See also
LFF 2009 reviews part one: 44 Inch Chest, Oil City Confidential, Ride the Wave Johnny
LFF 2009 reviews part two: American: The Bill Hicks Story, Don't Worry About Me, Have You Heard from Johannesburg: The Bottom Line, An Organisation of Dreams
Sight & Sound's London Film Festival coverage 2008, 2006, 2005, 2004, 2002