Interview: Park Chan-wook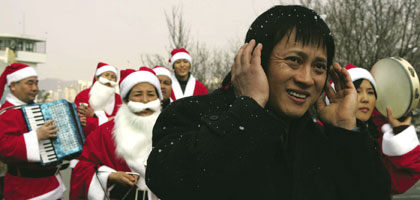 Ali Jaafar: How do you see 'Lady Vengeance' in relation to the other two parts of your trilogy?
Park Chan-wook: For me it's an antidote to the masculinity, impulsive violence and explosions of rage and hate in the first two films. So Lady Vengeance is about femininity, atonement and the search for forgiveness and salvation. And humour is an important element. If Sympathy for Mr. Vengeance dealt with social issues and Old Boy was mythical then Lady Vengeance is a fairytale. And humour plays a key role in making it fairytale-like.
When you began filming 'Sympathy for Mr. Vengeance' did you have a trilogy in mind?
Even when I started Old Boy I had misgivings about shooting two films on the theme of vengeance one after the other. I was going to refuse, but then my wife said, "If the story's interesting, isn't that all that matters?" But journalists kept asking me, "Why are you shooting two vengeance films back to back?" as if they were reproaching me for ignoring all the beautiful stories in the world and choosing such a horrific theme. I got fed up with the same question and before I knew it I said, "What are you talking about? I have plans for a trilogy." It was a spontaneous statement and I regretted it a lot but I couldn't take back what I had said in public. So you could say this trilogy owes its conception to Korean journalists.
You seem to colour-code your characters and scenes.
I tried to show that in condensed form in the credit sequence. There's the white of the tofu and cake, the red of the candles and blood, the black of the gun and leather coat. They symbolise purity, atonement and vengeance respectively. But the moment a film is explained like this it is degraded into something commonplace.
The music seems deliberately to reference the heightened states of European opera.
I hoped this Vivaldi-esque music, dancingly intense and elegantly flowing, would unify the confusions of a film in which the past and present intersect so wildly. And I wanted to bring out the inner spirit beneath Keum-ja's expressionless surface.
You have a long debate near the end on the morality of vengeance - could this scene act as a commentary on all three films?
Yes. I was definitely thinking of the entire trilogy when I wrote that.