Mud In Your Eye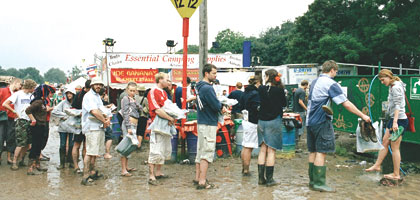 For director Julien Temple it's been a long road from the debacle of the 1986 musical Absolute Beginners. Could Glastonbury, a documentary about an utterly English rock festival, be the one-time punk's saving grace? By Charles Gant
As narrative arcs go, the life and career of Julien Temple doesn't have quite enough oomph for a Hollywood biopic, but it nevertheless ticks off plenty of the genre's familiar tropes: early fame; cocksure hubris; humiliating catastrophe; years of creative and commercial struggle; and now a satisfying third-act resolution with work that finally makes sense of his peculiar talents. Certainly the journey from his debut feature The Great Rock 'n' Roll Swindle (1979), a dissimulating exercise in myth-making aggrandisement, to his more recent Sex Pistols film The Filth and the Fury (2000), which served as a heartfelt corrective, suggests an archetypal redemption. That trajectory is maintained with his disarmingly sincere new documentary celebrating the Glastonbury festival, and is surely set to continue with his next film, about his former best friend, Clash frontman Joe Strummer. Twenty years after Absolute Beginners, the hollow flash of that calamitous event may at last be forgotten.
Absolute Beginners was Temple's ambitious attempt to create a 'street musical' from Colin MacInnes' tale of youthful rebellion in 1950s Soho and Notting Hill. But costs swelled 30 per cent above its £6 million budget, contributing to the bankruptcy of backers Goldcrest, and UK critics greeted the film with derision. Stung by the failure, Temple quit the UK for Hollywood - a choice he feels was forced on him because "I knew that nobody was going to let me direct another film here." Having made aliens comedy Earth Girls Are Easy (1988), starring a then little-known Jim Carrey, and a Mickey Rourke/ Tupac thriller Bullet (1997), he returned to Britain to create a pair of films about unconventional artists: tuberculosis-afflicted film-maker Jean Vigo in Vigo: A Passion for Life (1999) and drug-abusing poet Coleridge in Pandaemonium (2000). Neither connected much with audiences or critics, unlike The Filth and the Fury, which confirmed his position as the pre-eminent chronicler of the punk-rock movement.
And now there is Glastonbury, which he began filming at the 2002 event on the invitation of Michael Eavis, who believed the music festival he'd created on his Somerset farm might finally have run its course and was seeking a fitting monument. Having consistently failed to address the problem of gatecrashers, and now being given one last chance by the licensing authorities to limit the attendance within agreed safety limits, Eavis had erected an impressive steel barricade. But he still had qualms: would the fence prove sufficient; and might it so compromise the spirit of the festival that there would be no point in continuing?
The choice of Temple was predicated on several factors: he lived locally; he was known to the festival's director of sponsorship Robert Richards, who was to become the film's producer; and he had been accompanying his pal Strummer at the festival every year since 1997. Temple accepted the commission, overcoming reservations built up from seeing other festival films such as Woodstock and Monterey Pop. He was especially discouraged by the 1995 effort Glastonbury The Movie. "That was the one that made me a little scared," he says. "It did this weird thing of casting actors as regular festival-goers, and pretending they were real. It wasn't a drama and it wasn't a documentary. I didn't want to do that."
Temple filmed extensively in 2002 with a ten-person crew in an attempt to grab every aspect of the sprawling three-day counter-cultural event. Appeals for archival home-movie footage yielded a further 900 hours of material submitted by attendees, covering all the years of the festival since its inception in 1971. The director returned again to film for three more years, but none of this extra material was helping him give Glastonbury what it needed: narrative shape. At least he had a theme, however - Englishness. Whereas Americans evidently didn't have the stamina for numerous Woodstocks, bloody-minded Brits continued to brave inclement weather to enjoy the exhilarating annual ordeal of Glastonbury. Says Temple: "There's a cultural cliché about the English being emotionally repressed. And it's true to a certain extent, but I've always felt that when English people get out of the straitjacket they're some of the most interesting people around. The festival is a place where people leave their everyday roles or their own versions of themselves at the gate and for three days allow the eccentricities of what England is made of to be celebrated and shared. I've always seen it as a modern version of a medieval fayre - a great English event and an important part of the cultural landscape."
With such a vast amount of footage, Temple soon hit a brick wall during editing - "I started to feel I was drowning in options, and got very depressed" - which he finally overcame by deciding his film would follow the rhythms of a single Glastonbury weekend: he would recreate the feeling of the three-day event, but in the process tell the whole story of the festival's 35 years. And he would do so without narration and without the safety net of captions explaining who, what and when everything was.
Says Temple: "In the context of wanting to create a sense of travelling through the random energy of this bizarre weekend, of getting through three days and nights in a very extreme situation, I decided to throw the viewer into it rather than create a TV-mediated, captioned thing telling them what's going on. I wanted to give audiences the challenge of trying to work out whether it's 1981 or 1999. And in doing that they'd be forced to confront the differences between those times."
Inevitably some of the investors - finance came from BBC Films, media empire Emap and Michael Eavis himself - have had concerns about the lack of signposting, but as executive producer Tracey Scoffield puts it: "If you don't know who Jarvis Cocker is, then you're going to be pretty lost in the film anyway." Another contentious issue was the film's duration: 138 minutes is lengthy for a documentary. But, explains producer Robert Richards: "The justification is simply that, unlike any film I can think of, it's a film that's an experience. You really do feel you've been through that weekend."
What emerges is a film about Glastonbury, about Englishness, and, as Scoffield describes it, "a piece of British social history over the past 35 years". There's a lot of music but surprisingly scant screen time of actual performance. Says Scoffield: "The film is really more about the people who go to Glastonbury. A film with a lot of musical footage cut together would have been tedious - like a promo, not an investigation of the festival itself."
Glastonbury has been hailed as the most creatively successful film in Temple's wildly diverse oeuvre - a happy marriage of directorial talent and material. But can it remove the stigma of failures such as Vigo and Pandaemonium and give fresh impulse to his career? Studio executives and producers who contributed their thoughts on Temple to this piece all agree that a project such as Vigo - a £3 million picture about a French film-maker starring James Frain - would be impossible to make in today's climate. According to Paul Webster, who distributed Vigo when he ran FilmFour and went on to finance The Filth and the Fury, Temple is "a very, very savvy guy - he's always thinking about marketing - but he has an in-built anarchy to his approach. He sees himself as a provocateur, somebody who's always looking to subvert the norm. He's always coming at you with leftfield ideas, stuff you wouldn't have thought of, some of which is great and some of which isn't."
Scoffield, who also worked on Pandaemonium during her stint as head of development at BBC Films, points out: "Production funding is so cautious now, and people are drawn towards more banal projects, which they perceive somehow as being commercial. Julien could probably flourish in a low-budget world, but he's always going to go for stories that a lot of people simply won't believe are commercial enough to take a risk on."
Temple himself says he's keen to return to the fiction fray after the Strummer film (he has a long-in-development biopic of Elizabethan playwright Marlowe, scripted by Frank Cottrell-Boyce), and is eager to apply some of the lessons he's learned on his documentaries. It can only be hoped that he will be given that opportunity - or finds fresh documentary subjects as stimulating as Glastonbury. As Absolute Beginners producer Stephen Woolley puts it: "At the end of the day, if he's known for making some of the most intelligent music documentaries of our era, that's not a bad place to be."
Interview: Charles Gant talks to Julien Temple
Charles Gant: The film's depiction of Michael Eavis, one of your principal investors and the creator of the festival, is by no means flattering. Were you nervous about his reaction?
Julien Temple: He very generously said, go away and make the film, I'm not going to tell you what to do. I've seen what happens when Mick Jagger commissions a documentary and everything is about making the sun shine out of his arse, and as a result he looks like a complete arsehole. Obviously I'm aware that this is the man's life's work, and I took that seriously. I wasn't going to rip the festival apart, but on the other hand I didn't want to be sycophantic. I enjoy the contradictions of Michael Eavis. You could have a laugh at his expense and at the same time deeply respect him.
There's a lot of music in the film, but only short bursts of performance. Was that always your intention?
I always wanted the music to be the fuel of it, but I didn't want to stop the film just for a performance. The key to me is not to have too much of an idea of what you're going to do before you get involved. I like a very instinctive response to material, improvising as I go along. That's what's exciting about it: it's a high-wire act on one level, and blowing a bebop solo on another. We'd spent six months organising the footage so everything we might need was instantly accessible, so that when we wanted to hit a note we could do it. It becomes a very adrenaline-charged form of editing, which is only possible if you've prepared for it.
Were there constraints of certain performances not being available on your budget, or of executives pushing for things you'd prefer not to include?
The rights clearances were obviously fundamental: if people didn't want to be in the film, or we weren't paying them enough money to change their minds, then we weren't going to use them. On the other hand, there was some pressure to go for obvious big-name acts, American acts. But it wasn't that heavy, and it was quite easily seen off. I don't personally love all the music, but I did choose it. Some of it is there because it illuminates the time in some way or comments on the visual argument at that particular moment. I even find the David Gray 'Babylon' sequence quite exciting, and I don't normally listen to David Gray. But in the context, the fact that he wrote that song in Glastonbury about Babylon and Glastonbury, it seemed to connect. I found it interesting that I could enjoy music that I wouldn't expect to want in my film.
Were any of the investors sceptical about you not using titles or captions?
I'm still getting emails saying, can we burn the titles into the print? It's an issue that dies hard. But I've also had people saying that not having titles has made it better.
You've talked about the film being a mirror for our times and reflecting a change in the human species. What do you think that change is?
It's being bombarded with what to think. A kid growing up in the country years ago would be discovering his or her own way through childhood. But if you're weaned on an Xbox and bombarded by 400 television channels telling you what to think, the options close down. People have become less confident in their way of thinking. If you look at Glastonbury as a spaceship travelling through three and a half decades, then the people on board have changed beyond all recognition in the way they see themselves, in the ways they relate to the world and in the ways they journey through their lives.
And yet the film is fairly subtle in its address of issues like corporate sponsorship and commercialisation.
I don't like a holier-than-thou, preaching attitude to what's right and what's wrong. If you can be funny when you're making a serious point, that's the best way.
Despite having a ton of footage, you kept going back to shoot more.
Last year I was wandering around with a camera actively trying not to shoot. But then there was probably the biggest flood in the festival's history, so there were interesting images that were forcing me to film.
If you'd known from the start that it was going to take you four years, would you have agreed to do it?
I think so, because I like the risk of it. The more risks you take, the more you can push the medium into places you haven't been before. And to me that's the reason to make films.
Well, some people make films to make a living, but maybe you have a financial comfort zone from past work?
No. I have a £20,000 overdraft and I have problems paying the tax every year. I also have three kids. But I live quite simply in the country. If I had a Hollywood mansion with a big swimming pool, I don't think I could do what I do. I think you've got to be slightly hungry.
Do you have a passion to get back into making fiction features?
When I finish the Joe Strummer doc I'll be desperate to get back into it - I think I'll be ill from sitting watching footage at a computer for too many years.
The physical challenge of making a movie with a crew and all the pressure of that would be good. And there's also a creative aspect. I'd hope to have learned from what I've been doing with these films, so when I make fiction films I won't make them the same way I used to.
Such as?
I want to be totally spontaneous. I want to find a way of doing it so I don't have to pre-plan everything. I'd like to do it very cheaply and in a variety of formats. I certainly don't want to spend a day waiting for some guy to light the set.
Would potential financiers be happy to embrace that vision?
I don't know. They've never been happy to embrace what I've wanted to do anyway. But I'm very keen to reach an audience and if I can do it cheaply enough I think there will be like-minded spirits out there who'll want to make the stuff I want to do.
How connected do you feel to the London-based industry?
I feel that I'm sitting in a barn surrounded by sheep with a computer, and that's all I need. I don't feel very connected at all. But I do feel connected to festivals like Berlin or Sundance or Belgrade. I like the idea that I can show my films all over the world.
It's interesting that Michael Winterbottom has successfully blurred boundaries between documentary and fiction with 'The Road to Guantanamo' and 'In This World'.
I admire him a lot, and I think those are his best films rather than Code 46 or Nine Songs. Film-makers can't always make great films and there are reasons why Code 46 doesn't work that were maybe beyond his control. The more control you have and the more you're able to be personal about what you're doing, the better the film is going to be. Big stars having arguments with each other is not a great thing when you're trying to make a film.
The opposite view to sole-author control is that film is a collaborative medium, and strong, creative producers can help directors to make their films better.
Good ideas are really welcome - they're the most important thing on a film set. But you also need to be free from bad ideas.
Have you suffered from being insufficiently free from bad ideas?
Yes, I have. Not to say that I don't have bad ideas myself, but I do feel I've had a bad time on most of the films I've made and not been able to do what I've wanted to do.
The UK Film Council's emphasis is on creating a sustainable industry and it's hard for an artistic film-maker like Terence Davies to get a film funded here these days. Where do you see yourself fitting in?
You're only as good as your last film, and if there's a good buzz about that you have a chance of finding finance. But too much finance comes with a lot of restrictions. Michael Winterbottom is inspirational in some ways because he hasn't made any money from his films, yet he keeps doing them.
Do you think your varied CV discourages people from embracing you as an auteur?
I'm hoping to scare those people off! Each movie is its own thing and should be treated in a different way. A good subject should provoke a film-maker into doing something different.
But do you feel under-appreciated?
Not really. I think finally I'm not buried alive by what happened with Absolute Beginners, which is why I left Britain in the first place. Other than that, it's good to be off the radar, or under the radar, as long as you can keep working. If you start winning prizes, then you're in trouble.