Time to Leave
France 2005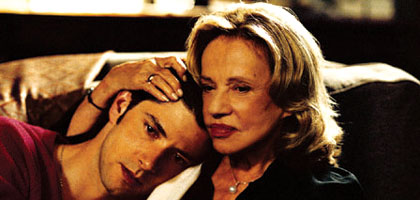 Reviewed by Ryan Gilbey
Synopsis
Our synopses give away the plot in full, including surprise twists.
Paris, the present. Romain, a successful 31-year-old photographer, is diagnosed with terminal cancer. He declines chemotherapy and is told that he has a less than five per cent chance of survival. At dinner with his family he insults his sister Sophie, reducing her to tears. That night he breaks up with his boyfriend Sasha and visits a club to watch strangers having sex. He goes to stay with his grandmother, who becomes the only family member to learn of his illness.
Driving home, he meets a waitress, Jany, who had served him the previous day. She asks if he will impregnate her, with the consent of her husband, who is infertile. Romain refuses. He makes a conciliatory phone call to Sophie after receiving a letter from her. He asks Sasha to have sex with him one last time but is rebuffed. He finds Jany and agrees to sleep with her in a threesome with her husband. Later, Jany and her husband act as witnesses as Romain makes a will that leaves everything to the unborn child. He lies on the beach and remains there as the sun sets.
Review
When terminal disease is soft-pedalled in movies, as it routinely is, the audience is spared, but something is lost also. Our full anguish is foreshortened by seeing Julia Roberts in Steel Magnolias or Barbara Hershey in Beaches embodying suffering by removing every last speck of foundation and donning a homely headscarf. And there is never any genuine engagement with what death entails.
In Time to Leave mortality catches up with Romain, a 31-year-old cancer victim, before illness gets a chance to erode his looks; the notion that the audience will shed fewer tears over the suffering of someone ugly or plain stretches back to Garbo in Camille. Romain does lose his hair, though it's by choice, not chemotherapy. And perhaps no film that thanks Agnès B, Paul Smith and Prada in the end credits can be entirely tough-minded. But by the time Romain stretches out on a beach in the final shot, a symbolic gesture that may not sound like much of an improvement on Anthony Hopkins crossing a bridge to oblivion in Meet Joe Black, the film has nimbly sidestepped enough brushes with the clichés of the form to have earned its euphemistic ending.
French cinema has a recent tradition of films that confront terminal disease robustly, or appear to, as in Savage Nights and Don't Forget You're Going to Die, both about HIV-positive men. Time to Leave sits somewhere between these and Hollywood productions in the vein of Steel Magnolias. At least François Ozon has tweaked the form to fit his own needs, rather than vice versa. It seems typical of this director's barbed humour, for instance, that when Romain arrives home following his grim diagnosis, an argument with his sister, a visit to his dealer and an emotional embrace with his father, his boyfriend should be playing a shoot-'em-up computer game featuring exploding heads and other comforting images of death.
Ozon's compulsion - it's one of his defining characteristics, in fact - to root out sensual properties in unlikely places is more than usually evident in Time to Leave. When Romain sits astride a chair and begins shaving his locks the camera fixes on his gleaming white underpants, where shorn curls fall like black ash on snow. In an earlier scene Romain asks to join his grandmother in bed. "You know I sleep naked?" comes the reply, which might be more startling if she weren't played by Jeanne Moreau, still sunny at nearly 80 years old. She's the latest beneficiary, after Charlotte Rampling in Under the Sand (2000) and half the cast in 8 Women (2001), of Ozon's equal-opportunities approach to sex appeal.
Drawing from the more formulaic end of the genre, Ozon's script gives Romain the chance of some last-minute reconciliation (with his sister) and tenderness (with his ex-boyfriend), as well as offers of a more transgressive nature: should he have sex with a stranger in an S&M club, or a waitress whose husband is infertile, or consent to his grandmother's suggestion that they commit suicide together? What's interesting is that all but one of these opportunities is thwarted or rejected. Romain does have a final conversation with each of his loved ones, just as he would have done if Hollywood had got hold of this material. But those loved ones, with the exception of his grandmother, don't realise that they will never see him again, that au revoir in fact means goodbye. The effect is to leave one side of each of these standard farewell scenes as if suspended in mid-air, discrediting the idea that life ends with a tidy full stop rather than a nagging ellipsis.
Cinematographer Jeanne Lapoirie has shot three previous films for Ozon, including Under the Sand, which the director now says was the first part in a trilogy about death that continues with the new picture. In Time to Leave, Lapoirie's clean, glossy images of Romain's privileged life are disrupted repeatedly by Monica Coleman's brisk editing, which prevents us from relaxing into the movie. Anyone anticipating lots of trashy, Eyes of Laura Mars Mars-style photo-shoots as Romain goes about his business as a snapper for Vogue will have to make do with just one (in sight of the Eiffel Tower, of course) before he receives his unhappy tidings only four minutes into the movie.
Ozon's work has always been lean; he still seeks counsel from Truffaut's innovative editor Claudine Bouché on all his films. And his unwillingness to linger too long on a shot, unless soliciting our unease, rescues scenes that could have tipped over into mawkishness. On paper it sounds disastrous that Romain glimpses repeatedly a younger incarnation of himself, beginning with the moment when he sees his own reflection morph into the face of him as a ten-year-old self. But the gimmick is used so judiciously, mostly in flashbacks that unfold within the present tense à la Annie Hall, that it assaults the hairs on the back of your neck rather than your tear ducts.
The two Romains eventually interact in the final sequence on the beach, when the older version returns the boy's inflatable ball to him. A studio executive might approve of the suggestion of closure in that exchange, but for followers of Ozon's work it's just more proof that strange things happen at the seaside: a wife can lose her husband (Under the Sand), a gay teenager can be seduced by a woman (A summer Dress, 1996), a mother can be terrorised by a backpacker (See the Sea, 1997). Ozon even creates a continuity between the beach scenes in his films. Time to Leave begins with a shot of the younger Romain sitting on the sand with his back to the camera and then running towards the ocean. That shot picks up from Ozon's last film 5x2 (2004), which ended with the doomed lovers bounding into the water. In stopping abruptly before the boy reaches the ocean, it also harks back to the cruel cut-to-black that curtailed the widow's final visit to the sea in Under the Sand.
Despite these layers of self-reflexiveness, the most complex moments in Time to Leave are nothing more than brief reaction shots that depend for their impact on the actors' barely perceptible facial expressions. When Melvil Poupaud's Romain is summoned to his doctor's office with the warning that it will be bad news, his first question is: "Do I have Aids?" Receiving the answer he desires, there is a glow of smugness and infallibility, which is extinguished abruptly by the mention of a tumour. Having been excused Aids, Romain assumes wrongly that his death will be a timely one.
Valéria Bruni-Tedeschi, who plays the waitress impregnated by Romain, pulls off a similar effect. After witnessing Romain making his will, there is a question she wants to ask, one she should perhaps have raised before falling pregnant by him: is his disease hereditary? When Romain says it isn't, that it's cancer, the actress must signal profound relief that her child will not be unduly disadvantaged before disguising this with a twinge of sympathy for Romain. The entire film is a balancing trick, with scenes of potential banality redeemed at the last by a subtle twist or subversion. In their conflicted expressions, the performers prove themselves experts at their own high-wire acts.
Credits
Director

François Ozon

With

Melvil Poupaud
Jeanne Moreau
Valéria Bruni-Tedeschi

Certificate 18 81m 17s