Edinburgh 2006: Giant Steps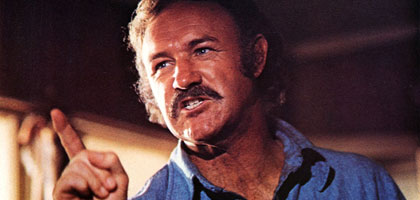 The shock of the maverick
The jewel in the crown of Edinburgh International Film Festival's 60th anniversary is 'They Might Be Giants', a fulsome programme of great but now overlooked US films of the 1970s. David Thomson surveys them opposite. If there's one word that tends to stick to the directors of that era, it is 'maverick'. And now there's another who's earned that appellation: the departing artistic director of the EIFF Shane Danielsen. Say what you like about the sometimes controversial Danielsen - and many people do - he has done Edinburgh his way, consistently coming up with selections that challenge the prescriptive thinking of festival heads and critics alike. His fifth and final round is no different. Our pick is opposite, but there are also appearances by a starry list of guests including Sean Connery and Steven Soderbergh, and many films whose quality we can only guess at because they're so new. Nick James
Giant steps
When traditional Hollywood fell apart in the 1970s, new talent made no-compromise films the astounding norm. By David Thomson
The wind has no aim or purpose: it can lift houses off their foundations as easily as it can stir the hem of a girl's dress. It is always up to the watcher to keep his or her eyes open for the spectacle and his or her mind attuned to its significance. In the world that is still prepared to think and talk about film, we are nostalgic over the wind in America in the early 1970s. It was called Coppola, Scorsese, Ashby, Polanski, Altman, Bogdanovich, Pakula, Rafelson, De Palma, Peckinpah, Milius, Demme and Cassavetes.
Think about that gang for a moment and it becomes far-fetched to imagine a single wind blowing them all along. Nevertheless, the studio system cracked apart and the kids ran in and out like urchins on a bombsite with new theories on architecture. They came from film school, they had paid their dues in the past ten years, some were rich and some were just absurdly lucky. And they captured the wind. There were huge, clumsy, old-fashioned films still (try Guess Who's Coming to Dinner, 1967; Patton, 1969; or the Barbra Streisand musicals) - but they had none of the wind. It could be that America did its best film work since the 1930s and 1940s because of that wind: Five Easy Pieces (1970), Klute (1971), The Last Picture Show (1971), The Godfather (1972), The Long Goodbye (1973), Mean Streets (1973), Pat Garrett & Billy the Kid (1973), Chinatown (1974), Shampoo (1975).
As soon as you make a list of the films, you realise how varied they are and how much they depended on contrary urges ñ from the exuberant depression of Polanski to the scorched romanticism of Peckinpah. Neither of those guys would have owned up to being in a group. So pause for a moment and reflect on the other films, not as well known maybe, but every bit as lively and different from The Poseidon Adventure (1972) and The Towering Inferno (1974), those staid disaster epics of the same period. Surely there are giants in this list (and I'm compiling it simply by going through the Monthly Film Bulletin): Little Murders by Alan Arkin, a black comedy taken from the work of cartoonist Jules Feiffer; Taking Off - does anyone remember that? - by Milos Forman with a script by Jean-Claude Carrière and John Guare (among others) about teenagers leaving home; The Shooting by Monte Hellman, an existential Western with Jack Nicholson and Warren Oates; a rowdy, talkative violent thing called Maidstone by Norman Mailer; Carl Reiner's Where's Poppa?; John Huston's Fat City, a lugubrious view of boxing set in Stockton, California, with Stacy Keach, Jeff Bridges and Susan Tyrrell in one of the most startling pieces of work by an actress in the decade; They Might Be Giants, directed by Anthony Harvey from a play by James Goldman about a man (George C. Scott) who thinks he must be Sherlock Holmes; Pocket Money by Stuart Rosenberg, scripted by Terrence Malick; Philip Kaufman's The Great Northfield Minnesota Raid with Robert Duvall as a loco Jesse James; Robert Aldrich's Ulzana's Raid with Burt Lancaster back to honour the Apache; Hellman's Two-Lane Blacktop - announced as the film of the decade by Esquire but gone in a couple of weeks; Steelyard Blues by Alan Myerson, starring Jane Fonda and Donald Sutherland; Save the Tiger by John G. Avildsen, which is as ruinously pessimistic about everything as the same director's Rocky (1976) is cockahoop; Elaine May's The Heartbreak Kid, maybe the sourest honeymoon picture ever made; Robert Benton's Bad Company. And I'm only at the end of 1973.
I'm not here to tell you that every picture in the above paragraph is as good as They Might Be Giants (1971), Fat City (1972) or Ulzana's Raid (1972). But I do want to say that the Edinburgh festival retrospective on lost or ill-considered gems from the 1970s is a rich idea - even if it doesn't include Fat City, Robert Aldrich's Hustle (1975), James Toback's Fingers (1977) or Alan Rudolph's Remember My Name (1978). You may realise already - even if your personal sense of cinema began in 1977 with the disastrous Star Wars - that there were fascinating things coming out nearly every month in the years beforehand. I'm not sure that anyone in Edinburgh wants that many masterpieces, but among the films that have impressed the selectors are Save the Tiger (1972), Hal Ashby's The Last Detail (1973), Karel Reisz's The Gambler (1974, screenplay by Toback), Monte Hellman's Cockfighter (1974) and many others including one that does stand a chance in the masterpiece game: Arthur Penn's Night Moves (1975).
In the story of the 1970s, Penn is a fascinating and touching case. No film had done more to reassert the recipe of old genres and new candour than Bonnie and Clyde (1967). Today we realise the mixed pedigree of that extraordinary picture: the influence of the New Wave, in that its writers Robert Benton and David Newman had first sought Truffaut or Godard as directors; the sexy authority of Warren Beatty as a producer and his shyness as an actor. But surely it was Penn who found the kinetic riskiness that enabled a 1930s gangster picture to speak to the anti-authoritarian attitudes of the late 1960s. You needed to be alive in 1967 to feel how far Bonnie and Clyde was taunting the archaic ways at Warner Brothers and the fossilised approach to Vietnam - and I think its box office and its on-screen jitteriness were the inspiration for the next few years, far more so than Easy Rider (1969), which many people found incoherent or half-baked even if it helped persuade producers to throw money at kids.
All the more reason, therefore, to lament the relative obscurity of Night Moves. It is a film about a private eye, Harry Moseby (Gene Hackman), who had been a football star before that. But don't rely on private eyes in the glare of Miami, not any more. And don't rely on sunlight burning noir away. This is the high-key noir of daylight robbery such as Florida would perfect 25 years later.
Moseby is no more potent than Elliott Gould's Philip Marlowe in The Long Goodbye (1973). But he is more dangerous because he thinks he can still take care of others. He is hired by Arlene Iverson (Janet Ward) to find her teenage daughter Delly. The kid has run away, or just slipped into the brightness. If you want to compare the case with Marlowe's job in The Big Sleep (1946/1978), there is real sex attached to Delly - she is the teenage Melanie Griffith, a sight to behold - and her mother, whose movie career failed, is a casual tramp. Before the daughter could run away, the mother let her go. You wonder why she's bothering to hire the eye; she knows the sordid truth anyway.
It's a measure of the 1970s in American film that hopelessness clouds the detective's task from the outset. But Harry doesn't get it; he isn't exactly bright. He doesn't even know yet that his wife (Susan Clark) is seeing another man (Harris Yulin). Indeed, as he investigates the one thing, he blunders into the other. He finds that Delly went off with a young movie stuntman, Quentin (James Woods), and Quentin says that she dumped him for an older stuntman. The search goes down to the Keys - a world of sport, drugs and stolen relics from the Yucatan - and Harry finds the girl living with her stepfather Tom Iverson (John Crawford) and his wife Paula (Jennifer Warren).
Down on the Keys, in paradise, everything will turn worse. Harry falls for Paula, but she was told to seduce him while something else - much worse - went on. It's a film full of pretty or handsome faces ruined by lies and compromise - just look at the young Griffith, at Woods and Warren. Look at Hackman himself. This is surely a sign of what had happened to Penn, a gentle and generous man who had fallen out of love with people in the years since Bonnie and Clyde. What made that film so vibrant was the force of Penn's affection for the gang members, as great as his fondness for Helen Keller and Annie Sullivan in The Miracle Worker (1962).
I'd judge that Night Moves is the great film about paranoia from 1975, but it was too spooky to do any business. That other study in exaggerated fears, All the President's Men (1976), was the hit - and nowadays we can see how we fell for its huge lie: that everything was going to be OK, that a couple of dogged reporters could protect us and the constitution from dirty tricks. Yet if you remember the sinister air of Pakula's film and the barely explained reason why so many of its small people were afraid, you know the real message of the 1970s: that dread was coming in, so don't trust the reassurances. "If there's one thing we've learned," Michael Corleone tells Tom Hagen in The Godfather, "it is that we can kill anyone."
That's the message of these neglected films ñ the broken faces of the heroes and heroines the palpable proof that too much self-love and self-protection have done their work. But these tenuous careers held on. In the late 1970s, despite the lunatic reassertion of optimism in films and the trumpeting that the business was back, despite all that Spielberg and Lucas could do to say their becoming very rich was good for the country, there was no reason to be dissuaded. A director as quizzical as Philip Kaufman made Invasion of the Body Snatchers (1978), so that you knew San Francisco (let alone the rest of the world) was unsound. After that he has made only one more full-blooded American film, The Right Stuff (1983), which suggested (without malice or horror) that the stuff was hype, spin and bullshit - and no one wanted to know. The careers of these film-makers were on the edge. And look at the other directors in the Edinburgh season who faltered: Walter Hill, James William Guercio, Elaine May, Michael Ritchie, Monte Hellman. No one ever put the word out officially, but if you weren't willing to tell cheerful lies then you probably didn't get to make American movies. A lot of the energy went off into fantasy - into comic-book heroes - and a sterile, non-threatening darkness is possible there. But if you wanted to tell dark truth on screen you had a far better chance on television.
I think it was part of a struggle that began at the end of World War II, when young film-makers came back and were driven by the lessons about human nature revealed at Auschwitz and Hiroshima. Film noir is the first great erosion of 'happy ending' confidence, and people like Nicholas Ray, Joseph Losey and Robert Aldrich were its harbingers (seeing Hustle and Ulzana's Raid again reminds you of the Aldrich of the 1950s - of Kiss Me Deadly, Attack! and The Big Knife). But Aldrich sold out with The Dirty Dozen (1967) and a series of ignominious pictures. He stumbled around and may have been surprised at how much of himself was left dry and sour for Hustle.
The Edinburgh season is indirectly a story of people who never sold out or understood the compromises required to stay in pictures. It tells a much sadder tale than the one of early promise and personal betrayal that Peter Biskind has peddled with such grave delight.
In Hollywood today it is taken for granted that new careers will crack. The kids with hits will go for the new wife, new house, new habit, new way of looking at what movies are. (Look at Robert De Niro's face and see what this process has done.) In a few years they'll make anything, without need of a producer like the one from The Big Knife (Rod Steiger) who can threaten personal scandal! We know that anyone alive and well in Hollywood is a disgrace, just as the tattered legend that is the greatest country on earth and god's country would turn most politicians' saliva to acid. So study this season carefully, and see how far it predicts not just the ruin of a strange enterprise where art and business played terrific ping-pong for 50 years, but the shame of a nation.