NOZONE - Farewell, my projectionist
DVD review: Electric Shadows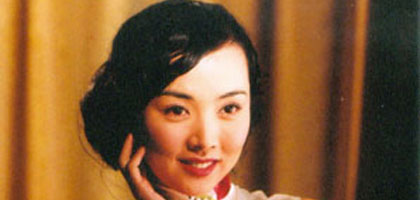 Tim Lucas enjoys an affectionate tribute to the past glories of Chinese cinema
Eric Rohmer; Criterion/Region 1; Aspect ratio 1.33:1; Features: Rohmer shorts, interviews with Rohmer and collaborators, critical essays and a book of Rohmer's original stories
Xiao Jiang; China/Hong Kong 2005; Asia Society/First Run Features/Region 0; 95 minutes; Aspect Ratio 1.85:1; Features: director's introduction, director's bio, production notes, stills gallery
This ambitious first feature takes its mysterious title from the literal translation of dianying, the Chinese word for cinema. It presents a roughly 40-year period of Chinese history (from the Cultural Revolution years through to the early 1980s) as background to a poignant, ultimately tragic family saga set near an open-air cinema in a rural village. The film, based on Xiao's original script (written with Cheng Qingsong), begins in the modern day as Dabing (Xia Yu), a cheery nutter of a movie addict, crashes his bicycle into a loose brick wall while making bottled-water deliveries. Before he can regain his footing, a sullen young woman (Qi Zhongyang) appears, cracks his skull with a brick, then proceeds to trash his bike. Dabing awakens in hospital, is discharged and later confronts his assailant, who is tearful, deaf, emotionally numb and bound for a psychiatric clinic. She pleads with him to feed her fish, thrusting at him the keys to her apartment. To his astonishment, these keys unlock a door that leads into a veritable shrine to classic Chinese cinema. Dabing proceeds to feed the fish and glut himself on her 16mm and video archives, eventually discovering the beautifully storyboarded diaries of the girl, whose name is Ling Ling. The diaries tell the engrossing story of Ling Ling's movie-infatuated mother, Xuehua (the luminous Jiang Yihong), who unwisely idolised the 'counter-revolutionary' musical actress Zhou Xuan and answered her illegitimate daughter's questions about her father by saying that she was the child of movie star Luo Jinbao - an affectionate lie reinforced by the projectionist of the open-air cinema, Uncle Pan (Li Haibin), who loved Xuehua and later married her. Also in the diary is the tortured story of Ling Ling's own lifelong love affair with movies, her relationship with her younger brother, Bing Bing, her thwarted ambitions, and the story of how she lost her hearing. By invading this stranger's privacy, the gobsmacked Dabing unwittingly unlocks a door into his own past.
Electric Shadows has been compared to Giuseppe Tornatore's Nuovo Cinema Paradiso, but apart from the fact that both films cover the same basic timeframe, depict relationships between a child and an adult projectionist, and offer some intriguing glimpses of vintage films that few English-speaking viewers have seen, they are as different as could be. Whereas Tornatore's film maintains a generally cool carriage until it explodes in a crescendo of Italian schmaltz, Xiao's is more emotional, and more melodramatic, throughout. Its tendency to melodrama when drama would suffice might have proved a decisive flaw but for the high quality of the character writing and casting. Wang Zhengjia, as the protagonist's boyhood self, is particularly winning, and three different actresses essay the role of Ling Ling yet the portrayal overall is a marvel of consistency. These are interesting, vividly imagined, vital characters.
It should be mentioned that Electric Shadows is also the title of an award-winning 1993 documentary short by Hervé and Renaud Cohen, a complementary work that sketched the lives of four Chinese projectionists whose job was to bicycle the basic tools of the cinematic experience from one village to another, in an effort to keep communal entertainment alive after the arrival of television and Chinese economic reforms. This story is but one backgrounded element in Xiao Jiang's maiden effort, but the two films are sufficiently allied in theme to have made the short a pertinent addition to this DVD release.
This Asia Society release through First Run Features displays an unfortunate tendency of the latter's product, in that it offers neither anamorphic enhancement nor removable English subtitles. The image quality is comparable to a 1980s vintage video cassette, and panning shots result in smudging and blurring. Furthermore, because the subtitles (feelingly translated by Sight & Sound contributing editor Tony Rayns) are placed below the 1.85:1 frame, it's impossible to zoom the picture up to fill widescreen sets without losing the subtitles altogether. This is 20th-century DVD making, pure and simple; you know that something's terribly wrong when the stills-gallery images radically outshine the feature presentation itself.
Aside from the stills gallery, all the bonus features are in text form. Xiao provides an illuminating introduction to her film, detailing its origins, and the production notes are essential to explaining to western viewers the significance of the four films used as the primary historic touchstones. These are Street Angel (Malu Tianshi, 1937), starring the very fetching Zhou Xuan; the action-packed children's favourite Railway Guerrillas (Tiedo Youjidui, 1956); the propagandistic Shining Red Star (Shanshan de Hongxing, 1974); and The Back Alley (Xiao Jie, 1981), the final film Uncle Pan shows in his outdoor cinema and the first Chinese film of its period to deny Maoist propaganda a place in its narrative. The fact that the closure of Uncle Pan's open-air theatre takes place at a time when a new "open-air" period in film-making was just beginning in China introduces a welcome irony, adding just enough salt to keep the surplus sweetness grounded. Equal parts head and heart, densely textured with history, politics and love of cinema, Electric Shadows is perhaps most surprising in the right it earns to be approached simply as an endearing piece of popular entertainment.