Nozone: Look back in wonder
DVD Review: Dont Look Back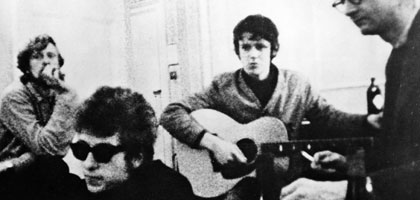 A new edition of Pennebaker's candid and unflinching Bob Dylan portrait hits all the right notes, writes Tim Lucas
Bob Dylan Dont Look Back - 65 Tour Deluxe Edition

D.A. Pennebaker; USA 1967; Docurama Region 0; 152 minutes total; Features: bonus feature, bonus audio tracks, companion book and flipbook
D.A. Pennebaker's impressionistic black-and-white documentary of Bob Dylan's 1965 British tour, his farewell to purely acoustic performances, somehow retains a sense of immediacy in its fifth decade while other music films of its time have succumbed to nostalgia or irrelevance. Unflinchingly real where other 1960s rock films dealt in fantasy, Dont Look Back is about more than music: its unvarnished presentation of press interviews, business negotiations, backstage nervousness, hotel-room camaraderie and the myriad sorts of people seeking some kind of personal validation from Dylan all give the film a directness that hasn't aged. There is also something about Dylan himself, captured here in his early twenties - his stance in the spotlight (vulnerable behind a bare arsenal of mouth organ and guitar yet unimpeachable in his defiance, charm and articulation) and out of the spotlight (a funny, walking bullshit-detector in prescription shades) - that continues to exemplify our concepts of art and the artist and the necessity to both of risk.
Seemingly shapeless, the film (shot in 16mm) culminates in the first of two performances at the Royal Albert Hall, attended by anybody who was anybody in London at the time. We see Dylan steel himself in preparation and emerge from that trial-by-fire as two people: as an artist, more than he was, yet still himself, pale and incredulous, almost too shaken by destiny to acknowledge what has happened in words.
Dont Look Back (which takes its title from baseball legend Satchel Paige's aphorism, "Don't look back; something might be gaining on you") has returned to DVD as a two-disc box-set of bible-like size and heft - a '65 Tour Deluxe Edition' as opposed to what it also is, a '40th Anniversary Edition'. In addition to the standard-ratio main feature, the set includes a commentary by Pennebaker and Dylan road manager Bob Neuwirth; a new printing of the 168-page companion book (an illustrated transcript of the film that makes for interesting reading divorced of sound and image); a flipbook edition of the 'Subterranean Homesick Blues' sequence that only gets as far as the 'Tip Toes' card; five previously unreleased audio performances from different tour venues in stereo; and, most wonderfully, Bob Dylan 65 Revisited, a new 66-minute assembly of outtakes from Dont Look Back (also with optional Pennebaker/Neuwirth commentary).
For a film composed of "things that didn't seem important at the time but now, looking back, do," 65 Revisited has surprising structural integrity of its own. It opens with a performance of 'Don't Think Twice, It's Alright' that seems to guy the film's own nature as a reconsideration of what's valuable, then staggers documentary and performance footage from various towns and venues, indulging those who criticised Dont Look Back's emphasis on the man over the music by presenting eight songs in their entirety or almost. Pennebaker also indulges himself by including the second half of 'The Lonesome Death of Hattie Carroll', withheld from Dont Look Back because its final stanza would have overpowered its place in the centre of his picture. Unlike the main feature, here every location is identified and the menu ascribes dates as well. Some notable moments show Dylan and Joan Baez hosting a joint photo opportunity, and a visit from Nico, two years before she joined the Velvet Underground.
The audio commentaries develop into extremely informative tracks, of value to Dylan fans and students of documentary film-making. Pennebaker offers remarkable insights into the function of composition ("Long wide-angle shots slow down a film, tight shots speed it up"), and yields tetchy but engrossing stories about how an Auricon camera was customised for the job, and about his general disregard for framing: "Sometimes I just put a wide-angle lens on and guess." Forty years on, Dont Look Back remains the perfect exemplar of Pennebaker's theory: the most objective portrait of Bob Dylan we've ever had - proving, as Dylan himself once sang, that even the president of the United States must sometimes stand naked.