French Cinema Now: French Exceptions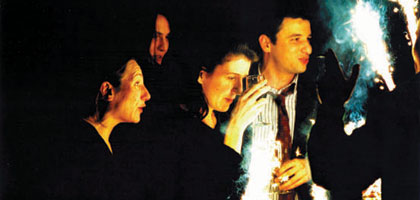 The density of talent French cinema can draw on is poorly represented in the UK. Outside of film festivals and London's Institut français, opportunities to see idiosyncratic works are few. Here Jonathan Romney considers the riches we are missing
Only a small proportion of French films are distributed in the UK, so we can't claim to have an accurate picture of what's happening on screens across the Channel. We might like to think that French cinema is characterised by the auteur titles that seep into our rep circuit, or perhaps consists of the arthouse fare that never even makes it here. In reality, though, the state of French film is defined usually by what counts at the domestic box office but is deemed too quintessentially Gallic for export: for instance, the spoofy comedies starring Jean Dujardin (Brice de Nice, OSS 117 and soon a live-action Lucky Luke), an actor best described as France's Will Ferrell or Sacha Baron-Cohen.
While the current Anglophone appetite for French cinema is squarely auteurist, what gets released here is shaped by distributors' preferences, prejudices or habits. Though a handful of distributors are known to pick up wild-card titles, the number of films that slip through the net is considerable - and regrettable, when you realise how many careers we never manage to track at close range. What follows is a selection of interesting titles and names from the last decade or so that have never got beyond festival exposure.
One of the best recent films to lose out seemed a shoo-in for UK distribution. Un homme, un vrai (A Real Man,2003) by brothers Arnaud and Jean-Marie Larrieu is a witty comedy about a star-crossed couple played by Mathieu Amalric and Hélène Fillières. Adventurous yet altogether commercial, it subverts the romcom genre with bold visual panache and stylistic omnivorousness, taking in Jacques Demy pastiche, office-life sociology, nods to Almodóvar and Godard, and a spectacularly offhand attitude to identity. Separated in the second act, the couple are reunited in the third during a birdwatching trip in the Pyrénées - but we're not entirely sure they're the same people, since he now has a thick beard and she has apparently become American. The brothers' 2005 follow-up Peindre ou faire l'amour (To Paint or Make Love) is a complacent mid-life swingers' comedy, but I'll keep faith and watch for their return.
Another terrific debut is Elle est des nôtres (She's One of Us, 2003), Siegrid Alnoy's story of a woman in crisis. The film starts as a picture of workplace alienation, somewhat along the lines of Laurent Cantet's L'Emploi du temps or Philippe Harel's Michel Houellebecq adaptation Whatever, but from a feminist perspective. Later it morphs into a psychological crime investigation à la Dostoevsky, with Sasha Andres' heroine facing an uncannily insightful policeman (the eerie-eyed Carlo Brandt). The film is shot by Christophe Pollock in a glacial, formal fashion that unsettles our perceptions while acutely evoking its protagonist's mental state. Along with Lucile Hadzihalilovic's Innocence (2004), this is one of the last decade's most confident opening statements. Alnoy recently followed it up with Nos familles, a TV film I've yet to see.
Les Revenants (They Came Back, 2004), directed by Laurent Cantet's editor and co-writer Robin Campillo, is an ingenious and insightful reversal of genre tropes. The drama begins with crowds of newly renanimated dead walking out of a graveyard, but comparisons to the George A. Romero zombie school end there. Leaving the scares aside, Campillo takes a philosophical and social approach, asking us to think rather than shiver. What happens to people when the loved one they've mourned turns up again? And are revenants entitled to take back their old jobs? Atmospheric as well as thought-provoking, Campillo's genre-flouting understandably made his film a tough sell.
Polymath Eugène Green's film-making grows out of his work in baroque theatre and written cogitations on photography, verse and other topics. A self-avowed heir to Bresson, he has developed his own distinctive and poetic minimalism over three features and a number of shorts. Le Pont des Arts (2004) is a poised essay on the redemptive power of music and a scathing satire on the Parisian arts establishment - an unlikely but graceful melding of registers. Le Monde vivant (The Living World, 2003)is a medieval quest narrative about a knight in denim, an ogre wearing hairy monster hands and a lion incarnated by a golden retriever. Playing blithely on language and perception, it resembles a children's version of Bresson's Lancelot du Lac -but it's also one of the richest and most philosophically complex French films of recent years.
Resembling Green in his playful, low-budget use of the real world, but skewing reality entirely to his personal specifications, is Alain Guiraudie. Jean-Luc Godard's praise for Ce vieux rêve qui bouge (Real Cool Time, 2001), a story about gay factory workers with more of a connection to real-world narrative criteria than most of Guiraudie's films, helped put him on the map. Slipping between dreamlife and an equally oneiric everyday, Pas de repos pour les braves (No Rest for the Brave, 2003)and Voici venu le temps (Time Has Come, 2005)explore the geography of Guiraudie's mindscape, the latter proposing a rural France that is part medieval, part Wild West, and entirely a utopia for polysexuality, hippie-punk subculture and the autonomy of the poetic imagination. Not a film-maker for all tastes, Guiraudie could be described as half Jim Jarmusch, half Arthur Rimbaud.
A former video artist and Robert Kramer collaborator, Philippe Grandrieux has provoked heated critical debate. Sombre (1998), about a serial killer and his potential victims, lives up to its title with a confrontationally impenetrable style that challenges viewers to compose the film in their own consciousness. The exhilaratingly extreme La Vie nouvelle (2002), ostensibly an Orpheus-and-Eurydice narrative set in the underworld of present-day Bulgaria, is intransigently difficult in its shooting, editing and sound mixing, coming as close as narrative cinema gets to the textures of nightmare. Irreducibly strange, Grandrieux's vision outdoes, or at the very least rivals, Gaspar Noé's.
An arch-stylist and aesthete who includes Cocteau among his references, Jean-Paul Civeyrac specialises in a delicate chamber cinema of sensibilities and emotions that approaches preciosity. If Toutes ces belles promesses (2003), a high-art, feelgood comedy starring Jeanne Balibar, is too arch for comfort, Fantômes (2002), an eerie, dance-like, comic ensemble piece set against a spate of other-worldly disappearances, is more successful. But Civeyrac's masterpiece is A travers la forêt (Through the Forest, 2005), about a young woman haunted by her dead lover. Shot in a series of elegantly choreographed extended takes, this poised composition is also Civeyrac's most achieved use of the language of camera movement, music and colour.
Jacques Nolot's trilogy, based on his experiences as a gay man growing older and contemplating mortality, addresses his own sexuality and body in a graphic way that casts all vanity aside. L'Arrière Pays (1998) is a downbeat homecoming drama; Avant que j'oublie (Before I Forget, 2007),seemingly the final chapter, looks back to former lives and lovers. In La Chatte à deux têtes (2002, aka Glowing Eyes), the brazenly witty centrepiece, Nolot revisits a Paris porn cinema and cruising site: more a performance piece than a drama, the film tenderly evokes a subterranean world that rarely gets unsensational exposure.
La Graine et le Mulet (Cous Cous, 2007), Abdellatif Kechiche's multi-stranded drama about the North African community, is due for UK distribution later this year. But it's baffling that distributors missed out on the Tunisian-born director's films La Faute à Voltaire (2000) and L'Esquive (2004). The latter is set on a Paris housing estate where high-school students, largely Maghrebin, are preparing to stage a Marivaux play that throws up parallels with their own lives. Somewhat Loachian, it slyly appropriates the high dramatic tradition and celebrates the immigrant renewal of French language and culture.
Sandrine Veysset made an arresting debut with Y aura-t-il de la neige à Noël? (Will It Snow for Christmas?, 1996), about a mother and children eking out a life amid rural deprivation. Her intriguing follow-up Victor... pendant qu'il est trop tard (Victor... While It's Too Late,1998)isatmospheric to the point of abstraction but her third feature Martha... Martha (2001) is a supply twisting family narrative about a young mother in the grip of a slow-burning crack-up: an intense, defiant film with one of the most abrasive lead characters I can remember. I haven't seen her time-travel parable Il sera une fois... (Once upon a Tomorrow, 2006), but I eagerly await her next move.
Veysset is one of a host of French women directors who manage consistently to get features made and to evolve a distinctive voice from film to film - something still unimaginable in Britain. Among those yet to make an impact here are Emilie Deleuze, whose Mister V. (2003) is arguably the smartest horse film ever made; Anne Villacèque, whose Riviera (2006) is a deceptively glossy story about a young woman sucked into the Côte d'Azur's sexualised tourist industry; and the erratic but adventurous Laetitia Masson, whose films include the self-referential fiction Pourquoi (pas) le Brésil (2004), about the difficulty of making films when you're Laetitia Masson, and Coupable (2008), a Godardian contemplation on love and guilt.
Other new names to watch: Samuel Benchetrit, one of the few directors included here for whom humour is foremost. J'ai toujours rêvé d'être un gangster (I Always Wanted To Be a Gangster, 2007) is a witty portmanteau comedy falling somewhere between Tarantino and Aki Kaurismäki. Serge Bozon's La France - the odyssey of a young woman combing World War I France for her lost lover -is a one-of-a-kind leap of invention, its ostensible realism undermined by a cycle of linked songs interspersed as a Brechtian chorus. Emmanuel Carrère is a novelist, screenwriter and biographer of Philip K. Dick whose Polanskian enigma film La Moustache was discussed by Michael Atkinson (S&S , November 2007). Carrère's 2003 documentary Retour à Kotelnitch (Back to Kotelnitch) - at once travelogue, true-crime reportage and a first-person essay on the pleasures, pains and duties of documentary-making - is an overlooked gem based on the director's visits to a small Russian town where he found more than he expected. Christine Carrière's oddball, Campionesque Darling (2007) suggests perplexing pleasures ahead. Isabelle Cjazka's L'Année suivante (The Year After, 2006) - about a teenage girl's alienation in present-day consumerist France - is elliptical, detached and discreetly poignant, with a narrative rigour that smacks of the early nouvelle vague. Très bien, merci (2007) by Emmanuelle Cuau (a sometime co-writer with Jacques Rivette) is a howl of rage about social control. Mikhaël Hers' idiosyncratic hour-long Primrose Hill (2007) is the ultimate (sleep)walking-and-talking film, in which assorted young people drift around parks in the small hours, musing on favourite records and a lost London idyll. And finally Philippe Ramos, whose Capitaine Achab (2007), an imaginative pre-biography of Melville's whale hunter before his seagoing days, is a strange and severe film with as much Hawthorne and Cormac McCarthy as Melville.
Jacques Nolot's 'Before I Forget' plays at the BFI Southbank, London, as part of the LLGFF on 9 and 10 April; Siegrid Alnoy's 'She's One of Us' is available on DVD from Homevision; Eugène Green's 'Le Pont des Arts' and 'Le Monde vivant' are available from Editions Montparnasse; Alain Guiraudie's 'No Rest for the Brave' is available fromTLA Releasing; Laetitia Masson's 'Pourquoi (pas) le Brésil' is available from Blaq Out; Artificial Eye will release Abdellatif Kechiche's 'Cous Cous' in cinemas in the UK on 20 June 2008