NOZONE - An American in Paris
DVD review: The Delirious Fictions of William Klein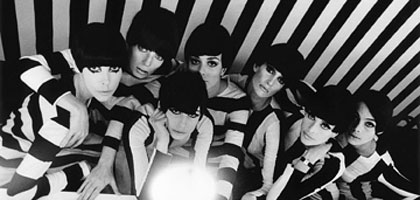 Tim Lucas tunes in and turns on to the kaleidoscopic imagery and multi-layered delirium of William Klein
The Delirious Fictions of William Klein
Who Are You, Polly Maggoo?/ Mr. Freedom/The Model Couple

William Klein, France 1966/69/77; Eclipse/Region 1; Aspect Ratio 1.66:1; 293 minutes
The movies of American expatriate photographer William Klein are so little known outside his adopted France that Eclipse (Criterion's 'no frills' label) has deployed a juicier-than-usual title to help sell them... but if anything The Delirious Fictions of William Klein sells these remarkable films short. With their kaleidoscopic imagery, myriad filterings of perception and multi-tiered storytelling, they are more meta-fiction than fiction, and their delirium is that of a world driven mad by its own media, observed by a rational artist who views its psychosis, amused and appalled.
A New Yorker by birth, Klein began exploring these themes in the mid-1950s with photographs like '7-Up and Tree', which cast a glum eye on how nature was being covered up by the spreading cancer of commercial messages. After his first published collection of work won the Nadar Prize in 1956, Klein graduated from documentary to fashion photography, becoming one of Vogue's top cameramen. Klein's success in this realm was ironic given that he avowed little interest in fashion; he delighted in contrasting his models, in their mammoth bows and crimped cellophane skirts, with actual locations, such as the zebra-striped crosswalks at the Piazza di Spagna. He presented Vogue with what J.G. Ballard would have recognised as a new genus of science fiction: haute-couture friezes of a dehumanised world wherein everyone seems to be moving towards a rendezvous, but in which the only important meetings are the evanescent collisions of places and patterns, the constant and the expiration-dated. And, somehow, these pictures sold dresses, made couturiers.
The success of Klein's transition from documentary shorts like Broadway by Light (1958) to features can be gauged by how fully (not just acceptably) each of the films included here is realised within its own modest budget. Each of Klein's movies credits him with writing, direction and design - William Cameron Menzies and Robert Fuest may be the only other directors to have earned such credit - and confirms that an eye for design can be as important to a film as all the money in the world. In Who Are You, Polly Maggoo? (1966), Klein's past experience in documentary and fashion merge as Qui êtes-vous?, a pioneering reality show for French television, invades the private life of fashion model Polly Maggoo (Dorothy McGowan), whose freckled face is epidemic throughout the magazines and billboards of Paris. The show's production gradually lays bare the heart of its director, the humorously named Grégoire Pecque (Jean Rochefort), who touchingly probes his guileless subject in search of the Polly who speaks to his dreams, just as Polly's own fantasy life is stimulated by the announcement that visiting Prince Igor (Sami Frey) hopes to marry a model. It's a sweet but complex story told in an extraordinary pastiche of styles, encompassing Fellini-esque fashion shows, Lester-like romps and collage animations recalling Karel Zeman, combined in such fresh ways that it never feels derivative.
Klein's first colour feature, Mr. Freedom (1969), responds to the pop art and camp movements of the late 1960s with a devastating autopsy of the American comic-book superhero fantasy. In a future America, national ideals are preserved by Freedom Inc., whose principal hero Mr Freedom (John Abbey) we meet as he bursts through the kitchen window of a black family whose sons have looted a store, lectures them and then shoots everyone to make his point. Advised by leader Dr Freedom (Donald Pleasence) that the company's French ambassador Captain Formidable has been killed, Mr Freedom is reassigned to Paris to pit his jingoistic swagger against the persuasive powers of communism. He is promptly seduced by temptress Delphine Seyrig (irresistible in orange perm and spangled majorette's uniform), whose young son's undisguised fear of the super-patriot ("He's a fascist!") prompts a paranoid identity crisis that edges France's stability into the danger zone. This is a bitterly funny film about the threat of an Americanised France, and a clear-cut antecedent to the satiric savagery of Robocop. Serge Gainsbourg (who scored the film) plays a minor role, and there's a wonderful blink-and-you'll-miss-him cameo by Yves Montand.
The Model Couple (1977) is another science-fiction film rooted in a prescient reality-TV concept. Here the threat of an Americanised France has been realised as a young married couple (Anémone, André Dussolier) are chosen by virtue of being average (they have a 76 per cent 'average rating') to live in a monitored environment for the next six months - and, for the sake of celebrity and maybe some free appliances, they agree. It doesn't matter that the couple start haemorrhaging their average rating the moment they hit the airwaves, as the programme may be nothing more than a government-sponsored test kitchen to determine how much less the average Frenchman can comfortably accept in terms of room, space and privacy. The film runs out of steam prematurely with a terrorist invasion that goes nowhere, but the third act is buoyed somewhat by a hilarious visit from the Minister of the Future (Georges Descrières) and his mysterious companion Dr Goldberg (Eddie Constantine, whose presence underscores the film's visual allegiance to Alphaville). While the anamorphic presentations of the other two films look splendid, the last was clearly composed for 1.33:1 presentation and the widescreen reformatting chops off enough talking heads to recall an earlier French reign of terror.