The DVDs of 2008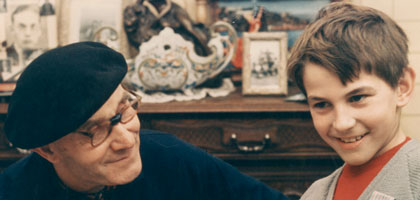 Was 2008 a good time to be a film fan, hungrily seeking out treasures from film history? The debate is an ongoing one in the Sight & Sound office. The glory days of UK repertory cinema programming are long gone (a period we fondly recalled in our 'Double-Bills' special issue in August), but at the same time, DVD has made a greater number of films, from a wider range of countries, and from a greater time span, more readily accessible than at any time in film history. Where, previously, an exotic or rare film might have been championed by a critic in print, but available only to a metropolitan audience, and even then only at a one-off screening at the old NFT, now it can be ordered at the click of a mouse button. And more than that, the restored versions of, for example, neglected classics from the silent era, can now easily be seen in the way their makers intended - at the correct speed, and with the image brought closer to its original vibrancy, and even more so on Blu-Ray. The cinema remains the best place to see a film, and to exchange opinions with fellow filmgoers, but the best DVD sets allow the curious viewer to explore further into a film; its extra materials setting the film in context, and the best audio commentaries bring out details, themes and nuances from a film that might not otherwise be apparent.
While polling our contributors for their choices of the best films of 2008, we also asked them to nominate their choice for the DVD of 2008. The reasons given varied: some contributors simply welcomed the chance to see a favourite film again, while others based their choice on how well thought out and realised the DVD package was. As our results show, DVD distributors like Masters of Cinema and the BFI in the UK, and Criterion in the US continue to lead by example in this regard; a special mention must also be given to the UK's Second Run label which, on a perilously limited budget, continues to rescue wonderful films like Valerie and Her Week of Wonders, Rat-Trap and Marketa Lazarova from obscurity.
Gulnara Abikeyeva, Artistic Director, Eurasia festival, Kazakhstan
La Vie en Rose, Olivier Dahan,
Icon Home Entertainment/Region 2
A strong story! The great Marion Cotillard! The songs and the image of Edith Piaf return for a new generation
Geoff Andrew, Head of Film Programme. BFI Southbank, UK
Vampyr, Carl Dreyer,
Masters of Cinema/Region 2
The Eureka edition for Dreyer's classic boasts a wonderful restoration, deleted scenes, great commentaries (Tony Rayns and Guillermo del Toro), documentaries, a booklet. Which is why it ousts the BFI's very welcome releases of personal favourites like Terence Davies' earlier masterworks and Jacques Demy's Les Demoiselles de Rochefort.
Michael Atkinson, USA
Houdini: Movie Star
Kino/Region 1
Twentieth-century pop culture at its least pretentious, least schooled, and most pulpishly innocent, this DVD set encompasses almost all of the surviving footage from Harry Houdini's shortlived acting career (he quit in 1923, dissatisfied with movies' profitability), as something of a pioneer in the annals of athletic-celebrity-turned-matinee-hero. Houdini's infamous stunts are immortalised in cheesy fictional contexts, and though audiences from 1919 onwards went to Houdini's movies for the sheer spectacle of seeing Houdini be Houdini, they also got lost in a fantasy landscape where Houdini wasn't a magician but an invincible ubermensch fighting evil. Breathless, blissful odeon naivete.
James Bell, Sight & Sound
L'Enfance nue, Maurice Pialat
Masters of Cinema/Region 2
Restricting myself to releases by UK distributors, and thereby excluding great sets by Criterion, Flicker Alley, Milestone etc, I could have chosen Masters of Cinema's four Mizoguchi twin-releases, or their release of Carl Dreyer's Vampyr; the BFI's 'Land of Promise' documentary set, or their amazing restoration work on Antonioni's La Notte,; the Second Run label's release of Jarmil Jires' Valerie and her Week of Wonders and Adoor Gopalrishnan's Rat-Trap. But it was Maurice Pialat's L'Enfance nue, seen for the first time this year, which came as a revelation to me. Although made in 1968, it still astounds with its toughness, lack of sentimentality and gritty, utter authenticity. MoC's release, the first in a planned series of Pialat releases, typically did the film proud with a wealth of extras including Pialat's 1960 debut short, L'Amour existe.
Peter Bradshaw, The Guardian, UK
Our Daily Bread, Nikolaus Geyrhalter
ICA Films/Region 2
This staggering documentary presented without sensationalism, without pity, without any sort of emotional colour, shows the reality of the food industry, and the harvesting of animals and plants. It says more, directly, about who we are as humans, than any fiction feature.
Michael Brooke, UK
My DVD release of the year is literally anything from Polish Audiovisual Publishers (Polskie Wydawnictwo Audiowizualne/PWA), whose lavishly packaged, comprehensively annotated, 100 per cent English-friendly celebrations of the history of the Polish documentary movement are mining one of the richest seams of European cinema that I've come across in ages.
Ed Buscombe, UK
The New World - The Extended Cut, Terrence Malick
New Line Home Video/Region 1
Possibly Terrence Malick's masterpiece, a richly textured if mythic version of the Pocahontas story, with newcomer Q'orianka Kilcher as the Indian princess caught between two cultures. The extended version has added about 30 minutes of material, giving more texture to the film without substantially changing it.
Tom Charity, Lovefilm and CNN.com, Canada
L'Enfance nue, Maurice Pialat
Masters of Cinema/Region 2
No wonder Pialat made a film about Van Gogh: he is the neglected but enduring master of the nouvelle vague. The film would have been enough but the supplements are outstanding. Hopefully Masters of Cinema will give us the works, then resurrect Eustache.
Kieron Corless, Deputy Editor, Sight & Sound, UK
L'Enfance Nue, Maurice Pialat
Masters of Cinema/Region 2
Pialat's debut feature, finally released here, is a glittering taster for various of his other films that Masters of Cinema will release in 2009. Included as an extra on this one check out Pialat's first short film L'Amour Existe... an exquisite essay/poem/love-letter/diatribe about the French suburbs...
Mark Cousins, Prospect, UK
Rat-Trap, Adoor Gopalkrishnan
Second Run/Region 2
Criterion's boxset Mizoguchi's Fallen Women (Osaka Elegy, Sisters of the Gion, Women of the Night and Street of Shame) and Second Run's Rat-Trap by Adoor Gopalakrishnan are the DVD releases that excited me most in yet another year of DVD plenitude. But it was very depressing to find that there's no good print of Souleymane Cisse's Baara (think Paul Schrader's Blue Collar, remade by Maya Deren!) anywhere in the world.
Chris Darke, UK
Valerie and Her Week of Wonders, Jaromil Jires
Second Run/Region 2
One of those films for which 'dated' counts as a compliment. Second Run's restoration of Jires's fantasy is a real rediscovery, knocking Neil Jordan's ripoff in Company of Wolves into a doffed titfer. A young girl's sexual fever-dream, Valerie now looks like the missing link between Hammer Horror-ism and Czech surrealism (also intended as a compliment).
Maria M Delgado, Academic and critic, UK
Death of a Cyclist, Javier Bardem
Criterion/Region 1
Noirish treatment of adultery, guilt and existentialist angst in Franco's Spain is anything but a simple tale of illicit love turned sour. Not many extras here, just a gripping morality tale used to probe the wider boundaries of acquiescence and protest while exploring the possibilities of political film-making in a dictatorship.
Andrea Dittgen, Germany
Georges Méliès: First Wizard of Cinema (1896-1913). 5 DVDs.
Flicker Alley FA00027 (USA)/Region 0
Georges Mélies who died forgotten in poverty was the master of the tricks and devices in silent cinema, the father of special-effects cinema. Since then techniques improved but nothing really changed. All 173 surviving short films by Méliès in archival and private holdings in eight countries, full of incredible fantasy scenes, trips to the moon and into Arabian nights are presented, sometimes tinted and accompanied by orchestrations or piano music. The set comes with a booklet and the famous short film from another French master, Georges Franju: Le Grand Melies (1953). A unique ride into film history and your own dreams.
Mark Fisher, Acting Deputy Editor, The Wire, UK
Radio On, Chris Petit
BFI/Region 2
A painful reminder of what British cinema could have been if it had maintained a relationship with European art movies (as mediated through postpunk music) instead of lapsing into middlebrow mundanity…
Mark Le Fanu, Denmark
Les Amants, Louis Malle
Criterion/Region 1
DVD releases continue to flood the marketplace: the choice has never been richer. At the top of the range, two magnificent labels, Criterion (USA) and Eureka/Masters of Cinema (UK) continue their productive rivalry with Criterion's greater financial resources giving it, I suppose, the slight edge. My DVD of the year that a Criterion release: Louis Malle's Les Amants/The Lovers, from 1958. Fifty years old but it doesn't feel like it. The movie is incredibly beautiful, the transfer flawless, while the extras, including an interview with the movie's splendid screenwriter Louise de Vilmorin, make up a veritable cornucopia.
Lizzie Francke, UK
Vampyr, Carl Dreyer
Masters of Cinema/Region 2
Carl Dreyer's gothic classic will hopefully find new audiences with Guillermo Del Toro's wonderfully exuberant commentary. It is like a fantastical dialogue between a dead and living director with Del Toro practically levitating with excitement as he revisits a 70-year-old-plus film that has more of a beating heart than most contemporary fare and that has joyously infected his own imagination.
Graham Fuller, USA
The Furies, Anthony Mann (1950)
Criterion/Region 1
Anthony Mann gave full rein to the Electra Complex in his demented Western about a Lear-like cattle baron (Walter Huston) and his daughter (Barbara Stanwyck) who is so possessive that she stabs his fiancée in the face with scissors. The Furies has never been praised as highly as Mann's James Stewart Westerns or Man of the West, and Robin Wood argues in a new essay that it's seriously flawed. But Criterion's beautiful digital transfer, packaged with on-camera interviews with Huston, Mann and his daughter Nina, Jim Kitses' commentary, and Niven Busch's source novel, should bring it a new audience.
Leonardo García-Tsao, Mexico
On video I've rediscovered a couple of unique, snow-bound westerns, as bleak as the landscape it depicts: Sergio Corbucci's Il Grande Silenzio (1968), a neglected masterpiece of the spaghetti genre, that bases its pessimism on a political critique. And William Wellman's Track Of The Cat (1954), the closest thing to a gothic, Swedish western that I've ever seen. (And thanks to David Thomson for pointing this one out in the list of S&S Hidden Gems).
Charlotte Garson, Cahiers du cinéma, France
Intégrale Jacques Demy (Complete Jacques Demy DVD set)
Arte vidéo et Ciné-Tamaris/Region 2
Is an explanation really necessary? For the opportunity of seeing Model Shop for the first time; the chance to hear Michel Legrand's abandoned drafts of the songs for Demoiselles or Parapluies; and for the extra feature, The Universe of Jacques Demy, by Agnès Varda, which should be watched alongside Les Plages d'Agnès (The Beaches of Agnes).
Carmen Gray, UK
Little Dieter Needs to Fly (Werner Herzog)
Soda Pictures/Region 2
Initially made for German TV, this 1998 documentary, which I was totally entranced by when I first saw it at a small festival in Dunedin, New Zealand as a student and which I had frustrating difficulty getting hold of on disk later, rates among my favourite films of all time. The film - in which Dieter Dengler, patriotic pilot and OCD sufferer, is taken back to South-East Asia to participate in odd theatrical re-enactments of his war horrors - exemplifies no-one comes even remotely close to Herzog as a documentary-maker, due to his uncanny ability to recognise fascinating, sublimely absurd human subjects and bring out their complex depths.
Alexander Horwath, Filmmuseum, Austria
The Wire, Seasons 4 and 5 (David Simon, creator).
HBO/Region 2
Because it's the Great American Audiovisual Novel. And all the pieces matter, starting with Season 1 of course, which Regina Schlagnitweit and I began to watch on New Year's Eve and concluded on New Year's Day. Because it was clear, even before the first credits sequence, what a year it would be: "This is America." And because I'm eternally grateful to Jean-Pierre Gorin and Manny Farber for pointing it out to us so forcefully.
Ali Jaafar, Variety, UK
A pirated copy of Egyptian film Until Things Get Better. A wildly uneven but exhilarating ride through Cairo's slums that has moments of genius but is almost undone by a lame ending.
Kent Jones, Film Comment, USA
The Films of Budd Boetticher
Sony/Region 1
The new Budd Boetticher box is a welcome addition to the world of DVDs.
Paul Julian Smith, UK
Mad Men - Season One
Lionsgate Home Entertainment/Region 2
Because the most complex, demanding, and surprising US drama is on television.
Philip Kemp, UK
Vampyr, Carl Dreyer
Masters of Cinema/Region 1
Dreyer's haunting, drifting horror movie, superbly restored and boasting a wealth of invaluable extras.
Adrian Martin, Australia
Cluny Brown, Ernst Lubitsch
BFI/Region 2
Lubitsch's whipcrack mastery of the comedy of manners was so advanced by 1946 that he could allow himself a couple of the saddest, most heartbreaking moments in cinema. An essential DVD for any serious collection.
Henry K. Miller, UK
Police, Maurice Pialat
Masters of Cinema/Region 2
Too many to choose from - Oz at last, Mad Men, 30 Rock - but Eureka's double-disc edition of Michel Pialat's Police (1985) is good to be getting on with.
Kim Newman, UK
Get Smart - The Complete Series
Warner Home Video/Region 1
The Steve Carrell movie came and went without a trace, but I've been working my way through a US DVD box of the whole five-series run of the Don Adams sit-com and am consistently tickled by the way a goofy, satirical, often surprisingly bitter series (Max trying to talk an American Indian terrorist out of attacking Washington by reminding him of all the things the white man has done to his people is great horror-comic stuff) hinges on two perfectly insane relationships the remake bungled - Max (Adams) and 99 (Barbara Feldon), with the far more competent and acute woman wilfully playing adoring follower to an unworthy dolt (emphasised by the way the tall actress kinks her spine so she won't tower over her co-star); Max and the Chief (Edward Platt), with Max's boss the only person in the world who realises that the ever-confident Smart isn't a superbly effective secret agent but a bungling moron.
Tim Robey, The Telegraph, UK
The Marlene Dietrich Collection
Universal/Region 2
An 18-disc orgy containing all MD's immortal collaborations with Josef von Sternberg, and more disreputable frills than Shanghai Lily's boudoir.
Jonathan Romney, Independent on Sunday, UK
The Mike Leigh Feature Film Collection
Spirit Entertainment Ltd./Regioon 2
The complete celluloid oeuvre, to be taken in tandem with the Faber book Mike Leigh on Mike Leigh. Assiduously assembled by Amy Raphael, the book is a comprehensive overview that dispels many myths and tells you as much as you're ever likely to learn (quite a lot, as it happens) about the film world's most enigma-shrouded methodology.
Jonathan Rosenbaum, USA
Georges Méliès: First Wizard of Cinema (1896-1913)
Flicker Alley/Region 0
A compilation of work by the first great fictional documentarist.
Sukhdev Sandhu, UK
The Art Films of Yoko Ono
Bought from eBay, this illegal double-disc set of Ono's more-invoked-than-seen run of late 1960s and early 1970s films, among them Rape, Fly and Apotheosis, represents one of that era's most adventurous and fascinating bodies of work.
Jasper Sharp, France
Hiroshi Shimizu Film Collection Vol. 1: Landscape Shochiku Home Video/Region 2/Japan
English-subtitles on Japanese DVD releases are so rare that Shochiku must be especially congratulated for putting them on this collection of four of the prewar works of Yasujiro Ozu's criminally-neglected contemporary, Hiroshi Shimizu, as well as a second volume of the director's work, themed 'Children'.
Fernanda Solórzano, Mexico
The Bridge (Eric Steel, USA)
Drakes Avenue Pictures/Region 1
A controversial documentary about suicidal jumps from the Golden Gate, doubles its haunting factor when followed by interviews with the film-makers. Their sole testimonies are a film by itsfelf.
Kate Stables, UK
The Edge of Heaven
Artificial Eye/Region 2
Deftly criss-crossing continents and cultures, Fatih Akin's multi-stranded story of love, death and forgiveness was the year's most subtle, masterful piece of storytelling.
Brad Stevens, UK
Mizoguchi
Masters of Cinema/Region 2
Masters of Cinema's four Mizoguchi Kenji double-bills are perhaps the most important releases in a year which saw an astonishingly rich selection of world cinema issued on DVD.
David Thompson, UK
L'Enfance nue, Maurice Pialat
Masters of Cinema/Region 2
Limiting myself to UK releases (sorry Criterion) it would have to be Maurice Pialat's L'enfance nue from Eureka/Masters of Cinema: a great film from a great director who deserves greater exposure.
Alexis A. Tioseco, Philippines
Class Relations, Jean-Marie Straub & Danièle Huillet
Edition Filmmuseum, Region 2
A beautiful and thorough package.
Oro, Plata, Mata, Peque Gallaga
Star Home Videos
Peque Gallaga's 1982 3-hour super-production (by modest Filipino standards) on the fate of an elite Filipino family at the height of World War II is (finally) made available on DVD- and with English subtitles. The film has its flaws and the transfer could be better, yet remains something to behold. One of a number of classic Filipino films (Mario O'Hara's Three Years Without God and Ishmael Bernal's Nunal sa Tubig/Speck in the Water and almost all of Mike de Leon's included) that deserves a much larger international audience than it's had. Are foreign DVD distributors listening?
Kenneth Turan, LA Times, USA
The Films of Budd Boetticher
Sony/Region 1
A welcome chance to have the great Randolph Scott-starring Boetticher Westerns together in one place.
Jay Weissberg, Variety, Italy
There are too many DVDs to limit to just one: The Films of Budd Boetticher Collection (Sony Pictures); Lubitsch Musicals (Criterion); Silent Ozu (Criterion); Mitchell Leisen's Midnight (Universal); Mitchell Leisen's Easy Living (Universal); Marcel L'Herbier's L'Argent (Carlotta); Terence Davies' The Long Day Closes (BFI); Frank Borzage's The River (Filmmuseum); Coffret Douglas Sirk 2 (Carlotta); William Worthington's The Dragon Painter (Milestone); and, releasing 9 December in the States, Murnau, Borzage and Fox (20th Cent. Fox).
Catherine Wheatley, UK
Pierrot le Fou, Jean-Luc Godard
Criterion/Region 1
If it's not Godard's best film, Pierrot le Fou is certainly one of the most beautiful to look at, and Criterion's glorious HD transfer finally means the cinematic experience can be recreated on the smaller screen. It's been a delight to rediscover this film again.
Armond White, New York Press, USA
Madeleine, David Lean
ITV DVD/Region 2
The godsend import DVD of David Lean's 1949 Madeleine proves that Lean understood British class so complexly that this romantic murder-mystery is also a finely complicated protofeminist critique. And Lean's collaboration with cinematographer Guy Green presents deep-focus compositions and chiaroscuro that evoke the sumptuousness of Welles' Magnificent Ambersons. Madeleine is England's equivalent: a lost masterpiece.
Jason Wood, City Screen, UK
Radio On, Chris Petit
BFI/Region 2
The DVD release that most impressed me was Radio On. Handsomely packaged by the British Film Institute, the release restored Chris Petit's visionary road movie to the pantheon of truly great British films.