Lost and found: The Liberation of L.B. Jones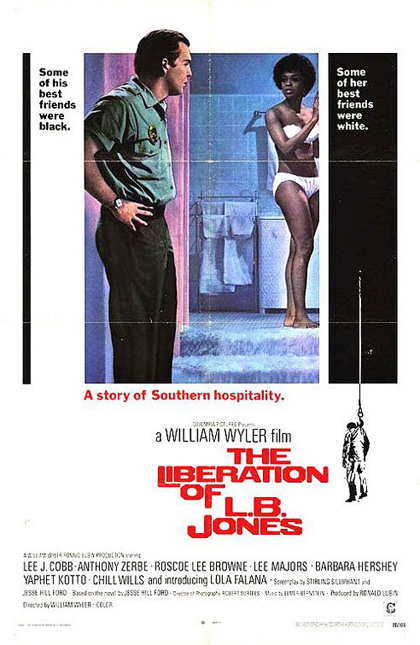 With his controversial and racially charged final film The Liberation of L.B. Jones, William Wyler confounded critics and audiences alike, says Neil Sinyard
The title of William Wyler's final film, The Liberation of L.B. Jones, is as ironic as that of his most famous work, The Best Years of Our Lives (1946): L.B. Jones's only liberation will be in death.
Many critics were taken aback by this extraordinary film when it was released in 1970. "Surprising", "ferocious" and even "sickening" were among the adjectives most frequently employed. Variety dismissed it as "an inter-racial sexploitation film", whereas Andrew Sarris thought it remarkable. Coming so soon after successful liberal films that close on a note of racial harmony, such as In the Heat of the Night (1967) and Guess Who's Coming to Dinner (1967), the film's pessimism must have seemed totally unexpected.
Even more surprising was the fact that this unremittingly grim film was made by Hollywood veteran William Wyler, the most honoured of all American directors, but one whose critical reputation had fallen dramatically during the heyday of auteurism. His films were dismissed as cold and impersonal, but L.B. Jones is hot and impassioned. The late, great Robin Wood uncharitably dismissed Wyler's work as "archetypally bourgeois", but there's nothing bourgeois about this film's rage against white supremacists.
L.B. Jones (Roscoe Lee Browne) is a wealthy black undertaker in a small Tennessee town seeking divorce from his young wife, who is having an affair with a white policeman (Anthony Zerbe). When Brown's wife contests the divorce, the white lawyer (Lee J. Cobb) representing him begins to get cold feet because it means the name of her lover will come out in court, jeopardising race relations and the policeman's career. The events that follow uncover a procession of sexual and legal hypocrisies and outrages by which blacks are oppressed by whites in that community. Everything builds to a violent climax involving two murders and mutilations. In both cases, the guilty perpetrator escapes unpunished.
One would expect a Wyler film to be well acted; he had, after all, guided more actors to Oscar-winning performances than any other director. Roscoe Lee Browne, Lee J. Cobb and Anthony Zerbe are the pick of a fine cast, Zerbe in particular excelling as the wretched cop who has a modicum of conscience writhing uncomfortably beneath his surface bigotry. A scene between Zerbe and Brown across a breakfast table, in which the cop tries to pressure the undertaker into dropping the divorce, is an especially fine example of Wyler's mise en scène: Brown's stillness reflects the character's obstinacy, while Zerbe's nervous pacing and his inability to command the cinematic space eloquently suggest the policeman's innate weakness.
The most powerful sequence is the ten-minute chase of Jones across a junkyard by two policemen intent on silencing him before he gets to court. I can think of few more desolate and disturbing images in all cinema than the sequence's final overhead shot of Jones's murdered body hanging by a hook next to that of a dead dog, which is being called forlornly in the distance by its blind owner, as the two policemen silently survey the result of their night's work.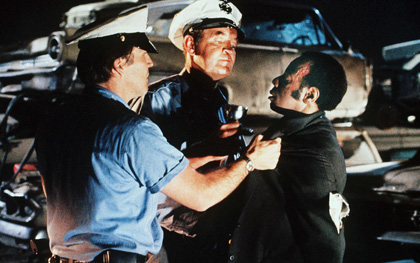 In some ways, the film's most original aspect is its structure. Wyler sets up genre expectations of the liberal Hollywood movie that he then ruthlessly dismantles. Far from revealing a warm humanity under the gruff exterior, Lee J. Cobb's lawyer becomes more deeply compromised and contemptible in his selective morality. Lee Majors's young lawyer, seemingly a character likely to rectify wrongs, walks out of the situation with righteous but impotent anger. L.B. Jones refuses to run and his courage leads directly to his brutal murder. A black youth (Yaphet Kotto) who renounces violence midway through the film returns at the end to exact a vengeance more sadistic than the one originally planned.
In his last interview before his death, Wyler told his daughter Catherine that he had aimed the film at a white audience who he hoped would be embarrassed and enraged by what he depicted. Perhaps he succeeded too well. In the immortal phrase of Wyler's former employer Sam Goldwyn, the public stayed away in droves. Its picture of a conflicted America might have struck too many raw nerves in a country still reeling over the assassinations of Robert Kennedy and Martin Luther King, a divisive war in Vietnam – and the departure from the White House of another LBJ.
The film seemed then to fall off the critical map, being displaced by black American filmmakers with their own visions of the black experience. To the best of my recollection, it has not been shown on terrestrial television here for over 20 years and has yet to be given a proper DVD release.
As a huge fan of Wyler's work, I saw the film on its UK release playing as second feature to Irvin Kershner's adult comedy Loving (another fine, forgotten film that warrants rediscovery). I was with a friend who was so distressed by it that she never stayed for the main feature and never accompanied me to the cinema again. For me its power remains undiminished. In the era of Obama's America, it surely deserves reclamation as the fiercest indictment of racial prejudice ever to come out of a major Hollywood studio. For cineastes too it might give a fresh perspective on Wyler who, right to the end of his career, was trying out new things and vigorously denouncing injustice. But be prepared to be shocked: it makes To Kill a Mockingbird look like Mary Poppins.
What the papers said
"Roscoe Lee Browne's L.B. suggests reserves of bitterness behind a stoic mask, while Anthony Zerbe as Willie Joe has the whining, nervy petulance of a true sadist. Their vendetta… is brought to the boil with a tremendous gathering tension, achieved by Wyler's perfect timing of individual scenes and his sense of the right camera set-up. With its genuinely ferocious climax L.B. Jones adds up to probably the most powerful, if not the most sophisticated, race-war film the commercial studios have yet produced."
– Nigel Andrews, Monthly Film Bulletin, December 1970
"William Wyler's cinematic reputation notwithstanding, the story… is not much more than an inter-racial sexploitation film. There is a pervading commercial patness to the fleshed-out script and the overall production. However true-to-life the characters and situations are, many another film already has made the ground covered almost stereotyped."
– Variety, 11 March 1970
See also
Lost and found: Penn & Teller Get Killed: Brad Stevens on the late Arthur Penn's overlooked final film (December 2010)
Magnificent obsession: Richard Falcon on Todd Haynes' homage to Douglas Sirk's melodramas of repression, Far from Heaven (March 2003)
Be black and buy: Ed Guerrero on the newly inclusive African-American cinema of the 1990s (December 2000)
Shaft (2000) reviewed by Andrew O'Hehir (October 1999)
The Innovators 1950-60: Divining the real: Peter Matthews on André Bazin's fascination with William Wyler's 1941 The Little Foxes (August 1999)
Pleasantville reviewed by Andrew O'Hehir (March 1999)
Switchblade Sisters reviewed by Charlotte O'Sullivan (January 1999)