Henna And Cellphones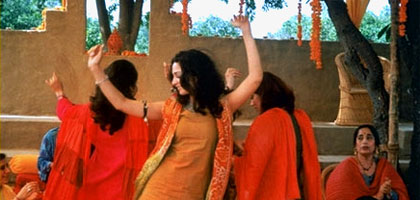 An intimate portrait of Delhi's new sexual revolution, Monsoon Wedding won the Golden Lion at Venice. Director Mira Nair talks to Geoffrey Macnab about today's India.
The idea which eventually led Mira Nair to make Monsoon Wedding came to her when she was stuck in a traffic jam in Bombay, late for an appointment. At the time she was mildly depressed. She had just abandoned plans to make a new feature: the financing had been in place, she was only a few weeks away from pre-production, but the script wasn't right. Rather than start a movie she knew would be flawed, she returned the money to her backers. As she sat in her car, getting more and more frustrated at the delay, she noticed a procession of around 2000 women, all in white, marching across the road towards the ocean. 'They were guffawing madly and they were carrying placards that said 'World Laughter Day'. It was like something out of Fellini.' the 44-year-old director recalls.
Her curiosity pricked, Nair investigated further. The women, she discovered, belonged to one of the 600 or so Indian clubs devoted to the cult of laughter. 'They gather every morning at 7am in public spaces - parks, beaches, traffic islands - and laugh for 40 minutes.' Nair was so intrigued she decided to make a film; thus was conceived The Laughing Club of India, a self-financed DV documentary offering an intimate portrait of '18 people who take the business of laughter very seriously.'
In a sense, the film was a return to her roots. This, after all, was the city where Nair had made her Camera d'or-winning debut feature Salaam Bombay (1988), about vagrant kids eking out a living on the streets. Moreover, Nair had first made her mark as a documentary-maker in the early 80s with such films as Indian Cabaret, a study of four strippers, and Children of Desired Sex. After her protracted struggles with her 15th-century epic Kama Sutra: A Tale of Love (1996), which was tough to shoot and even tougher to release thanks to the pettifogging Indian censors, she found it liberating to be working with only four crew members and a van. She shot for two weeks in August during the monsoon season and then took the film back to New York to edit.
Despite its modest beginnings, The Laughing Club of India turned into a huge success. It was sold to HBO in the US and won prizes at television festivals. French broadcaster ARTE was so enthusiastic it offered development funding for Nair's next project. By then, Nair had agreed to teach a masterclass in directing at Columbia University. One of her best students was young Punjabi writer Sabrina Dhawan who, like Nair, had grown up in New Delhi. 'I asked her to be my teaching assistant and that's when we started talking about the idea of making a film about the kind of lives we lead - a contemporary, modern portrait of India,' Nair remembers. 'A portrait of the kind of India I find at my dining table.'
Nair initially intended to shoot Monsoon Wedding on DV and to approach the film in the same freewheeling, improvisatory way as The Laughing Club of India. 'The idea was to go back to basics and make it really cheaply and simply but handheld.' When she went to Cannes to try to raise further financing, she was touting the project as 'an upper-middle-class version of Salaam Bombay'. That wasn't quite how it turned out. The film that eventually surfaced at the Venice Film Festival last September had 67 actors, a sprawling but brilliantly constructed screenplay and some highly ambitious set-pieces. It was shot on Super-16 by cinematographer Declan Quinn (Leaving Las Vegas), who had also worked with Nair on Kama Sutra. (It was the first feature, she boasts, to use a new camera, the A-Minima from Aaton.)
On one level the scale of the film simply reflects its subject matter. Punjabi weddings are such lavish affairs they can make even Bollywood movies look modest. The film chronicles the events leading up to a last-minute arranged marriage in upper-middle-class Delhi. Tradition and modernity clash headlong, secrets are revealed, romances blossom. Dhawan's screenplay has two focal points: the negotiations between the would-be bride and groom - a modern young woman still struggling to get over her affair with her married boss at the television company where she used to work, and a clean-cut engineer from Houston, Texas - are contrasted with the more spontaneous romance that springs up between Dubey, the mobile-wielding event manager organising the wedding, and the family's sweet-natured maid Alice. In one of the film's most affecting moments, Dubey (Vijay Raaz) spots Alice (Tilotama Shome) trying on the mistress' jewellery. His assistants are convinced she's a thief, but Dubey is bewitched. The hustling young entrepreneur turns in an instant into a lovesick, rheumy-eyed suitor. Nair's portrayal of the love affair between the two servants could easily have seemed patronising. Chewing constantly on marigolds, they're both comic figures, but as Nair insists, they represent 'the magic of blinding love'.
There's a wonderful performance from Naseerrudin Shah as the bride's father - a querulous, flustered figure, terrified his young son may be gay and reduced to begging a loan from his golf partners to pay for the wedding, but who turns out to have unexpected reserves of dignity and courage. Despite the carnivalesque energy of the film-making, this is more than a feelgood comedy. Dhawan's screenplay touches on such issues as child abuse, the effect globalisation is having on Indian culture, the attrition between the old guard and the new middle class and the problems with arranged marriages.
It seems impossible for Nair to make a feature film without it turning into an epic struggle. 'Every time I start a movie, I say I'll make it simple. Every time I end up with this circus,' she has said. This time the problems weren't with the censors but in the labs: much of the key footage was destroyed by X-ray damage en route to New York. Following its triumph in Venice, where it won the Golden Lion, Monsoon Wedding went out on over 200 prints in India in late November. Meanwhile Nair has already finished her next US-made project, Hysterical Blindness starring Uma Thurman and Gena Rowlands, which should surface at Sundance in January.