Kandahar
Iran/France 2001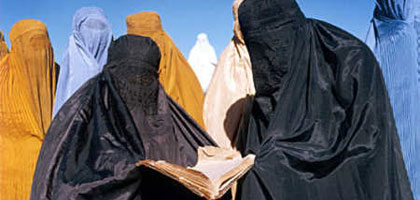 Reviewed by Sheila Whitaker
Synopsis
Our synopses give away the plot in full, including surprise twists.
Nafas, an exiled Afghan journalist, flies to the Afghanistan-Iran border. Recording her thoughts on a portable tape recorder, she reveals that she is to go to Kandahar where her sister, unable to bear Taliban rule, has threatened suicide at the eclipse in three days.
At a refugee camp, tribal families prepare to return to Afghanistan. An old man agrees to take Nafas across the border into Afghanistan posing as his fourth wife. When they stop to eat, the old man chastises Nafas for showing her face. Continuing their journey, the group is robbed by bandits.
In a village madrassa (religious school), a mullah makes young boys chant the Quran; he expels one boy, Khak, for failing to recite a passage from the Quran properly. The old man tells Nafas his family are returning to Iran so she hires Khak to guide her to Kandahar. En route Khak discovers a skeleton with a ring on its finger which he tries to sell to Nafas.
In the next village a woman consults the doctor, Tabib Sahib, each seated on opposite sides of a screen, her small daughter acting as intermediary. Nafas, now sick, consults Sahib and discovers that he speaks English, and is originally from the US (he came to Afghanistan to fight against the Soviets). He offers to take her part of the way, insisting she send Khak home.
At a Red Cross station, landmine victims clamour for artificial limbs. A helicopter drops supplies and amputees dash across the desert on crutches to collect the limbs. Sahib cannot enter Kandahar but persuades a one-armed amputee, Hayat, to accompany Nafas. Fearing for his safety, Hayat disguises himself as a woman. The two join a bride and her wedding group, only to be stopped by Taliban who have them searched, confiscating a book and a stringed musical instrument. Nafas and Hayat are detained with others.
Review
In 1987 Mohsen Makhmalbaf wrote and directed The Cyclist, about an impoverished Afghan refugee in Iran cycling in a circle non-stop for seven days and nights to pay for his wife's hospital fees. The suffering of that film's central protagonist was a metaphor for the plight of Afghanistan, then - as now - blighted by tribal warring. In the light of Makhmalbaf's evident concern for the Afghan people, coupled with his gradual progression from post-revolutionary Islamic principles to a position of resistance to violence and religious absolutism, and advocacy of women's rights and democracy, his latest film Kandahar comes as no surprise.
Kandahar is where the secretive Taliban government, including the munkrat (religious police), is based. It's a city to be feared and avoided, and yet this film's central protagonist, Nafas, an Afghan exile living in Canada, is attempting to go there to reach her sister, who has vowed to kill herself during the impending eclipse. The guides who accompany Nafas embody different aspects of contemporary Afghan society: there's the old man steeped in traditional tribal mores; a young boy, Khak, who faces starvation when he's expelled from his religious school; Sahib, a black American who went to Afghanistan to find God but failed; and Hayat, a landmine victim. Despite its bold premise (a lone woman travelling against the clock in a wild landscape and unknown culture), Makhmalbaf eschews high drama and opts instead for what might be described as a faux-documentary approach.
Makhmalbaf based his script on first-hand research in Afghanistan, and filmed in the impoverished Iran-Afghan border territory with non-professional actors. But, like so many post-revolutionary Iranian films, Kandahar plays with the distinction between documentary and fiction. Makhmalbaf has said of his film that 'the reality of Afghanistan is surreal in itself', and his artful deployment of colour, imagery and irony frequently gives a strange otherworldliness to what, in other hands, would be straight reportage. Small girls, destined to live almost solely in private space, are told to 'pretend to be ants, the house will seem bigger'. There's the doctor Sahib's revelation that his beard ('my burkha') is false and that 'weapons are the only modern thing in Afghanistan'; Hayat's insistence, when told the Red Cross doesn't have the artificial arm he requires, that he be given a pair of legs instead. Most bizarre of all are the amputees, in almost indiscernible slow motion, racing across the desert to grab artificial limbs dropped by parachute.
Within this (sur)reality, Makhmalbaf concentrates on the subjugation of Afghan women under the Taliban regime. He emphasises the burkha as the symbol of this subjugation, and one of the means by which it is achieved. Nafas constantly lifts hers to look, and be looked at (each time sparking stunning lighting effects of sunlight streaming through tiny holes); the old man rebukes her for publicly uncovering her face. Khak, before he commits himself to guiding Nafas, insists on seeing her face to reassure himself that he's not being tricked. But the bold colours of the burkhas, such as those worn by the old man's family, also point to the way this piece of clothing aids resistance and subterfuge. To the outside eye, the burkhas cover indistinguishable human figures who drift across the landscape; inside, they conceal women with varnished nails, bangles and lipstick, books, musical instruments, tape recorders; or on one occasion even a man (Hayat dresses in a burkha to avoid detection by the Taliban, carrying his artificial limbs over one shoulder, ironically lifting it to light a cigarette). But as things can be hidden so, dangerously, they can be revealed, as in the sombre scene where Nafas is detained by the Taliban. Makhmalbaf ominously concludes by showing us Nafas' point of view as she lowers her burkha, literally and powerfully drawing a veil over her fate.
Makhmalbaf's direction of his English-speaking cast can suffer from his unfamiliarity with the language's cadences. Some viewers may also find that his undisguised evangelism unsettles narrative momentum. But these are small cavils against a film which seems tragically timely in the light of the current situation in Afghanistan.
Credits
Director

Mohsen Makhmalbaf

Producer

Mohsen Makhmalbaf

Screenplay

Mohsen Makhmalbaf

Director of Photography

Ebrahim Ghafouri

Editor

Mohsen Makhmalbaf

Set Designer

Akbar Meshkini

Music

Mohammad Reza Darvishi