Modern Times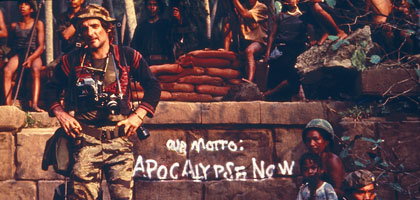 The results of a mini-poll of UK critics to give a rough guide to the best films of the last 25 years are printed below. What they demonstrate is not just US economic dominance, says Nick James, but also the late flowering of 1990s cinema
UK Critics' Top Ten Poll
Top Ten Films
1 Apocalypse Now (Francis Ford Coppola)
2 Raging Bull (Martin Scorsese)
3 Fanny and Alexander (Ingmar Bergman)
4 GoodFellas (Martin Scorsese)
5 Blue Velvet (David Lynch)
6 Do the Right Thing (Spike Lee)
7 Blade Runner (Ridley Scott)
8 Chungking Express (Wong Kar-Wai)
9 Distant Voices, Still Lives (Terence Davies)
10= Once upon a Time in America (Sergio Leone)
10= A One and a Two... (Edward Yang)
Top Ten Directors
1 Martin Scorsese
2 Krzysztof Kieslowski
3 Wong Kar-Wai
4 Abbas Kiarostami
5 Michael Mann
6 David Lynch
7 Pedro Almodóvar
8 Francis Ford Coppola
9= Spike Lee
9= Ingmar Bergman
When Sight & Sound's 2002 Critics' and Directors' Polls to establish the top ten films of all time were first faxed and emailed into action, we were quietly hoping to see some fresh graffiti on the concrete edifice of cinema's canon. If this was an urgent wish, it was mainly because talk of the 'death of cinema' during the seventh art's centenary in 1996 threatened to make a list largely unchanged from that of ten years ago look too much like an epitaph. Critical recognition for any of the spectacular, oblique or revivifying film strategies of recent times would have smothered that opportunists' catcall for good. But, notoriously, our wish was not granted. Not only did Orson Welles' 1941 Citizen Kane see off a close challenge from Hitchcock's 1958 Vertigo to top the Critics' Poll for the fifth time in a row, but the most recent film in the top ten proved to be from 1974: Francis Ford Coppola's third-placed The Godfather Part II (controversially coupled with its prequel The Godfather). It was almost painful to recall that 1962's contributors had been confident enough to select Antonioni's L'avventura for second place only two years after it was made. Had film-making lost so much ground that today's critics couldn't find a new L'avventura?
It would seem not. Many of 2002's pollsters chose at least one recent film among their ten, but no collective favourites emerged. One argument to explain this divergence was that the impact of video in the early 1980s had decimated whatever consensus there might have been. For reviewers and critics from the post-World War II 'baby-boom' generation and older, the sense that a film is 'great' seems inextricable from the communal experience of seeing it in a cinema at a time when the screening of a significant film was an event. By making a huge range of titles available at any time, video has depreciated the value of the single experience of a new film, as well as bringing a much greater variety of cinema into consideration because it is now possible to see a great deal more at greater convenience. Furthermore, it was the success of video in reaping extra returns for film financiers that prompted the avalanche of cinema in the last 25 years that has made comparison a more invidious pastime.
Whatever the explanation, our own sense of background disappointment resurfaced as soon as the excitement of announcing the result had worn off. We were not prepared to wait another decade for some idea of a canon for the cinema produced during our working lives to emerge, so we decided to conduct a more limited and light-hearted mini-poll of films released since 1976, solely (for speed and convenience) among British-based reviewers and critics. We received the 50 replies sought and have compiled a top-eleven list more as a spur to speculation than as a definitive statement of worth. (And of course the exercise is in no way intended to be taken as seriously as our ten-yearly polls.)
At first glance it seems we might have failed in some of the aims of our mission, since the two top films, Coppola's Apocalypse Now and Martin Scorsese's Raging Bull, made in 1979 and 1980 respectively, are hardly representative of recent cinema. And the fact that seven of our top eleven (eleven because Sergio Leone's 1983 Once upon a Time in America and Edward Yang's 2000 A One and a Two... tied for tenth place) are from the US either reflects the Anglophone bias inherent in a British-based sample of contributors or suggests that America's commercial dominance is more than ever matched by aesthetic pre-eminence. On closer examination, however, the results are not so clear cut.
Apocalypse Now deserves its position for being a richly complex, madcap experiment in war film-making that comes off because it never falls from the tightrope it walks between extravagance and profundity. But it probably owes its current status as much to its recent rerelease in its expanded Redux form (though only one critic stipulated this version). Raging Bull was simply the most popular of many featured films by Martin Scorsese, by a long way the top-ranking director (his GoodFellas, 1990, came fourth, while Casino and The King of Comedy also scored well). Raging Bull is a film of equal ambition and scope to Apocalypse Now, but being a Scorsese movie is a much more rigorously controlled work, in which the texture of the black-and-white cinematography is probably as important as Robert De Niro's performance as boxer Jake La Motta. It's terrific to have our suspicion confirmed that Scorsese, on the threshold of the release of Gangs of New York, is by UK lights the outstanding film-maker of our time, dominating this mini-poll in the same way as Orson Welles dominated the all-time poll.
Both Spike Lee's furious 1989 street opera Do the Right Thing (at number six) and Leone's sprawling historical epic Once upon a Time in America have an obvious kinship to the two leading films as well as to Scorsese's gangster-cocaine saga GoodFellas. David Lynch's extraordinary look into the dark heart of suburbia, 1986's Blue Velvet (at number five), comes from a more bizarre strain of the American imagination, though it's as representative of the fruitful US indie scene of the late 1980s and the 1990s as Lee's film is. Ridley Scott's 1982 Blade Runner (at number seven) stands alone here for the blockbuster cinema of spectacle that reshaped the world's media industries in the 1980s and 1990s. You'd have to go down to fiftieth place to find another example: Kathryn Bigelow's Strange Days.
So the US cinema chosen by our pollsters is hardly from the mainstream. And the idea that British-based critics are enslaved by US cinema evaporates when you look at the list of top ten directors. Scorsese is in the crow's nest, of course, but at number two we find Krzysztof Kie‡lowski, who has no film in the top ten because his votes were split between Dekalog, Three Colours Blue, A Short Film about Killing, Three Colours Red and The Double Life of Véronique. Right behind him is Hong Kong's Wong Kar-Wai, making the argument that the creative batteries of cinema were recharged in East Asia during the late 1980s and the 1990s. (The success of 1994's Chungking Express at number eight was almost matched by that of In the Mood for Love – kept out by a single vote.) Iranian cinema is represented by Abbas Kiarostami at number four, whose fans were divided between Close-Up, Through the Olive Trees, The Wind Will Carry Us, 10 and A Taste of Cherry.
Fifth place is occupied by Michael Mann, from votes cast largely for his epic heist movie Heat and psychological thriller Manhunter. (Contentiously, one critic had three Mann films on his list.) David Lynch at number six received most of his votes for Blue Velvet, with a couple for Mulholland Dr. and one each for The Straight Story and Eraserhead. Pedro Almodóvar's seventh place was largely thanks to All about My Mother (which just missed the top ten) and Talk to Her. The rest of our top ten directors – Coppola, Lee and Ingmar Bergman (in eighth, ninth and tenth places respectively) – owe their positions purely to films that themselves made the top-ten list.
So much for the poll's successes, but what about its underperformances and absences? Who would have thought a decade ago that such major figures as Robert Altman and Wim Wenders would barely register? The near-absence of Eric Rohmer and the discreet figure cut by Jean-Luc Godard would undoubtedly have been modified had we polled our European colleagues, and a French contingent would probably have boosted Woody Allen too. Five years ago Quentin Tarantino would probably have been a shoe-in, but in 2002 Pulp Fiction polled only five votes and Reservoir Dogs two.
Though what most filmgoers currently see at their local multiplex hardly registers here, our top ten could be argued to represent modern critical taste. The American films are mostly prestigious projects of enduring popularity: Apocalypse Now, GoodFellas and Blade Runner are the kind of 'classics' you could find on anyone's list. Alongside these are more traditional arthouse choices – including the one British film, Terence Davies' 1988 Distant Voices, Still Lives. In terms of our original intentions, it's the inclusion of Chungking Express and A One and a Two... that's most satisfying, though the poll still doesn't support the notion – which some critics share with me – that the 1990s were perhaps the richest consecutive years of cinema since the 1950s. To appreciate this richness requires a knowledge of cinema from across the world – Japan, China, Hong Kong, Taiwan, Iran, Denmark, Russia, France, Argentina, Mexico, Brazil, Greece and Spain, to name just the most obvious points of origin – that's difficult to acquire unless you can import DVDs or are fortunate enough to live in London or to visit the major festivals. Perhaps the prejudices of those who grew up with the names of Welles, Ozu, Bergman and Renoir on their lips still dominate debates because the wider culture fails to make available the alternatives to challenge them.
Of course these classic directors were innovating within an evolving technology and artform. Yet their films' presumed aesthetic or cultural superiority over some of the movies of the 1990s should be questioned. Video has already taken the blame for creating a firebreak between the pre-1980s canon and recent cinema, but there's a further, simpler reason: cinema in the 1980s was mostly so awful it was easy to over-venerate what had gone before. Anyone researching a poll like ours very quickly sees why attendances hit such an all-time low in that dire decade.