Mughal-E-Azam
India 1960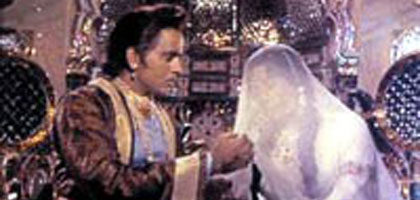 Reviewed by Naman Ramachandran
Synopsis
Our synopses give away the plot in full, including surprise twists.
Mughal India, the late 1500s. The emperor Akbar (Prithviraj) and his queen Jodha (Durga Khote) have a son, Salim (Jalal Agha), after years of prayer. The maid who brings Akbar this news is promised a reward whenever she wants to claim it. Prince Salim (Dilip Kumar) grows into a spoilt teenager and is sent away for military training. Years later he proves himself to be a worthy warrior. Akbar invites him back to the palace and gives him a hero's welcome. Salim soon falls for court dancer Anarkali (Madhubala). Initially wary of his affections because of the difference in their stations, she soon reciprocates his love. Akbar finds out about the affair imprisons Anarkali. Salim threatens him with dire consequences if she is not released.
Akbar persuades Anarkali that her union with Salim is damaging to the empire and asks her to convince the prince she is a gold-digger. The prince initially believes her but later discovers she was lying. This angers Akbar and Anarkali is imprisoned again. Salim fails to secure Anarkali's release and declares rebellion against his father. Before war breaks out Salim's friend Durjan rescues Anarkali. War begins; Salim's troops are no match for the might of the imperial forces. Captured, Salim refuses to divulge Anarkali's whereabouts and is sentenced to death. Anarkali appears from hiding in time to save Salim. She makes a pact with Akbar to spend one night with Salim as his queen before drugging him unconscious and going to her own death.
As Anarkali is being bricked up alive after her night with the prince, her mother - the bearer of the news of Salim's birth - invokes the promise Akbar made years ago and begs him for her daughter's life. The emperor agrees on condition no one find out Anarkali is alive. Mother and daughter leave the empire never to return.
Review
To revisit an acknowledged classic is always a tricky business given the weight of critical and popular approbation that surrounds such films. It's a relief, then, to be able to report that some 40 years after it was released Mughal-E-Azam retains its position as one of India's greatest films. The well-known legend of the love between Prince Salim (who went on to become the emperor Jahangir) and the dancer Anarkali had been committed to film several times in various Indian languages, most notably in Anarkali, a 1953 Hindi version directed by Nandlal Jaswantlal and starring Pradeep Kumar and Bina Rai. But this, K. Asif's epic 1960 film, is widely recognised as the definitive version, and was so successful that Indian film-makers left the subject alone until southern Indian superstar N.T. Rama Rao retold the story in 1978. Of course, the tale of a patriarchal father opposing the union of his son or daughter to a member of an inferior class is a theme that crops up time and again in Indian popular cinema.
The story of the production of Mughal-E-Azam is itself legendary. In the making for over a decade, the film went through several changes of personnel - including a replacement for the male lead when the original actor died. The shooting days alone add up to nearly a year and a half. The huge cast (literally of thousands), opulent sets, intricately designed costumes and extravagantly staged battle scenes made the film - which cost approximately Rupees 15 million - the most expensive made in India at the time. Asif thought on an epic scale, which is perhaps why he made only four films in a career that spanned more than 30 years. Indeed, after making a relatively small film following Mughal-E-Azam, he started on his next big project Love and God, only to die in 1971, leaving the movie incomplete (it was patched together and released in 1986). Asif's associates tended to conceive projects on a similar scale: Kamal Amrohi, one of the writers on Mughal-E-Azam, took years to complete his directorial project Pakeezah (1971), a landmark of Indian cinema.
Despite the many delays, Asif marshalled his resources well, saw to it that there were no obvious continuity glitches and incorporated technological innovations. Though largely in black and white, the film includes a few sequences in colour, notably the breathtaking Sheesh Mahal (hall of mirrors) scene where Anarkali defiantly dances in front of Salim and his disapproving father, the Emperor Akbar.
But despite of all the grandeur, the film has a tender and delicate heart. The romance between Salim and Anarkali is conveyed mainly through glances and expressions. And the merest hint of physical relations provides one of the most erotic scenes in Indian cinema when the prince caresses his lover with a feather as she gasps in ecstasy while the voice of classical singer Ustad Bade Ghulam Ali Khan croons gently on the soundtrack.
Though the love story is the backbone of the film, it is Akbar's dilemma that is placed centre stage as he is torn between love for his only son and the demands of the Mughal Empire. Veteran actor Prithviraj conveys the agonising choice effectively. Though modern-day audiences may find his performance theatrical, his stentorian dialogue delivery adds to the gravitas the role demands. The smouldering Dilip Kumar as Salim and beguiling Madhubala as Anarkali lend him able support.
Apart from its epic sweep, Mughal-E-Azam is also remarkable for its matter-of-fact treatment of religion. Akbar is known to have been the most religiously tolerant Islamic emperor of India. His wife Jodha was a Hindu who continued to practise Hinduism even after her marriage. His trusted chief of armed forces Maan Singh was also a Hindu. The film notes such examples of tolerance but without belabouring the point - and it's all the more effective for it. This unselfconscious display of religious harmony is especially welcome today in a subcontinent that is riven with disturbances between its different communities.
Credits
Director

K. Asif

Producer

K. Asif

Screenplay

K. Asif
Aman

Dialogue

Aman
Kamal Amrohi
Ehsan Rizvi
Vajahat Mirza

Director of Photography

R.D. Mathur

Editor

Dharamvir

Art Director

M.K. Syed

Music

Naushad

Lyrics

Shakeel Badayuni