Our Friends From Turin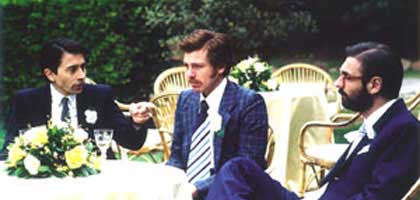 The Best of Youth , a six-hour television drama of historical sweep about Italy's '68 generation, succeeds as a film release where most new Italian cinema fails. David Forgacs assesses its qualities.
The Best of Youth (La meglio gioventù) follows the story of an Italian family from 1966 to 2003 and fits loosely into a tradition of family sagas that includes Edgar Reitz's Heimat films and, in Italy, Luchino Visconti's Rocco and His Brothers (1960) and Gianni Amelio's Così ridevano (1998). Produced by RAI-TV, it was originally intended for broadcast but was not transmitted until last December, in four 90-minute instalments. In the meantime it had been released theatrically after winning the Un Certain Regard section at Cannes in 2003. In Italy and France, where it has the more nostalgic title Nos meilleures années, it was shown in two simultaneously released parts, which is also the strategy of Miramax in the US and Buena Vista in the UK.
The project dates back to 1999, before RAI became a fiefdom of Silvio Berlusconi's right-wing coalition. Director Marco Tullio Giordana, whose anti-establishment views are well known, has said that RAI management became so absorbed in jockeying for politically affiliated posts that they left him alone and imposed no constraints. Born in Milan in 1950, Giordana has been making features since 1980 with recent credits that include two dramatisations of real events of the 1970s. Pasolini, an Italian Crime (1995) showed how evidence that the film-maker's killer Giuseppe Pelosi did not act alone was covered up by the courts, allegedly to fend off suspicions of secret-service complicity. The Hundred Steps (2000) chronicled the events leading up to the 1978 murder of Sicilian anti-Mafia activist Peppino Impastato. Both are angry films, denouncing of the arrogance of power and the intertwining of state and criminal activity.
The Best of Youth (the title comes from a military song used by Pasolini for a collection of his poems) also tells the stories of characters who are broadly on the left, but its tone is more wistful and its narrative rhythm more languorous. What initially attracted Giordana to Sandro Petraglia and Stefano Rulli's script was the challenge of telling a story "at a different pace, that of the novel rather than the short story". The film is about the generation born shortly after World War II, who became politically active in the student movements around 1968, and has as its central characters two brothers: Matteo and Nicola Carati. Nicola, played by Luigi Lo Cascio (whose first film role was as Impastato in The Hundred Steps), graduates in medicine and becomes a psychiatrist committed to integrating patients into the community. He marries Giulia (Sonia Bergamasco) but she leaves the family home in Turin when their daughter Sara is four to pursue armed struggle with the Red Brigade. Nicola's elder sister Giovanna (Lidia Vitale) becomes a radical lawyer defending workers whose health has been damaged by negligent corporate bosses and later gets involved with the anti-Mafia movement in Sicily. Matteo (Alessio Boni) shows early promise as a literature student but drops out and joins the army and then the police. In 1972 he's sent to Turin to quell a demonstration in which Nicola and Giulia are taking part and is disciplined for beating up a protestor after a friend and colleague of his is badly injured.
The story, which at this point seems to sail dangerously close to a stereotypical tale of two brothers fighting on opposite sides, is in fact a lot less schematic than this summary suggests. Matteo, the elder brother, is an enigmatic character, brittle and sullen, unable to fulfil the expectations placed on him by his schoolteacher mother and small-businessman father. As a student he forms a platonic attachment to a young woman called Giorgia (Jasmine Trinca) who is held in a psychiatric institution where he does voluntary work. One night he takes her away after discovering she has been given electroconvulsive therapy and tries to help her. With Nicola's assistance he returns her to her father, but he refuses to have her back and she ends up being picked up by the police and delivered to another institution. After this Matteo chooses a life in uniform, in order to displace decisions on to outside agencies, but he remains frustrated and angry and unable to form lasting sexual relationships, and ends up killing himself. Nicola, by contrast, is spurred by having met Giorgia into practising radical psychiatry, which becomes a channel for his anger at social injustice. Thus Nicola exemplifies those of his generation who found positive outlets for their political and personal discontents in socially beneficial action while his wife and brother resort to the negative paths of terrorism and suicide. Yet Nicola too is tormented by his decisions. He allows Giulia to leave rather than stopping her, and later, anxious that she might kill or be killed, has her arrested. He also feels responsible for not having anticipated or prevented Matteo's suicide.
But if the film avoids the trap of a straightforward good brother/bad brother narrative, it does not manage to escape a slide, particularly in the second half, into a sentimentalism that blunts the political edge of its chronicle of a generation adapting to a society that has failed to match up to their aspirations. Nicola's male friends from his student days remain in touch into their fifties, a buddy bonding that ups the feelgood factor and allows for various bits of comic business but is also somewhat gooey. Carlo (Fabrizio Gifuni), Nicola's best friend, marries his younger sister Francesca (Valentina Carnelutti) in 1980 and pursues a brilliant career as a banker. Their worker friend Vitale (Claudio Gioè), who announces at Carlo's wedding that he has been made redundant by Fiat along with 23,000 other employees, is hired by Carlo 15 years later to renovate his Tuscan farmhouse. Nicola discovers that Matteo had a brief relationship with a young woman named Mirella (Maya Sansa), who subsequently had their child, and he takes his mother, now widowed and alone, to meet them on the volcanic island of Stromboli. She is enraptured, bonds with the child, Andrea, and remains there to live out her last years in bliss. At the end of the film Sara, now about 20, reunites after some 15 years with her released terrorist mother and tells her she's pregnant and about to be married. Finally Nicola, living alone now his daughter has left, realises he is in love with Mirella, and they too marry and have their union blessed – in a particularly cheesy scene – by the dead Matteo, who appears behind them as they take a country walk and puts his arms around them, laying to rest their anxieties about betraying him posthumously.
The film also carries a mawkish sub-theme of self-discovery through contact with nature. As a student Nicola travels to Norway, aiming to reach North Cape in the Arctic Circle but never getting there. His nephew Andrea will complete the journey at the end of the film, writing to Nicola in its closing words, over a shot of the midnight sun, "Everything really is beautiful." It's as if nature is the antidote to the ills of society. The nature theme is also responsible for a series of picture-postcard shots: Stromboli and its seascapes, the Tuscan countryside, the Norwegian lakes. However, the sentimentality and the limitations of this theme are relatively unimportant in comparison with what the film does well, at a number of levels.
Like a good novel, The Best of Youth is a dense story of family relationships and of values passed from parents to children. Entrepreneurial father Angelo (Andrea Tidona) and schoolteacher mother Adriana (Adriana Asti) give their children respectively a sense of risk and an appreciation of civic obligation and culture. Matteo finds the pressures of freedom overwhelm and emotionally paralyse him but Nicola and Giovanna are able to combine these values into a positive attitude. Nicola is then in turn able to transmit both a sense of security and a desire for adventure to his daughter and allow her to lead the life she chooses. The mutual affection of brothers and sisters is visible – for instance in the scene where Nicola tells Giovanna about his guilt after Matteo's death – yet the family as an institution is not romanticised. This is a generation marked by failed marriages and separations, and there's an awful poignancy in watching Giulia suffer her self-imposed exile from her daughter, glimpsing her at a distance as she grows up. It is Giulia who tips off Francesca, who has three young children, that Carlo, now a leading figure in the Bank of Italy, is on a Red Brigade hitlist. One of the pleasures of the film is the scope it offers the viewer to watch its characters grow up and develop, and the intensity of our involvement in their separations and bereavements.
Equally successful is the narrative thread around Giorgia. Designated as schizophrenic and shut up as a teenager in a long-stay institution, she is freed by Matteo and taken by him and Nicola on a holiday-like trip doomed to end when she is recaptured. There are clear echoes here of Gianni Amelio's The Stolen Children (1992), also co-scripted by Petraglia and Rulli, and of Truffaut's Jules et Jim (1962), underpinned by the use of Georges Delerue's theme for Catherine and Jim, and the end of Les Quatre Cents Coups (1959). The scenes involving psychiatric patients (a denunciation in court, at Nicola's instigation, of a doctor who mistreats them; shots of patients tied to their beds and left to wallow in their own dirt in an institution exposed by Nicola) provide powerful social drama.
If these moments are convincing, it is partly because Petraglia and Rulli know the subject well. Their first film project was the documentary Matti da slegare (Fit To Be Untied, 1975), shot in Parma at the height of a movement inspired by radical psychiatrist Franco Basaglia to close long-stay mental hospitals and release patients into the community. Petraglia and Rulli have since been responsible for some of the best socially committed film drama in Italy since Francesco Rosi including Giordana's Pasolini film, the excellent late-1980s television series about the Mafia, La piovra (The Octopus), and a drama about immigration, Pummarò (1990).
Unsurprisingly, The Best of Youth makes telling use of the way public history intersects with the characters' private stories. History is always present as a background – shots of arrested terrorists on television, Italy's 1982 World Cup victory heard on the radio – but it breaks into the foreground when key events enter the narrative: the Florence flood of 1966; the student protests of the late 1960s and early 1970s; the threats to prominent public figures which led them to be given armed escorts; the Mafia murder of magistrate Giovanni Falcone near Palermo on 23 May 1992; the corruption scandals of the early 1990s which brought about the collapse of the old party system. This is, to be sure, a selective account and there are many omissions, notably the factory protests and the women's movement (Giulia passes from student activism to terrorism with no intermediary phases), no doubt because it does not fit into the writers' core story of bonds between men. But those events which are included are woven skilfully into the narrative to convey a strong sense of Italy's recent past.
Finally, it is worth remarking on the high quality of the acting. Adriana Asti played Gina in Bernardo Bertolucci's Before the Revolution (1964); now in her seventies, she still has a great expressive range, from her twinkling smile to her portrayal of grief at Matteo's death when she throws down his books in a rage after having clutched them to her. At the other end of the age range are Maya Sansa, who was also in Marco Bellocchio's recent film about the Red Brigades' abduction of Aldo Moro, Good Morning, Night, Jasmine Trinca, who played the daughter in Nanni Moretti's The Son's Room (2001), and Valentina Carnelutti. The core players include a group of actors in their thirties who have come up through theatre: Lo Cascio, Boni, Gifuni and Gioè all studied at drama school in Rome; Sonia Bergamasco at the Piccolo Teatro school in Milan. Giordana has said in an interview: "I like working with actors who come from the theatre. They have an awareness that work is hard, that it involves research, not being satisfied with the first solution. Almost all stage actors have a Spartan attitude which allows me to get on more easily with them."