Through a glass darkly
Film of the Month: One for the Road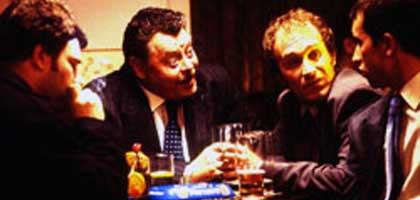 One for the Road captures its protagonists' queasy sway from bar-room camaraderie to unfocused aggression. And it's funny, says Liese Spencer.
About half way through One for the Road, Jimmy (Greg Chisholm) takes the new drinking buddies he's met on his alcohol-management course to see the business he's inherited from his late father. The object of their fevered machinations turns out to be a dark, derelict-looking warehouse. Big on the outside, empty inside, it's the perfect metaphor for their lame money-making schemes and opportunistic friendships.
Chris Cooke's first feature is about alcoholism, greed, failure, selfishness and our inability to communicate honestly with one another. It's also very funny. Callow would-be entrepreneur Jimmy, down-on-his-luck salesman Paul (Rupert Procter), stoner mini-cab driver Mark (Mark Devenport) and retired property millionaire Richard Stevens (Hywel Bennett) meet at a rehabilitation workshop for drink drivers. What follows is a darkly entertaining look at relationships driven by drink and desperation.
Described by the director as an "anti-buddy" movie, the film inhabits a similar psychological landscape of testosterone-charged competition to Neil LaBute's In the Company of Men, though Cooke's characters can only fantasise about such corporate success as LaBute's sharp egoists enjoy. Seedy and self-deluded, Cooke's men see the world through the bottom of pint glasses that reflect back not bullshitting drunks but networking businessmen. Thanks to the deflationary humour of Cooke's screenplay, you never quite believe these delta males have it in them to behave as badly as LaBute's vicious company men. Craven self-interest? Certainly. But cruelty or violence? They're all too busy drinking to bother with that. And yet...
One of the great things about this stagger through the male psyche is its unpredictability. Right from the woozily abstract opening scene, the viewer, like the protagonists, is never quite sure what's going on. More sad, more messy, more real than LaBute's clinical chamber piece, the atmosphere is a queasy cocktail of bar-room camaraderie and unfocused aggression.
Confident enough to let it unfold slowly, Cooke structures his story through a niftily edited mosaic of individual character studies and comic set-pieces such as a paintball expedition (a rare venture into the open air in a movie set mostly in the jaundiced twilight of the lounge bar). Such organised team-building exercises are contrasted with the informal bonding in the pub, where the men sit around drinking and talking about how they will make themselves rich (when Paul's not boasting to Jimmy about what a great lover he is). Shooting with two cameras, Cooke jumps between unsteady POVs and long, cold shots of the drinkers' dingy habitat - thin on punters but thick with smoke and dirty glasses. Jimmy's dad has just died, Paul's wife has thrown him out, Mark can't pay the rent and Richard is alone: the pub is their home, but without their alcoholic glow it looks a grim place.
Once revealed, the plot is convincingly banal: Jimmy and Paul set out to relieve Richard of some of his money by persuading him to buy the warehouse. What the film really concerns itself with, however, is the way the men negotiate with one another: the posturing and blustering, the sucking up and letting down. The lack of real trust is what sustains the suspense, but the tension is appropriately low key in a drama about men who have literally and figuratively lost their drive.
Shot on hand-held digital cameras and semi-improvised by a cast of professional and non-professional actors, One for the Road has the intimacy and raw charm of early Shane Meadows. But while Meadows' films had a larky amateurishness, Cooke's fractured naturalism is skilful and deliberate. Cooke may choose to shoot on tape, but he has a sophisticated filmic sensibility, as when the end of Paul's dark night of the soul is signalled by a single shaft of sunlight illuminating his face.
At times - in the workshop, for instance - the film seems in danger of falling into comedy clichés, but the imaginative writing, acting and direction sustain it. Watching Bennett - round eyes bulging out of his head and round stomach bulging out of his silk dressing-gown - wander his nouvelle mansion smoking a cigar, patting the head of a stuffed tiger and talking about his future bride's "country of origin" tells us all we need to know. Rupert Procter is outstanding as "three times salesman of the year" Paul, and his performance and Cooke's script mercilessly ply the gap between Paul's assertive front and naked desperation, keeping you laughing even as you watch him have a breakdown. ("Regroup yourself within," he coaches himself after slaughtering Richard's racehorse with a pitchfork.)
While Paul and his young protégé/ victim spout business psychobabble ("I am an asset," a swaying Jimmy tells his reflection in the toilet), Mark is too anaesthetised by beer and bongs to have much ambition at all. Asked what he'd do with a million, he tells the others he'd "buy five cars and basically start an empire" when in reality he sits in the passenger seat while his flatmate picks up the fares. A comic foil, Mark is the most likeable character and the only one not on the make, though you suspect this is down to stupidity rather than morality. Trying to communicate what he loves about the minicab business, he reminisces: "Once we picked up three absolutely stunning women. And dropped them where they wanted to go." Mark's stories are going nowhere and neither are these men. Even Jimmy's romance with sympathetic barmaid Eve (Micaiah Dring) falls flat after too many drinks, leaving him mumbling: "It's never happened before."
An entertaining shaggy-dog tale, One for the Road builds on the pleasures of incidental detail to conclude with yet another anti-climax. Like John Lennon, Cooke seems to believe that "life is what happens while you're busy making other plans" - or talking about them over a few pints down the pub.