Bollywood Ending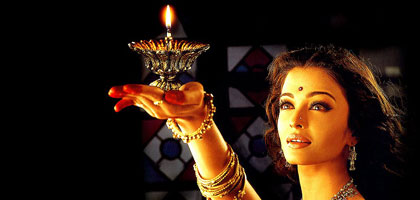 While all things Bollywood were championed across Europe last year, Hindi films made for the diasporan audience did badly at home. Will this mean the splitting of South Asian cinema into domestic and diasporan spheres, wonders J. Geetha. Plus Anupama Chopra on the importance of song and dance.
At one time most people outside the Indian subcontinent thought Indian cinema began and ended with Satyajit Ray. Not any more. Today the Hindi film industry of Bombay/Mumbai works with one eye on the foreign markets, especially that of the UK. The mix of romance and terrorism Mani Ratnam achieved in Dil Se.. (1998) made it the first Indian film to enter the British top ten; three years later family saga Kabhi Khushi Kabhie Gham... (aka K3G) rose to number-three slot, grossing over 2 million. In this short period Bollywood has become very fashionable indeed.
Last year's pan-European celebration of South Asian cultures in fact focused on a very limited range of ideas drawn from a particular kind of Indian cinema (Bharatnatyam dances and Sitar recitals seemed to have less universal appeal). The Bollywoodisation of Indian culture in the UK permeated music, dance and fashion: Selfridges in London displayed glamorous Indian costumes, nightclubs offered Bollywood songs and Bollywood cocktails, Andrew Lloyd Webber's musical Bombay Dreams, with music by A.R. Rahman, became a West End hit. But Bollywood is a very recent phenomenon it would be wrong to apply the label to popular Hindi cinema prior to the 1990s, for instance to the films of Raj Kapoor or Guru Dutt. The epithet Bollywood was coined during the 1980s when the divide between Indian art and popular cinema became more pronounced, gaining currency initially as a way of deriding the industry, then evolving into an affectionate and now a celebratory term.
But it wasn't just on the streets and in the shops that Europe exploited Bollywood's new-found popularity in 2002. Prestigious film festivals showcased Indian cinema: Locarno programmed an 'Indian Summer' including both serious works and lighter fare while Cannes premiered the latest version of the classic tale of lost love Devdas (2002). In the UK the British Film Institute's 'ImagineAsia' festival promoted Indian, Pakistani, Sri Lankan, Bangla Deshi and diasporan cinema while Channel 4's 'Indian Summer' had a mixed menu of programmes worked around the cricket test series between India and England. Cricket also featured in Lagaan (2001), which was nominated for Best Foreign Language Film Oscar.
This fervent packaging and promotion of India is in part a result of the globalisation of the financial markets. Bollywood blockbusters are now exported in large numbers of subtitled prints to the UK and US and western PR firms have taken on the publicity work for London releases. The British Film Commission encourages films to be shot in the UK and the British tourist authority has even published a Bollywood map to show starstruck tourists the UK locations of Hindi films.
But while the bfi compiled lists of South Asian movies, experts in India could barely come up with ten worthwhile films from 2002. Just as Bollywood was being celebrated in the west, the industry at home was reeling from several huge flops, making a reported loss of nearly Rs 300 crore (40 million), with only a handful of the year's 130-odd films turning a profit. It has sent the Mumbai dream merchants on a soul-searching trip to find out what went wrong. And set critics wondering why Bollywood films are such a hit abroad.
The growing popularity of Bollywood in the UK is related to the complex politics of identity within the Indian diaspora and British South Asian communities. For the NRIs (Non Resident Indians), a section of the population beginning to enjoy material well-being and status, Bollywood satisfies a nostalgia for an imagined motherland already colonised by Hindu nationalists and provides a cinematic culture that can be enjoyed without blushes of shame within the UK (unlike the picture of a more 'primitive' country found in many art films). Bollywood speaks to the aspirant and avowedly urban British Asian community that's neither shy to call itself British nor ashamed to acknowledge its Indian heritage. In fact, Asian-ness, with its self-deprecation and kitsch, has become 'kool': it can create television hits like The Kumars at No. 42 and attract large audiences for Hindi blockbusters.
Yet the kinds of films celebrated in the west are neither critically acclaimed nor very popular in India, where most NRI movies attract attention only because of their success abroad. Pardes (1997), which contrasts the lives of Indians at home with NRIs living in the US using the tagline "American Dreams, Indian Soul", is a typical example. While the idea of marrying global aspirations with age-old 'Indian' values proved initially popular, subsequent clones of the film were rejected by audiences in India as irrelevant to their lives. The Bombay film industry has always relied on formulas, and while it's propitious for one example of a formula to make it big in a niche market like the UK's, it's only repeated success that turns the wheels of the domestic industry.
For every hit like Dilwale Dulhania Le Jayenge (1995), about a London Indian's attempts to arrange his daughter's wedding against her wishes, there were many other disastrous diasporan wedding films such as Aur Pyar Ho Gaya (1997). K3G did well in India, but not films modelled on it such as Om Jai Jagdish (2001). It seems the Indian mass audience has quickly sickened of the mindless celebration of not-so-happy rich Hindu families solving their problems to become happy rich Hindu families, and critics are hopeful this signals a change in the sensibility of the domestic audience. The unexpected success of the low-budget haunted-house movie Raaz (2002) and the critical acclaim that greeted Bombay gangster movie Company (2002) are pointers in this direction. And it's not just the NRI formula that's taking a beating the patriotic The Legend of Bhagat Singh (2002) and 23 March 1931: Shaheed (2002), both about the famous freedom fighter hung by the British, were also rejected by audiences.
No wonder mainstream film-makers in the Bombay industry are debating a radical makeover. It seems sophisticated packaging can no longer attract audiences to meaningless trash. As the industry struggles to generate the advance sales of music, satellite and television rights that once covered half the production investment, film pundits have called for a back-off from big-budget films and pan-Indian hits. Some feel that writers deserve more encouragement, some are questioning the star system, others are blaming the mafia. Bollywood's ties with the criminal underworld (such as the claim that the mafia financed Devdas) have come under public scrutiny in several recent corruption trials. Many want a complete overhaul of the system and the corporatisation of the industry.
This is a double-edged proposition. India has so far been able to put up a valiant fight against Americanisation, but now multi-national film-production companies are entering the fray. Multiplexes with sanitised state-of-the-art surroundings, coke and popcorn, and astronomical ticket prices, are alienating the majority rural audience and introducing a divide between rich and poor to the once democratic arena of filmgoing. If the present 1,500-seat theatres give way to 150-seat boxes then the distinctively Indian culture of film appreciation will come to an end. Yet resistance is muted.
Bollywood isn't the only Indian film institution to have been hit by a sense of crisis. At this year's International Film Festival of India there were no international directors or critics in evidence and no great films from around the world. IFFI has traditionally provided a platform for the country's art-cinema auteurs, but this year the most high-profile movies were from mainstream Bollywood film-makers who previously spurned the festival, prompting fears that IFFI is turning into a showcase for the kind of Hindi films that are popular overseas. Adoor Gopalakrishnan, director of Nizhalkkuthu, cautioned: "IFFI should not be taken in by the commercial interests behind the popularisation of Bollywood. As a festival it should build a character of its own."
Indian cinema, then, is at a crossroads. Along with the crisis in Bollywood, the art-film sector too is moving away from its relevance to ordinary people and becoming depressingly formulaic. The way forward for many young artists could be DV; for those in the industry it could be crossover films that defy the divide between art and popular cinema. Will Bollywood soon mean something else?
Poetry in motion
At the 75th Annual Academy Awards musical Chicago won the Oscar for Best Picture and producer Martin Richards launched into his acceptance speech: "Oh God, oh my God..." Across the globe in Bollywood several hundred pairs of eyes rolled in exasperation and wonder. "What's the big deal?" asks choreographer Farah Khan, who created spectacular routines for superstar Shahrukh Khan in Dil Se... and Shakti The Power and put the groove in Andrew Lloyd Webber's Bombay Dreams. "We've been doing musicals for years."
Since 14 March 1931, to be precise. Alam Ara, the first talkie feature film in Hindi, had seven songs, and the thousands of films that followed were almost all musicals. Earlier productions sometimes included as many as 40 songs, but today the numbers have tapered down to about six or seven per film. Still, whether the movie is a romance, thriller, horror, war or family drama, at some point the characters in Hindi cinema break into song. Any Hindi film without singing is automatically classified as arthouse and considered box-office suicide.
The form comes from Indian theatre: from the high classical traditions, Urdu-Parsi theatre, folk traditions and the nautanki or street theatre. Songs are used to express emotions, advance the narrative, provide catharses and entertain. When a hit song starts, audiences dance in the aisles or shower coins at the screen; film songs are played at weddings, parties, festivals and chic nightclubs and have the force and emotive power of national anthems. They help to bring in a repeat audience and can make the difference between a hit and a flop. Stardom is inextricably linked to music, and a hit song can revive an actor's flagging career.
In fact, song and dance are a sub-industry within Bollywood, where 600 professional dancers and 110 choreographers are registered. It's estimated that Bollywood creates between three and five songs per day and the handful of leading choreographers have creative control of 300 to 400 songs between them at any given time. Not surprisingly, choreographers have become stars in their own right Farah Khan, who will do a song for Mira Nair's Vanity Fair in May, is currently directing her first film Main Hoon Na, which features Shahrukh Khan as hero and producer.
In the last decade this sub-industry has undergone seismic changes. With the arrival of satellite television in 1991 songs became essential marketing tools. There are currently some 20 television channels that feature film songs on countdown and preview shows, at least six of which are music channels dedicated solely to songs. Played endlessly on television before a film's release, songs have become, as Devdas director Sanjay Leela Bhansali puts it, "the first fragrance of the film," bringing in the key first-day audience. But the emphasis on songs has also put pressure on film-makers consistently to raise the bar.
Songs have increasingly become huge spectacles, often quite divorced from the central narrative. Director Rohan Sippy spent 40 per cent of his Rs 17 crore (2.27 million) budget on shooting six songs for his first film Kuch Na Kaho, and others have gone further. Bhansali spent Rs 15 crore of the Rs 50 crore budget for Devdas on shooting songs. The highlight of the film was Dola Re Dola, a spectacular dance number for which 80 dancers rehearsed for 15 days followed by a 12-day shoot at a total cost of Rs 1.5 crore. More recently producer Boney Kapoor spend Rs 2 crore to shoot the song Tere Bina Tere Bina for Khushi (2003). Today an average song costs 25 lakh rupees (33,000), five times more than a decade ago.
The sets have become more lavish, the costumes more extravagant, the chorus line more glamorous. Farah Khan was among the first choreographers to insist on younger, slimmer dancers, and today Bollywood songs often feature models and sometimes use foreign dancers. For Kabhi Khushi Kabhie Gham... director Karan Johar imported 50 London dancers for a nightclub song. Film-makers have also tried to provide scale through location, from the glaciers of Alaska to the pyramids of Egypt. Farah jokingly remarks that Hindi films have become another Discovery Channel.
Some believe the pursuit of spectacle has cost songs their soul, with intimacy and emotional depth sidelined in favour of size. And certainly the MTV-influenced nanosecond cuts, rapid changes in locations and jiggling body parts no longer seem to draw in audiences. "Songs are a specialised art form," says Bhansali. "You must film a song like you write a poem with grace, lyricism and rhythm." Perhaps Bollywood needs to relearn its own unique poetry.