Garlands and cobwebs:
Vincente Minnelli's ecstatic vision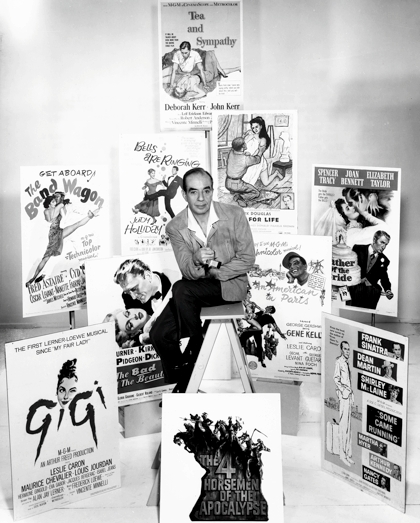 Designing man: Vincente Minnelli sets out his stall
The greatest window-dresser in the movies, MGM star director Vincente Minnelli at his best made his gilded surfaces resonate with the undercurrents of his characters' inner lives. Keith Uhlich picks out the gems from the trinkets
---
Web exclusive, 18 April 2012
---
"Why do flowers have to be for anything? Isn't it enough that they have color and form, and that they make you feel good?"
— Karen McIver (Gloria Grahame) in The Cobweb
You can spot a Vincente Minnelli movie at a glance. There's something in the hustle-bustle compositions (the way even the most peripheral extra seems placed with purpose) and how the pigments pop, searing your eyes with their Techni-Metro-Eastmancolor illustriousness. Even in black-and-white, Minnelli displays a miraculously intuitive sense for shades of grey. His first credited film, the all-black musical Cabin in the Sky (1943), seems particularly revolutionary now in the way it uses the varying skin tones and diverse talents of its cast (Ethel Waters, Eddie 'Rochester' Anderson and Lena Horne among them) to exalt and humanise rather than exclude and debase. In Minnelli movies, it's the surfaces that predominate, but what you see is not necessarily all you get.
The man himself was born Lester Anthony Minnelli on 28 February 1903 to Mina Le Beau and Vincent Charles Minnelli, who ran a traveling theatre. He performed in many of the family productions and harboured dreams of being a painter. (There are references throughout his oeuvre, whether in dialogue, décor or composition, to the artists he admired, and he considered his best work to be 1956's Vincent van Gogh biopic, Lust for Life – a film I personally find shallow and tedious.) But fate took Minnelli elsewhere: after high school he relocated to Chicago where he changed his name and was hired as a window dresser at Marshall Field's department store.
It's tempting to view this early occupation as the skeleton key to Minnelli's film career, which came about when MGM producer Arthur Freed enticed him to Hollywood in 1940. By that point, Minnelli had moved to Manhattan and built up his resume with successful stints as a set designer-costumier for Broadway and Radio City Music Hall superproductions. Yet there's something about the image of the future director as a retail hawker that illuminates. This isn't commerce in the way of blockbuster movie product-placement – such as the 1978 Superman's shameless plug for Cheerios™ in the mournful aftermath of the demise of Pa Kent (Minnelli collaborator Glenn Ford). Rather, the best of Minnelli's films are an enticement-cum-proclamation of an outlook on life (all-encompassing, occasionally transcendental) that he wishes his audiences to share like an ecstatic vision.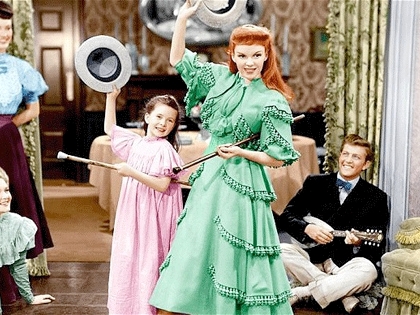 Margaret O'Brien and Judy Garland in Meet Me in St. Louis
Hollywood's muddled morals dictate that business and piety are frequently intertwined. When the critic Manny Farber reviewed Minnelli's Technicolor musical Meet Me in St. Louis (1944) he wrote in deliriously ping-pong fashion. On the one hand: "Many of these scenes are as good as any that have been made this year in fiction films." On the other: "Every second of the picture is carefully crammed with cuteness and selling points."
This is certainly an idealised portrait of small-town life – the glowing sequence in which Esther Smith (Minnelli's first wife Judy Garland) sings "Have Yourself a Merry Little Christmas" to her young sister 'Tootie' (Margaret O'Brien) can't entirely shake the sappy kitsch taint, even as it is somewhat balanced out by Garland's own ingrained neuroticism and O'Brien's teary, on-edge, near-genuinely disturbed appearance. ('Tootie' is more effectively used in the film's celebrated Halloween sequence – with its demoniacal neighbour and the youngster's shockingly matter-of-fact declaration "I am the most horrible!" – and Minnelli perfected the underage freakout in his lesser-known 1963 widower drama The Courtship of Eddie's Father in a scene where young Ron Howard scarily loses it after one of his goldfish dies.)
Scene by scene, Minnelli's films juxtapose performers of varying physical and cultural statures (viz Robert Mitchum's hilariously macho hunter Wade Hunnicutt opposite George Hamilton's slouching, namby-pamby scion Theron in 1960's Home from the Hill) and clash colour schemes to the point of inducing psychosis (the filmmaker reportedly despised making the 1955 CinemaScope adaptation of the Broadway musical Kismet, even though it is one of the whirling-dervish pinnacles of his palette). The intent is always to allure, and once you're hooked, your psyche can be shattered and the pieces rearranged accordingly. Yet when Minnelli is truly disinterested – when the elements seem lazily off or out of place – the effect is not unlike staring into a void (the moment in the 1946 noir Undercurrent when Robert Taylor violently knocks a lamp aside while terrorising Katharine Hepburn seems like an encapsulation of the destructiveness – physical and psychological – that Minnelli fears).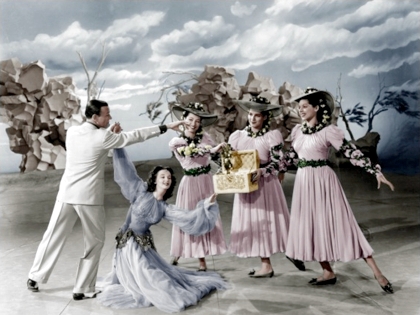 Fred Astaire and Lucille Bremer in Yolanda and the Thief
Worst in show is probably the Fred Astaire-starring musical fantasy Yolanda and the Thief (1945). The film is often celebrated for its dizzying 'Coffee Time' number in which fugitive con artist Johnny Parkson Riggs (Astaire) and naïve rich girl Yolanda (Lucille Bremer) hoof their way in 5/4 time across a vertigo-inducing floor that David Lynch might have appropriated for the Red Room in Twin Peaks. It's the kind of sequence that, resurrected for That's Entertainment anthologies or played and replayed by goggle-eyed YouTubers, inspires "they don't make 'em like they used to" encomiums. But viewed in the context of Yolanda's energy-sapping whimsy and Astaire's staggeringly apparent disinterest in both his pie-eyed leading lady and the garish production surrounding her, the emotional pull of the scene – designed and colour-coded to within an inch of its life – is nullified. The connective tissue is entirely poisonous.
Yolanda's extreme example points up the weaknesses of Minnelli's filmography. If we were to cast a very harsh light, we might come to the conclusion that he is more a director of individual scenes (of distinct and separate window displays laid end to end) than whole movies.
But nowhere else are the great moments completely overshadowed: though The Four Horsemen of the Apocalypse (1962) eventually sags under the weight of the deadly-dull French resistance adventures of Glenn Ford's Argentinian (!) playboy (Minnelli wanted Alain Delon for the role), it nonetheless contains a stunning dynasty-in-decline prologue – complete with appearances by Pestilence, War, Famine and Death atop their steeds – in which paterfamilias Julio Madariaga (Lee J. Cobb) helplessly observes as his household is divided by Nazism.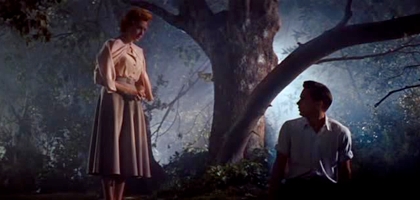 Deborah Kerr and John Kerr in Tea and Sympathy
Minnelli's adaptation of Gustave Flaubert's Madame Bovary (1949) is a dutiful slog until the spectacular ballroom sequence, with its mesmerisingly mobile imagery and orgasmic 'Break the windows!' climax. (The mostly handheld opening of the Debbie Reynolds gender-switching comedy Goodbye Charlie (1964), in which the eponymous womaniser is dispatched by Walter Matthau's jealous rival, is this scene's lunatic kissing cousin.)
Compromised works like The Pirate (1948) and Tea and Sympathy (1956) meanwhile benefit tremendously from Minnelli's excessive tendencies. In the former, Judy Garland's Manuela belts her marauder-come-back-to-me show-stopper 'Mack the Black' as if teetering between rapture and hysteria, and there's a manic ballet where the traveling player Serafin (Gene Kelly) swings, climbs and twirls his way around a literally explosive red set, emanating Douglas Fairbanks-like mettle even as fireballs shoot perilously from the floor.
In Tea and Sympathy – a topical yet evasive drama about an unmanly prep schooler, Tom Robinson Lee (John Kerr), and the older woman, Laura Reynolds (Deborah Kerr), who takes him under her wing – Minnelli lets his fantasist's eye run wild whenever dealing with Tom's ambiguous sexuality. (The Robert Anderson play on which the much-diluted film is based more explicitly addresses the character's likely homosexuality.) The young man's abortive visit to a prostitute is staged like a clinical trip through hell – even a neon sign flashing in the distance comes off like a demon mocking Tom's impotence – while the penultimate sequence where Laura and Tom consummate their, ahem, queer relationship in an ethereal forest is lit, staged and performed like a brief encounter between alien species. (One long-held shot of the duo sitting before a luminously backlit tree wouldn't be out of place in Spielberg's E.T.)
Such dizzying flourishes were surely made possible by the abundant resources of Metro-Goldwyn-Mayer, where Minnelli worked, with few exceptions, for most of his career. The studio had a reputation for the gaudy and overwrought, and Minnelli turned that to his advantage whenever he could, making the vulgar and showy surfaces reflect the tumultuous inner lives of his characters.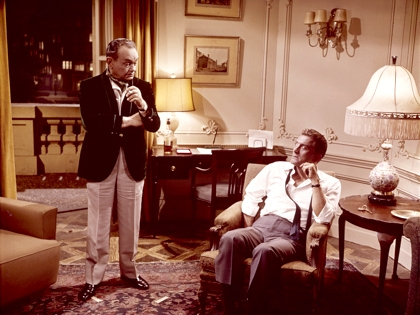 Edward G. Robinson and Kirk Douglas in Two Weeks in Another Town
Even in a slickly entertaining crowd-pleaser like 1950's Father of the Bride – practically 'perfect' in every way – Minnelli gives an edge to the most hoi polloi-pandering scenes by continuously emphasising the relentlessly physical gauntlet that beleaguered patriarch Stanley T. Banks (Spencer Tracy) is running through. Crowds of revellers nearly swallow Stanley whole on several occasions (Minnelli had a unique talent for capturing the unruly mindset of a mob), and even his dream-life is overrun with exhaustive visions (anonymous, shadowy figures; disembodied, accusatory eyes) and sensations (a tile floor that sinks under his weight like quicksand).
Father of the Bride is one of Minnelli's accepted classics; it's likely that, for many, a canonical list would also include Meet Me in St. Louis, the Gene Kelly-Leslie Caron fantasia An American in Paris (1951), the moviemaking melodrama The Bad and the Beautiful (1952) and the Oscar-sweeping Gigi (1958). Watching these films, it's near-impossible to find anything that's evidently off, and that's their limitation. Call it a Hollywood problem: a dream-factory product that works like a charm often has an oppressive sameness to it. At a certain point, you feel like there are no secrets left to uncover because every detail has been so resolutely thought-out.
A little discord is desirable, which is why I gravitate toward Minnelli films like An American in Paris's B-side The Band Wagon (1953) – which skewers the Kelly flick's faultless pomposity, especially during the spectacular 'Girl Hunt' number, even though stars Fred Astaire and Cyd Charisse have zero chemistry off the dance floor – or The Bad and the Beautiful's unofficial followup Two Weeks in Another Town (1962), which messily refracts the former film's idealisation of West Coast corruption through a boozy, existential prism. (Two off-the rail moments out of many: the protracted death of manipulative moviemaker Edward G. Robinson in a king-size, blood-red-sheet-covered bed, and the rear-projection heavy climax where Kirk Douglas at his Kirkiest goes careening down a mountain highway in a high-speed roadster while his hedonist ex-wife (Cyd Charisse, once more) shrieks like Marion Crane meeting Mother Bates's knife.)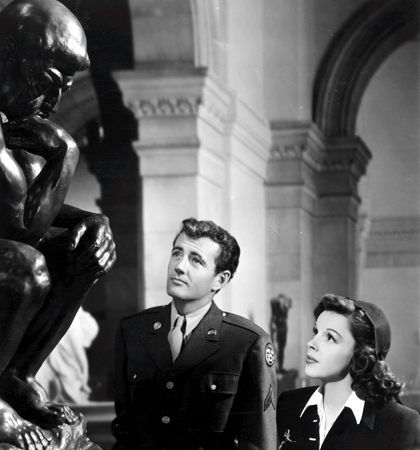 Robert Walker and Judy Garland in The Clock
But again, these are distinct scenes, separated from an often uneven whole. (Even the clearly work-for-hire I Love Lucy cash-in The Long, Long Trailer (1953) has a deftly disturbing passage – like a Hitchcock set-piece dropped willy-nilly into a cozy sitcom – where Lucille Ball and Desi Arnaz sl-o-o-o-o-o-owly wind their motor home up a treacherous mountain path.) Does Minnelli have any movies that are 'perfect' in the way of truly great art – gifts that keep on giving from viewing to viewing, that resonate far beyond their cultural moment?
To my senses, the wartime romance The Clock (1945) and the psychological melodrama The Cobweb (1955) are the heights of Minnelli's artistry. The first stars Robert Walker as Joe Allen, a military man on two-day leave in New York who fatefully meets a young woman, Alice Mayberry (Judy Garland), in Penn Station (recreated at great expense on a Hollywood soundstage) and falls hard for her.
True to its title, Minnelli and his cast make you aware of time's callous push-and-pull on the characters' every together moment. Nothing is mundane; everything is sacred. In a lesser Minnelli movie, the ravishing sequence in nighttime Central Park where Joe and Alice share an impassioned embrace as the sounds of the city build to a swoony orchestral peak might have been the isolated highlight. Here it is the culmination of the film's feel-each-second philosophy, a metaphysical juncture, a euphoric instant of universal grace that cannot possibly be sustained. The couple may subsequently go through romance-movie conventions – losing each other, reuniting, making lifelong plans – but every scene is tainted, and ineffably deepened, by the sense of paradise lost. Love is the battlefield, and The Clock is one of the wisest, warmest and affecting romantic fantasies ever made.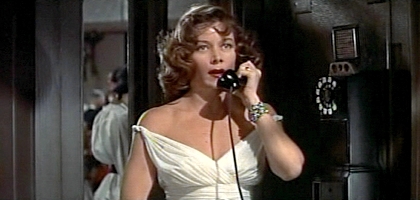 Gloria Grahame in The Cobweb
Then there's The Cobweb: an all-star cast – Richard Widmark! Lauren Bacall! Charles Boyer! Gloria Grahame! Lillian Gish! – play residents, whether employed or committed, of a psychiatric clinic where the patients and doctors are engaged in a battle of wills over a new set of drapes for the hospital common room. At last, a film about the ultimate Minnelli concerns: about the spaces, physical and psychological, that humans inhabit; about the individual elements that enhance or impair our sense of self; the problems, in short, of adornment and décor.
People are as much a decorative part of Minnelli's celluloid tapestries as the throw-pillows and swatches of fabric that frequently threaten and often do overwhelm them. Here there is perfect aesthetic harmony between the many clashing components: in the way doctors and patients are always imaginatively positioned throughout the CinemaScope frame (this is a movie that feels painted with brush and easel as opposed to photographed); in the varied acting styles, from Gish's old-pro villainy (even her character's name, Victoria Inch, is apropos to a fault) to Widmark's weary machismo and Grahame's in-my-own-world mania; and especially in the unabashed embrace of melodrama as a way to unearth harshly perceptive truths about the human condition.
"I seem to keep running into these things," observes agitated convalescent Steven Holte (John Kerr) after he's swathed in the Rorschach blot-style drapery that upsets the balance of this fragile microcosmos. It may be the most incisive moment in Vincente Minnelli's cinema: there's a sense that we're all of us, always, just one step-into-the-abyss away from insanity. A place for everything… but how to keep everything in its place?
A Vincente Minnelli retrospective runs until 31 May 2012 at BFI Southbank, London
See also
The big stealer: Nick James on Robert Mitchum (August 2005)
Minnelli's films voted for in our Greatest Films of All Time poll (September 2002)
Star maker: Gwenda Young on MGM mainstay Clarence Brown (April 2003)
How do you solve a problem like von Trier?: José Arroyo on Dancer in the Dark (September 2000)
Flamenco reviewed by José Arroyo (August 2000)