Film review: The Artist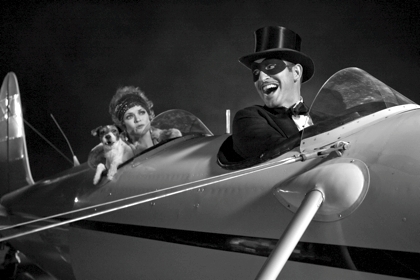 Moving on from his OSS 117 James Bond spoofs, French entertainer Michel Hazanavicius has found novelty magic in the style and lore of silent Hollywood. Tony Rayns finds resonances in unexpected places
The Artist is a whole lot better than Michel Hazanavicius's two OSS 117 movies: better gags, better performances, viable emotional arc, more sophisticated visual style. The OSS diptych was essentially an exercise in pastiche: Cairo, Nest of Spies (2006) and Lost in Rio (2009) parodied various clichés of 50s and 60s cinema respectively, guying the stupidity, racism and sexism of 'the French James Bond'. The results were pretty crass, but pleasing to a sufficiently large European audience to persuade Thomas Langmann to take on the risk of producing Hazanavicius's dream of a neo-silent movie: a real-life echo of the plot of Mel Brooks's Silent Movie. Here, Hazanavicius isn't pastiching the styles or film language of the late 1920s; he's rehashing the story of A Star Is Born – a fast-rising female star secretly becomes guardian angel to the older man she loves, whose career is on the rocks – backdating it to the transition from silents to talkies (cf. Garbo trying to save the career of John Gilbert), and doing it almost entirely without sync sound or dialogue. It's an obviously outré one-off project, but cuddly enough to be a crowd-pleaser, conquering much the same mid-market audience that fell for Jeunet's Amélie (2001). The appeal of stories about cute young women doggedly in love with 'difficult' men is clearly constant.
Hazanavicius has explained in countless interviews since the film's success in Cannes that the itch to make a neo-silent "probably" arose from his admiration for "the great mythical directors of silent cinema" (he cites amongst others Hitchcock, Lang, Ford and Lubitsch – all of whom are much better known for their talkies than their early silents) and his conviction that directorial storytelling skill and expressiveness counted for more than the writing or the performances in great silent films. (He nonetheless took his stars Jean Dujardin and Bérénice Bejo to the Cinémathèque to see Murnau's Sunrise and City Girl and Borzage's Seventh Heaven, to show them silent-movie acting techniques.) It's hard to see why all this enthusiasm and research was necessary when fidelity to the styles and tropes of the late 1920s is the least of the film's issues. Aki Kaurismäki's Juha (1999) was a neo-silent for true cinephiles: a melodrama which mirrored the evolution of silent film grammar as it went along. The Artist merely uses the generic form of silent cinema to freshen up a tragicomic love story with a happy ending.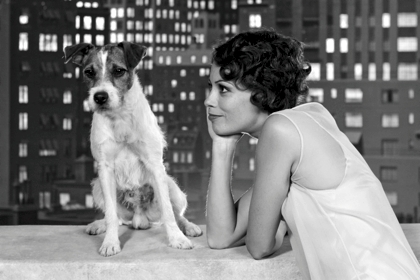 Aside from the stunts performed by a well-trained dog, the best gags in The Artist are anachronistically conceptual, as when the Douglas Fairbanks-like star George Valentin starts hearing sound effects just after he's been told that silents are dead. Dujardin's performance as George is only a small step on from his pompous secret agent Hubert in the OSS 117 films; in the kind of performance that once gave postmodernism a good name, Bejo is genuinely charming as the naive ingénue who becomes an 'it girl'. The stars' concluding tap routine (now with sync sound) provides a barnstorming finale and gives Dujardin his only two words of dialogue, spoken with an authentic Maurice Chevalier accent: "Wiz pleasure." There's an intriguing dedication at the end of the credits to the director's boyhood Arab friend Kamel Ech-Cheik, who co-scored OSS 117: Cairo, Nest of Spies, which suggests that the whole thing has a deeper personal meaning for Hazanavicius. At core, though, The Artist is at best a novelty hit, right up there with Benny Hill's single 'Ernie, the Fastest Milkman in the West'.
Michel Hazanavicius talks to James Bell in the cover feature of our January 2012 issue
See also
Rich and strange: Thirza Wakefield sees Miles Manders' restored The First Born premiere in the London Film Festival Archive Gala (October 2011)
Restoration heaven: Jonathan Rosenbaum reports from Bologna's Il Cinema Ritrovato festival (July 2011)
Silent Naruse reviewed by Brad Stevens (June 2011)
Early morning medicine: Nick James sees The Artist premiere at Cannes (May 2011)
In the magic hour: three silent classics by Josef von Sternberg reviewed by Michael Atkinson (October 2010)
The smouldering screen: Kevin Brownlow on the lustre of nitrate (July 2010)
The man who wasn't there: Michael Eaton on Hitchcock's regular silents screenwriter Eliot Stannard (December 2005)
Six degrees of Nosferatu: Thomas Elsaesser on Shadow of the Vampire and the real gestation of F.W. Murnau's Nosferatu (February 2001)