Prediction time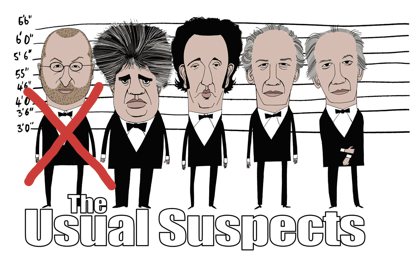 The usual suspect? Illustration by Simon Cooper for Sight & Sound
Nick James, 19 May
Here's a sure bet for Cannes: though it's not yet been kicked out, Melancholia will not win the Palme d'Or. Lars von Trier may say (as reported in a Danish newspaper) that he is proud to have been declared "persona non grata" by the festival's board after his foolish remarks about Nazis and Hitler, but it's clear that his inveterate provocations have this time gone too far. (Indeed one might infer from the severity of the response that the festival may have long grown tired of his antics.) It seems likely that von Trier, realising Melancholia had shocked no-one, was determined to be provocative at his press conference and just let his mouth run. He's right to claim, in the same newspaper, that the Vichy years have made France super-sensitive to the issue, but that's hardly an excuse. If not his own knowledge of history, then the John Galliano case alone should have made him pause before pushing the 'joke' anti-semite button.
So, to switch to more trivial matters, the ground is slightly clearer as far as the Cannes competition is concerned. At this time, given the wave of interest it's caused around the world, you'd think Terrence Malick's The Tree of Life was a shoe-in, but it's a very divisive piece and I'm not sure there's enough acting in it for Robert De Niro's actor-heavy jury.
I'd also say, regretfully, that there's little chance of Lynne Ramsay's vivid We Need to Talk About Kevin winning it – it's the usual fate of the first films out of the traps to be ignored (it seems like we saw it years ago) – though I could be wrong. Ken Loach's The Wind That Shakes the Barley won from the front, so to speak, a few years ago.
Pedro Almodóvar has never won the Palme and his thrilling The Skin That I Live In, which we saw this morning, is more than up to his usual high standard, though I have a feeling it's too knowing a melodramatic black comedy to seal the prize. The gobsmacking fact of Aki Kaurismäki having made a rollicking romantic comedy in Le Havre that might even cross over to a popular audience makes it a front runner. And the Dardennes's The Kid with a Bike is just as impeccable a job as either of the two films that have won the Palme for them before.
It is rumoured by some that the prize is almost certainly heading not for the usual suspects – Almodóvar, Kaurismäki, the Dardennes, Nanni Moretti, Nuri Bilge Ceylan, Paolo Sorrentino etc – picked out in my magazine editorial last month (a line-up from which von Trier may have to be dropped in future), but to the relative newcomer Michel Hazanavicius for the brilliant silent-era recreation romantic comedy The Artist. Harvey Weinstein is thought to sniff Oscar potential here, and he and De Niro are old friends… But there we enter the realms of unwarranted speculation, and I'm sure that propriety and taste will rule in this matter. As it happens I think The Artist would be as worthy a winner as many another. For me it's been a competition mostly about the old stagers showing their chops are still in fine working order, but Hazanavicius is a valuable addition to the line-up.
And besides we still have some treats to come. Nicholas Winding Refn's The Road screens tonight, Sorrentino's This Must Be the Place and Ceylan's Once Upon a Time in Anatolia tomorrow, and there's more to follow that sadly I will miss since I return to London Saturday morning. Bon chance to all.
Follow Nick James' tweets from Cannes @SightSoundmag
---
The Tree of Life: three anecdotes »
See also
Manderlay reviewed by Ryan Gilbey (March 2006)
Dancer in the Dark reviewed by Peter Matthews (October 2000)
How do you solve a problem like von Trier?: José Arroyo on the director's Dancer in the Dark (September 2000)
The Idiots reviewed by Hannah McGill (May 1999)