Crime and punishment in Kazakhstan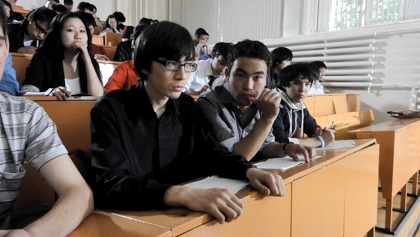 With the festival's slow start continuing, Geoff Andrew singles out a quietly resonant new riff on Dostoevsky in the festival's Un Certain Regard sidebar
---
Web exclusive, 18 May 2012
---
Film of the day
After A Prophet, you might justifiably have expected Jacques Audiard's Rust and Bone to have been the most impressive film of the second day of Cannes press screenings. But that particular redemption drama screened to a very mixed reception, and while I was certainly to be found at neither end of the critical spectrum, for me today's most satisfying movie was undoubtedly Student, by Darezhan Omirbayev.
It's more than a decade since the Kazakhstani director's The Road (also in the Un Certain Regard strand) met with a warm reception from the Cannes critics, but the new film shows he hasn't lost his capacity to combine simplicity of method with subtlety of resonance. Inspired by Dostoyevsky's Crime and Punishment, it's just as much concerned with redemption as the Audiard movie, but in its own quiet way is rather more persuasive. About an impoverished, lonely and almost catatonically shy philosophy student who commits a fatal robbery and only gradually comes to see the full error of his ways, the film is often reminiscent (in its lighting, colour schemes, low-key acting style and pacing) of Aki Kaurismäki's version of the same novel, though for the most part without the Finn's trademark deadpan humour.
Indeed, with its pared-back, taciturn, almost Bressonian directness, Student might even seem like a rather naïve take on the Dostoyevsky theme, were it not for Omirbayev using a couple of scenes of philosophy lectures and some judiciously chosen clips playing on the student's landlady's television to add depth to the theme of responsibility and ethics; how are we to regard the student's actions given the nature/nurture debate and the changes that have overtaken Kazakhstan in recent times? Such considerations are mercifully never hammered home but simply included as part of the film's overall fabric, as material for us to think about should we wish.
While it would undoubtedly be wrong to make great claims for Omirbayev's film, it certainly doesn't outlast its welcome and fulfils its admittedly modest ambitions. That's surely quite enough to be going on with, and more than could be said for Lou Ye's Mystery, the somewhat murky tale of marital infidelity and suspicious death that served as the opening film for the Un Certain Regard strand.
---
« Simple versus simple: After the Battle
The wrong earlobes: The Imposter »
See also
Within a closed world: Jacques Audiard talks to Ginette Vincendeau about A Prophet (November 2009)
Match Point reviewed by Edward Lawrenson (January 2006)
Brother reviewed by Julian Graffy (May 2000)