Opening night: Never Let Me Go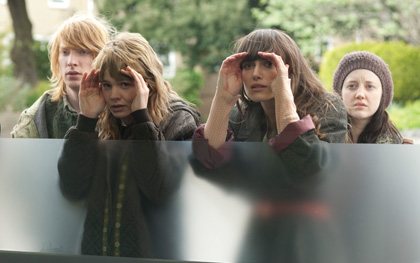 Nick James, 14 October
The morning of the festival's opening kicks off for me with a junket interview with Kazuo Ishiguro, whose novel Never Let Me Go has been adapted for the screen and is the opening night film. He's in a fine mood. The question came: can books which require you to read between the lines, like his, be made too explicit by cinema? He counters with the suggestion that actors, by saying one thing while their bodies tell you another, can enrich characters in a way that fiction can't.
Onstage at the Odeon Leicester Square that evening, Ishiguro extends the notion by hailing the young cast of the film – Carey Mulligan, Keira Knightley and Andrew Garfield – as a brilliant new generation of British actors with a style of their own. The film is unquestionably a mournful choice for opening night – it is, after all, about how brief a candle existence is – and while I was affected by it when I saw it at a press screening a week ago, this second viewing leaves me dry-eyed, and thinking that Rachel Portman's string score has to work too hard to fill in for the many scenes of wordless gazing.
The screening is delayed by the insatiable needs of the bank of photographers on the red carpet to gather thousands of near-identical shots of Carey and Keira. Thus the party at the Saatchi gallery in Chelsea is a swift affair. I talk to Joanna Hogg, director of Archipelago, congratulating her on how very funny her tortuous upper-middle-class family-holiday drama is, encouraging her to take this talent for very dry class humour further. I suggest she looks at some of Samuel Beckett's most drop-dead passages. She mentions Terence Rattigan as a recent influence but Terence Davies has got there first – he is in pre-production for Rattigan's The Deep Blue Sea, which, as it happens, will feature fast-rising star Tom Hiddleston, the lead in Archipelago.
Joanna introduces me to Hiddleston and I tease him about the "gap year yah" nature of his Archipelago role. He kills my flippancy by telling me he went to a real interview for a job working with AIDs sufferers in Africa, as his character intends to, and they surprised him by telling him that, if he took the job, he'd be allowed no contact with the outside world for three months. That detail ended up in the film.
The rest of the party is all quick meet and greet. This year's LFF, then, already feels like it's all about cramming as much as possible into your time.
---
See also
London Film Festival 2010: 30 recommendations (online, October 2010)