London Film Festival 2010:
30 recommendations
This year's London Film Festival boasts a typically mammoth 197 features – including 11 world, 23 international and 33 European premieres – plus another 112 shorts. Notwithstanding the most valiant of film-festival-trotting team efforts, we've not already managed to lay eyes on every one of these films at this moment of writing (late September). We do however believe we've seen more than you can shake a stick at. For this festival preview we sat down to tally our favourite 20, and have landed up with ten more besides.
As noted below, several of these 30 are discussed in more depth in our November issue (due on newsstands on 5 October). We're also looking forward to catching up with many of the titles we've not yet seen – and reviewing them here online when we do, along with the festival's live events. But what follows is our tip of the hat to what we can already confirm is some of the best of the fest.
The Sight & Sound Gala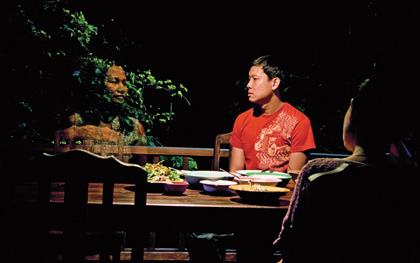 Apichatpong Weeresethakul
Thailand-UK-France-Germany-Spain 2010
With Thanapat Saisaymar, Jenjira Ponopas, Sakda Kaewbuadee, Natthakarin Aphaiwonk
We are delighted to be sponsoring Uncle Boonmee as our film of the festival. One of several of the director's projects which explore north-east Thailand, the film focuses partly on the Buddhist concept of animism, as an old man dying of kidney failure returns to the jungle and feels the spirits of his nearest and dearest draw close – including his disappeared son in the form of a monkey spirit. Its most beautiful sequence, a fairytale in which a princess is made love to by a catfish, is lit so gorgeously, in pallid near-transparent hues, that it's essential that you see it projected properly on the cinema screen.
Screening Sunday 17, Monday 18
Check this website soon for a video interview with Apichatpong Weerasethakul
Other galas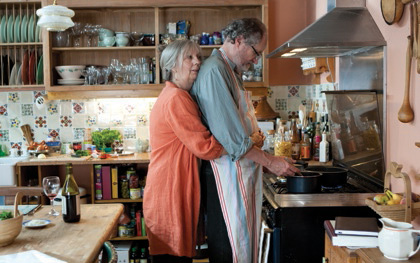 Mike Leigh
UK 2010
With Jim Broadbent, Ruth Sheen, Lesley Manville, Oliver Maltman, Peter Wight
This sombre character study views, with acute perception, an amiable, generous middle-aged couple (Broadbent and Sheen) who nurture their more damaged friends and relatives over the course of a year. After a prologue about a depressed housewife, the film proceeds with the comedy of embarrassment that Leigh mines so well – the first visit of drink-dependent, twice-divorced Mary (Manville), whose doting on the couple's son (Maltman) is indulged until it goes too far – the film shades into painful tragedy. Filmed with tremendous assurance, it's perhaps the most revealing exposure of ordinary human foibles that Leigh has yet given us.
Screening Monday 18, Wednesday 20, Thursday 21
Nick James talks to Mike Leigh and Lesley Manville in the November issue of Sight & Sound
---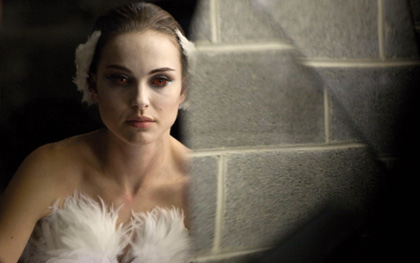 Darren Aronofsky
USA 2010
With Natalie Portman, Mila Kunis, Barbara Hershey, Vincent Cassel, Winona Ryder
Aronofsky follows the grungy realism of The Wrestler with a fabulously intense return to the psycho-drama of his earlier work. Black Swan stars Portman as a mentally fragile ballet dancer assigned to the lead of Swan Lake and driven mad by the pressure. She's not helped by the manipulations of her Svengali director (Cassel), an obsessive stage mom (Hershey) and a sexy rival (Kunis); but her worst enemy is the doppelganger making faces in the rehearsal mirror. The film is openly and richly referential: The Red Shoes meets Repulsion, with a touch of Cronenberg's The Fly, as Portman tumbles through dimly-lit interiors, picking constantly at her body, consumed by the struggle to find the dark swan in her performance. Yet it also displays Aronofsky's own distinctively febrile orchestration of music and image, reaching a thrillingly choreographed climax as the ballet takes to the stage.
Screening Friday 22, Sunday 24, Monday 25
---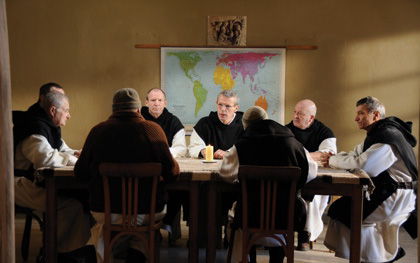 Xavier Beauvois
France 2010
With Lambert Wilson, Michael Lonsdale, Olivier Rabourdin
An empathetic and exalting portrait of a small brotherhood of Cistercian monks living in the monastery of Tibrihine, Algeria, in harmony with the local Muslim community. Their eventual fate as martyrs of the 1990s terrorist war is a given, especially after they refuse to allow the mujahidin to borrow their aged medical man (played with twinkling precision by Michael Lonsdale). A tour-de-force of ensemble acting, the film concentrates on debates among the monks about the wisdom of flight or fortitude, charting their growing courage through tiny details of ritual. If it doesn't completely escape a whiff of Catholic mythologising, Of Gods and Men is none the less an accomplished, sensitive moral drama.
Screening Saturday 16, Sunday 17
---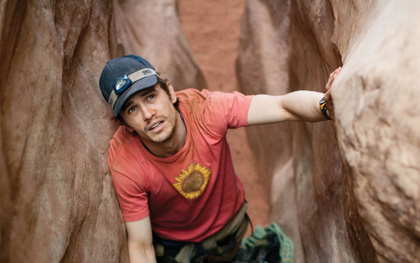 Danny Boyle
USA-UK 2010
With James Franco, Clémence Poésy, Amber Tamblyn, Kate Mara
How to follow a freak hit like Slumdog Millionaire? Boyle opts for more of the different: an extreme sports movie centred on paralysis. Franco is Aron Ralston, a cavalier outdoorsman who takes a fall and finds himself pinioned between a rock and a hard place, trapped in a remote crevice with next to no chance of rescue and just a few mils of water. Boyle covers his plight from every imaginable angle, in the bold, sensational, subjective style he brought to Trainspotting. Exhilarating, intense and harrowing – not necessarily in that order.
Screening Thursday 28
Film on the Square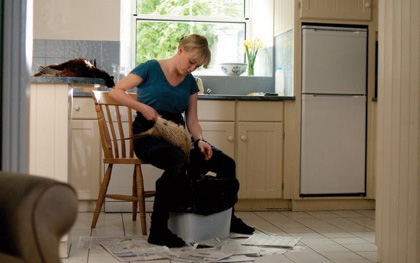 Joanna Hogg
UK 2010
With Tom Hiddleston, Kate Fahy, Lydia Leonard, Amy Lloyd, Christopher Bake
While visually, tonally and thematically related to Unrelated, Hogg's follow-up is very much its own film. While again examining the stresses within a group of people on holiday – last time Tuscany, now Tresco in the Scilly Isles – it enriches and deepens Hogg's dramatic speciality, a rigorous but empathetic attentiveness to low-level psychological ripples. The delicate social drawing is acute: Hogg has a fabulous sensitivity to silences, unstated tensions and the little flickers of aggressivity encrypted into the bourgeois language of niceness. The still camera and long takes create a sense of analytical detachment, but this is countered by a lovely looseness in the dialogue. We feel we're spying on real people with their defences down.
Screening Friday 22, Saturday 23, Tuesday 26
Jonathan Romney introduces Archipelago in the November issue of Sight & Sound
---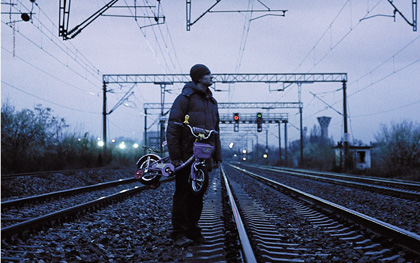 Cristi Puiu
Romania 2010
With Cristi Puiu, Clara Voda, Valeria Seciu, Luminita Gheorghiu
Director Puiu (who made The Death of Mr. Lazarescu) takes on the demanding lead role here himself. Viorel is a seemingly gentle, dreamily distracted bear of a man disengaged from his life in the aftermath of a marital breakup. When he takes delivery of two new firing pins for his hunting rifle, his intentions remain unclear, as are the full nature of his relationships with the many people he meets during one seemingly typical long day, on some of whom he seems to be snooping. It's a fascinating piece of intimate observation. Even at three hours long, Aurora is a compelling near-masterpiece of contemplative quotidian cinema.
Screening Sunday 24
---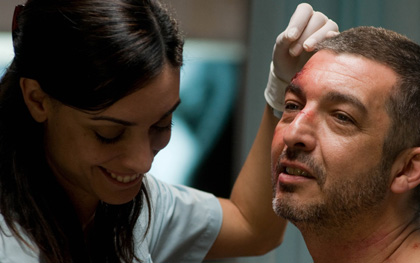 Pablo Trapero
Argentina-France-Chile-South Korea 2010
With Ricardo Darín, Martina Gusman, Carlos Weber
This portrait of Sosa (Darin), an ambulance-chasing lawyer who creates accidents for insurance purposes, and his heroin-addicted medic lover Luján (Gusman) is as prime a slice of Buenos Aires noir as one could wish for. An evocation of an urban nightmare that feels at times, with its full-on musical score, like a physical assault on the viewer, the film is as gruelingly vivid and queasily gripping as the best of Hollywood's 1940s B-movies. There is tenderness amid the toughness, but the momentum of fate does not allow our couple to enjoy their entanglement without a price.
Screening Sunday 24, Monday 25
---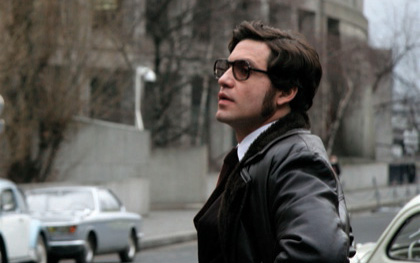 Olivier Assayas
France-Germany 2009
With Edgar Ramirez, Alexander Scheer, Nora von Waldstätten, Ahmad Kaabour
This thoroughgoing five-and-a-half-hour, made-for-television 'fiction' is a sweeping three-part portrait of Ilich Ramirez Sanchez, aka Carlos the Jackal, who was the world's most notorious terrorist in the 1970s and 80s. There are vivid, expertly choreographed scenes aplenty – the 1974 OPEC siege and plane hijacking being a particular highlight – plus a host of scorching performances, not least from Edgar Ramirez as the violent enigma that is Carlos, around whom history spins without ever changing him. If the furious pace starts to flag a little at around the same time as Carlos's mercenary career (the late 80s, four hours in), the downtime lifestyle sequences of his purdah years hint at the elegiac quality of Cimino's Heaven's Gate. In any case, Carlos wipes the politico-dramatic floor with the likes of Che, Mesrine and The Baader Meinhoff Complex.
Screening Saturday 16
David Thompson talks to Olivier Assayas in the November issue of Sight & Sound
---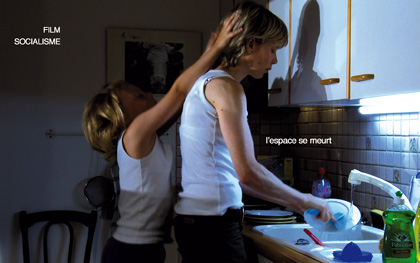 Jean-Luc Godard
Switzerland-France 2010
With Catherine Tanvier, Patti Smith, Robert Maloubier, Jean-Marc Stehlé
Godard's farewell to language, if not filmmaking, is a film of three sections. The first, set aboard a Mediterranean cruise liner, is a babel-like hubbub of actors and real tourists spouting obscure (and often aurally obscured) aphorisms and non-sequiturs, visiting sites of Western antiquity, filming everything about them apparently without reflection. The second, set in a family home and petrol station in the south of France, would appear to recollect scenes of Godard's own childhood. The third section recapitulates the first – a Mediterranean history tour now conducted through a montage of cinematic testaments to the barbarities of the 20th century – before concluding with two words, "No comment".
Screening Friday 22
---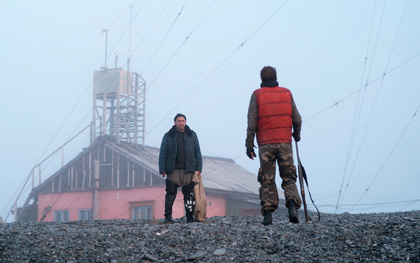 Alexei Popogrebsky
Russia 2010
With Grigory Dobrygin, Sergei Puskepalis
Set on a remote Arctic island where two men operate a weather station, this Russian drama by the co-director of Koktebel was the only film at this year's Berlin Film Festival that came anywhere near mattering as an adventure in cinema and in the concrete world. The inexperienced younger man receives serious news from the mainland and, for reasons never made explicit, omits to pass them on to his fearsome superior. Working himself ever deeper into a hole by his prolonged silence, the young man ventures out around the inhospitable island, braving bleak weather, a polar bear and finally his own madness. Shot over three months at a real Arctic weather station, the film is at once a gripping narrative, a resonant essay on human fallibility and a magnificent adventure in outward-bound filmmaking in the Flaherty/Herzog tradition of Actually Going There.
Screening Saturday 23, Tuesday 25
---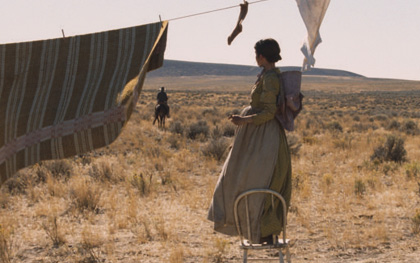 Kelly Reichardt
USA 2010
With Michelle Williams, Paul Dano, Will Patton, Shirley Henderson, Zoe Kazan
This delicate, old-time western is as much an attempt at Bush-era allegory as it is concerned with 19th-century pioneer life. Three families in three wagons put their trust in the experienced but hidebound scout Stephen Meek (Bruce Greenwood, unrecognisable beneath a ZZ Top beard) to get them across the Cascade mountains in Oregon. Tensions between the scout and the tight community, led by Solomon (Patton) and Emily (Williams) Tetherow, are exacerbated when the water starts to run out and they capture a lone native (Rod Rondeaux). Meek's instinct is to kill him, but Emily won't have it, especially as she's sure that Meek has lost his way, and that the native may be their only salvation. The film resembles an extended John Ford western with the last reel missing, and if Reichardt doesn't necessarily give us more insight into the lives of pioneer women than the old master, Meek's Cutoff is a beautifully made film of quiet endurance, with the condensed focus of a miniature and a hypersensitivity to the slightest change in emotional temperature.
Screening Monday 18, Tuesday 19
---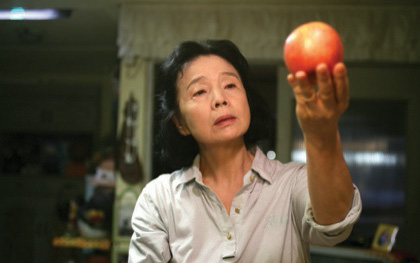 Lee Changdong
South Korea 2010
With Yun Junghee, David Lee, Kim Hira, An Haesong, Kim Yongbaek
Three more or less simultaneous events rupture the settled life of Mija, an elderly woman bringing up her grandson: she joins a poetry class, she's diagnosed as having early signs of Alzheimer's disease, and her grandson is one of five boys accused of regularly raping a girl classmate who recently committed suicide. As played by Yun Jung-hee, one of the biggest stars of Korean cinema in the 1960s and 70s, Mija is the kind of woman who's careful of her appearance, even as she does occasional work cleaning and looking after a disabled local retired businessman. With nothing to go on but her charm, she strives to help the fathers of the other boys pay off the girl's family. She finds some relief in her poetry class, though that too torments her with a sense of her own inadequacy – yet the few lines she composes are rather deft. One poignant scene involving a poet-cop maintaining a street badminton game while on unpleasant official business typifies Chang-dong's oblique approach in this wonderful film that may be too subtle for its own commercial good.
Screening Thursday 21, Friday 22
---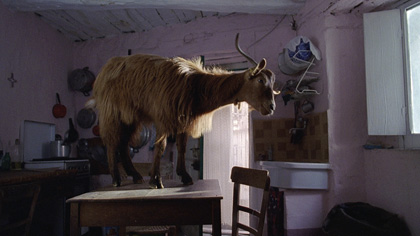 Michelangelo Frammartino
Italy-Germany-Switzerland 2010
This is one of the more genuinely offbeat films of the festival. Like Frammartino's excellent debut The Gift (2003), this second feature boasts the slightest of storylines, no dialogue, meticulous compositions and a lyrical but often comic vision of a rather old-fashioned, ritualistic way of life in a Calabrian village that involves goatherds and charcoal-burners. It also resembles its predecessor in its concern with timeless cycles of life and death, but what most people will likely remember about this delightful small gem is the unforgettably expressive performances of the non-human members of the cast; not so much the ants and snails, perhaps, but a very resourceful dog and a good hundred or so goats.
Screening Sunday 17, Tuesday 19
---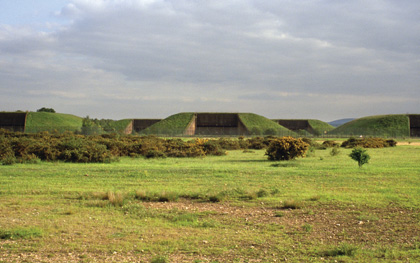 Patrick Keiller
UK 2010
With the voice of Vanessa Redgrave
Keiller's long-awaited sequel to his two 1990s investigations of post-industrial British capitalism London and Robinson in Space continues his project of exposing the intense politicisation of our landscape. The new film reverberates with the trauma of the 2008 financial crisis – and shares with Chris Petit's Content the tentative sense that a historical sequence which began in 1979 ended in 2008; Robinson walks through the "ruins" of a neo-liberal culture that has not yet accepted its own demise. It's also marked by the emergence of a radical Green perspective which finds extinction looming everywhere, beginning with Robinson's own disappearance – and with Paul Scofield having died in 2008, the narration is now handled by Redgrave, playing the head of a group seeking to reconstruct Robinson's thinking from notes and films recovered from the caravan where he was last known to live.
Screening Tuesday 19, Thursday 21
Mark Fisher essays Robinson in Ruins in the November issue of Sight & Sound
---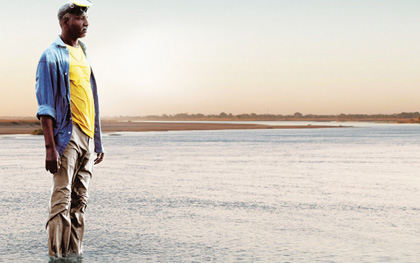 Mahamat-Saleh Haroun
France-Belgium-Chad 2010
With Youssouf Djaoro, Diouc Koma, Emile Abossolo M'Bo
A father and son, Adam and Abdel, work happily together as pool attendants in a N'Djamena tourist hotel, but Adam (Djaoro) is humiliated when new Chinese owners sideline him as the car park gatekeeper. Meanwhile government officials demand money from Adam to keep Abdel (Koma) out of the Chad army, which is fighting a deadly conflict with armed rebels. Alive to the pride, beauty, cruelty and tragedy of the individual struggle for survival in this gorgeous but hard-living and threatened environment, Haroun's images evoke a melancholy poetry, making A Screaming Man an intriguing African counterpart to Clair Denis's recent White Material.
Screening Wednesday 20, Friday 22
---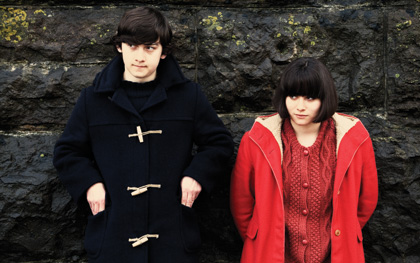 Richard Ayoade
UK 2010
With Craig Roberts, Yasmin Paige, Sally Hawkins, Noah Taylor, Paddy Considine
A Welsh Rushmore, if you will, Submarine is adapted from Joe Dunthorne's cult 2008 comic novel of the same name, and marks the feature-directing (and writing) debut of comic Ayoade (The IT Crowd, Man to Man with Dean Learner). It's narrated by 15-year-old Oliver Tate (Roberts), a precocious but often deluded diarist, who means to save his parents' marriage and lose his virginity to Jordana (Paige), probably in that order. Hardly virgin territory, but the film is fresh and alive, full of keen touches, and always able to access Dunthorne's more sombre emotional subtext: an adolescent's view of middle-aged depression, marital discord, illness and the ins and outs of school dating etiquette.
Tom Charity interviews Richard Ayoade in the November issue of Sight & Sound
Screening Friday 22, Saturday 23, Wednesday 27
---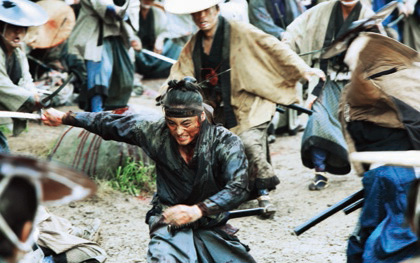 Miike Takashi
Japan 2010
With Koji Yakusho, Yusuke Iseya, Ken Mitsuishi, Ittoku Kishibe, Arata Furuta
This samurai revenge drama is a ferocious remake of an obscure Eichi Kudos film from 1963, not dissimilar in plot to Seven Samurai. Miike's uncharacteristic but satisfying traditional approach proves ideal for highlighting the absurdity of samurai bluster and shogunal hypocrisy as a government insider calls on the esteemed Shinzaemon Shimada (Koji Yakusho) and asks him to form a band of warriors to defeat the armed guard of and kill the ultra-callous and insane Lord Naritsugu (Gorô Inagaki) – whose sick attitudes give the film its edge of black humour.
Screening Saturday 23, Sunday 24
New British Cinema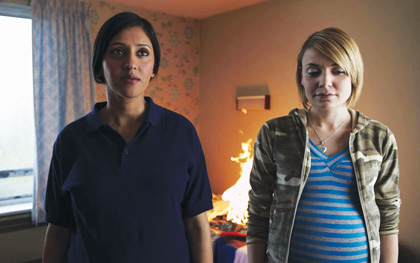 Clio Barnard
UK 2010
With Manjinder Virk, Neil Dudgeon, Monica Dolan
Using the same technique of recording real interview testimony for actors to lip-synch to that she used in her short film 'Random Acts of Intimacy', Barnard's excellent feature debut explores the line between documentary and fiction. The film's ostensible subject is Andrea Dunbar, who became a playwright when very young, but who died aged 29 in 1990. Dunbar's first play – also called The Arbor – was a big success when it was first performed at the Royal Court in 1980. On a more significant level, the film is about the cultural and emotional legacy of Dunbar's portrayal of working-class life on her street in the Buttershaw Estate in Bradford. Barnard focuses on the memories of those who knew not only Dunbar but also her troubled eldest daughter Lorraine, who also gives her own testimony of a bleak and tragic youth, and might be said to be the film's real subject. It's a fascinating and heart-rending experience.
Screening Friday 15, Monday 18
Nick James talks to Clio Barnard in the November issue of Sight & Sound
---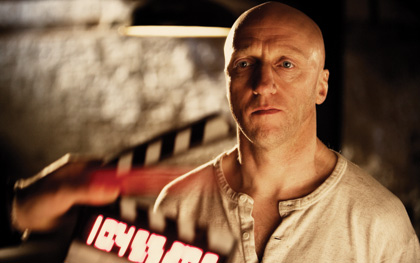 Gillian Wearing
USA-UK 2010
"Would you like to be in a film? You can play yourself or a fictional character. Call Gillian." Responding to this invitation – posed by the artist Gillian Wearing in small ads – seven individuals were chosen to engage in a rigorous programme of improvisation workshops with a tutor versed in Method acting skills. With his help, each participant set out to develop a short film shaped from their intimate experiences, in which they played the protagonist. Wearing's camera follows the emotional progress of the seven participants as they share their initial ideas – and as they unravel through the psychological trials of the improvisation process. As affecting as it is compelling, Self Made draws the viewer into patterns of identification familiar from the television makeover genre, with its narratives of redemption and emotional transformation. Indeed, like many of the videos and photographs Wearing has produced since the early 1990s, Self Made is best understood in the lineage of British TV culture.
Screening Thursday 14, Friday 15
Lucy Reynolds analyses Self Made in the November issue of Sight & Sound
French Revolutions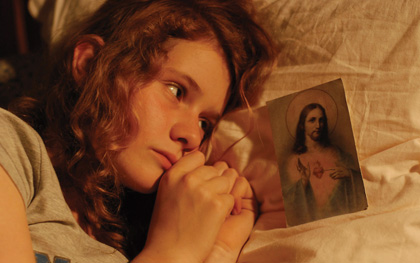 Katell Quillévéré
France 2010
With Clara Augarde, Lio, Stefano Cassetti, Michel Galabru
Films don't need to tear up the rulebook to be good. It's enough to have a great story, a great script and great actors, all in the hands of a talented director such as Quillévéré, who here makes an auspicious debut. This coming-of-age story grounds its heroine, 15-year-old Anna (Augarde), in a provincial French milieu that's both entirely believable and just a shade displaced from the here and now. With her flame-red hair, prominent crucifix and sullen-flirty manner, Anna at first looks set to be the under-age femme fatale who will snare the keen young village priest. But while the disruptive hormonal force of the adolescent girl is never underplayed, the film develops in less predictable, more perceptively humane directions. It's beautiful and unsettling, just like the song chosen to play out over the end credits – a version of Radiohead's Creep by a Belgian girls' choir.
Screening Friday 15, Sunday 17
Cinema Europa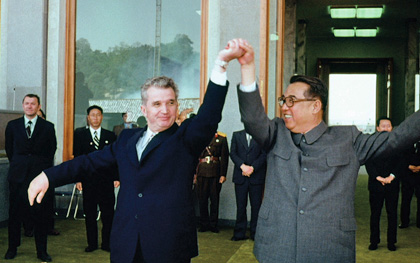 Andrei Ujica
Romania 2010
Foregoing contextualising narration or titles, Ujica's ingenious documentary presents an engrossing and beautifully wry portrait of Romania's Ceauşescu era (1965-1989) by repurposing the regime's own archive propaganda footage to very different ends than the glorification to which it was originally intended. Unlike some comparable films that have used old propaganda to play up the excesses of yore – The Atomic Café, for instance – Ujica doesn't hammer home his points or make cheap juxtapositions for comic effect; instead he allows each fascinating clip to run at considerable length. The cumulative effect nevertheless leaves us in no doubt as to the absurd – and appalling – nature of Ceauşescu's totalitarian rule.
Screening Sunday 17
---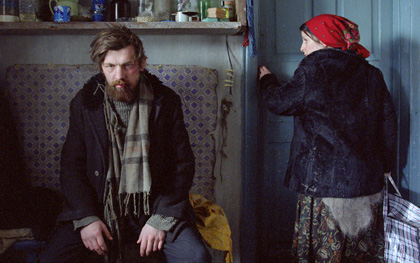 Sergei Loznitsa
Ukraine-Germany-Netherlands 2010
Viktor Nemets, Vlad Ivanov, Vladimir Golovin
While My Joy is a fiction debut, Belarus-born Loznitsa is no unknown: he's an award-winning documentarist with three full-length titles to his name. My Joy is filmed with a documentary-maker's eye – it's based on true stories – but it's also a horror story of living ghosts, a portrait of the old weird Russia in which bad luck rules and is passed on by stories, for instance, told to truck driver Georgy by a mysterious old man about his return to Russia after World War II and the chance encounter that destroyed his life. The film's constantly surprising labyrinthine structure – modelled, according to the director, on the bizarre tree-like structure of the Russian road system – and the sheer blackness of its vision make this a powerfully anti-realist film, fabulist in the tradition of Bulgakov.
Screening Sunday 24, Monday 25
---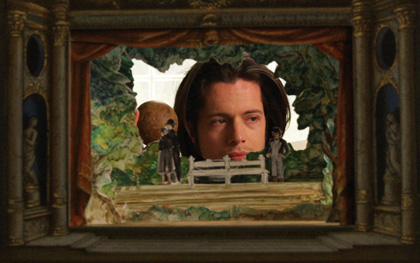 Raúl Ruiz
Portugal 2010
With Adriano Luz, Maria João Bastos, Ricardo Pereira, Clotide Hesme
A sumptuously mounted 19th-century costume drama which maps the criss-crossing trajectories of a group of characters linked to the destiny of the film's protagonist, orphan Pedro da Silva. In order to construct da Silva's story, each character is revealed Russian doll-style, their particular life stories brilliantly and almost imperceptibly bleeding into each other, and all figured in stunning compositions reminiscent of classical paintings. Not untypically, Ruiz's latest tour de force is a labyrinth of mirrors, a perfectly tuned and constantly surprising thriller of ever-shifting identities, encased in a teasing narrative which transports the viewer from Portugal to France, Italy and Brazil.
Screening Saturday 23
---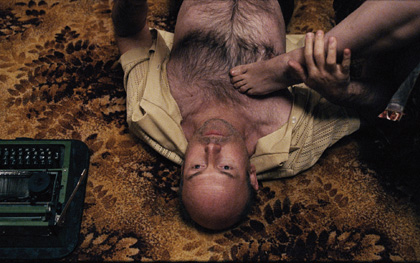 Aleksei Fedorchenko
Russia 2009
With Yuri Tsurilo, Igor Sergeyev, Yuliya Aug, Viktor Sukhorukov
This bizarre contemplative road movie about maleness and mourning, in which a widowed boss and his underling go on a road trip to cremate his dead wife, is extremely haunting in its semi-documentary feel, largely requiring its middle-aged leads (Tsurilo and Sergeyev) to simply be undemonstratively there – though the suspicion lingers that they are also poker-facedly leading us up the garden path with the matter-of-fact recounting of obscure Baltic tribal traditions. (The Russian title Ovsyanki actually means a breed of birds, translatable as 'buntings').
Screening Thursday 14, Friday 15, Sunday 17
Experimenta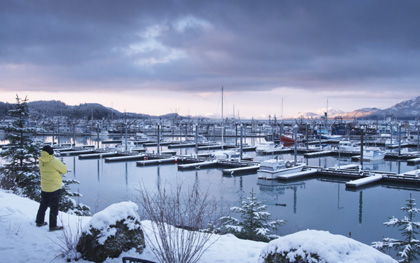 John Akomfrah
UK 2010

Akomfrah's new film elaborates the materials and ideas of his recent hit gallery film Mnemosyne, a series of tone poems and essay-drifts around the theme of migration that contrasts shots of figures in landscapes of ice and snow with private and elliptical archival footage of 1960s and 70s Birmingham – from the initial arrival of south Asian and Caribbean settlers in the city to a wave of second-generation anguish, frustration and rioting – to retell stories of post-war and postcolonial migration in the more universal terms of voyage, exploration and odyssey employed in classical and English literature. It's also an exploration of the fragility of place and memory and the disappearance industrial labour.
Screening Saturday 17, Sunday 17, Monday 18
---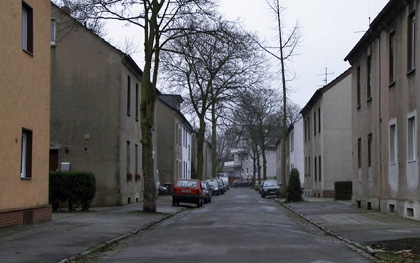 James Benning
Germany 2010
Landscape listener/seer Benning's much-anticipated first foray into HD digital video-making, and, not coincidentally, his first work shot outside the USA, selects seven shots from the German industrial region from which his parents originated. From a lay-by in a tunnel we wait for and witness passing vehicles and wind-blown rubbish; in a steel foundry we see the curious choreography of red-hot steel poles being prepared by machines, while looking at the sky through trees we're stirred by planes passing low overhead that shake the leaves to the ground; from the back of a mosque we see the bodily rituals of mass prayer; the seemingly futile and slow work of graffiti-remover has its own aesthetic; a residential street near a motorway seems lost in a Sunday slumber; and, in a last shot that lasts around an hour, a huge belching smoke-tower looks like some kind of siege engine as it goes through its cycles during a long sunset. This is minimalist film-making of the highest order.
Screening Thursday 14, Friday 15, Saturday 16
---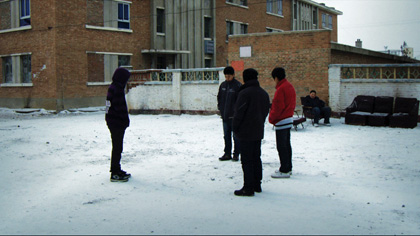 Li Hongqi
China 2010
With Bai junjie, Zhang Naqi, Bai Jinfeng
A comedy so bone dry that it makes Aki Kaurismaki seem slapstick, Li Hongqi's film observes various young characters on the last day of their 'winter vacation' from school. Its humour resides in its deadpan dialogue, delivered straight-faced against a thoroughly drab mise en scène of brick courtyards, characterless sitting rooms and empty streets. Comedy is usually the first thing to get lost in translation, and 'slow burning' barely describes the pace of Li's film, but patience reveals a real wit at work. These are disenfranchised, fatalistic youths and behind the humour lie sharp comments on contemporary China; the final scene has them back in the classroom, responding with stony silence to the subject on the blackboard: 'How to be a useful person'.
Screening Friday 22, Saturday 23
Treasures from the Archives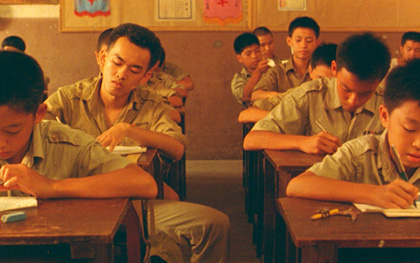 Edward Yang
Taiwan 1991
With Zhang Zhen, Lisa Yang, Zhang Guozhu, Elaine Jin, Wang Juan
This restored four-hour masterpiece from the late director of A One and a Two… (Yi Yi) is a similarly rich, dense, novelistic tapestry, though here the focus is less on a cross-section of family than a swathe of lost youth. It's the early 1960s; Taiwan is still awkwardly establishing its independence in exile from mainland China, while US pop culture sings its siren call. Rites of passage for Yang's generation of schoolboys include romantic courtship and dreaming of the stars (the title references an Elvis Presley song sung by one of the protagonist's friends, a young pop wannabe), but mostly the waging of epic gang warfare between natives and mainland immigrants, a mode of tribal bonding and escapism which brings down the attentions of the martial authorities. The film features some 100 amateur actors; it takes a while to get the measure of all the film's relationships, but the cumulative impact is both revelatory and heart-breaking.
Screening Sunday 24
---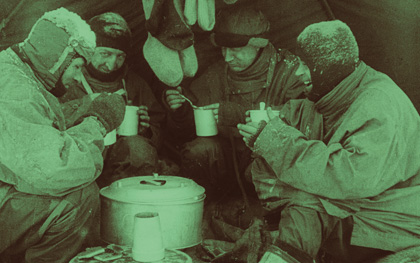 Herbert Ponting
UK 1924
Captain Robert Falcon Scott's decision to include a cameraman in his South Pole expedition team was a remarkable one for its time, and it's thanks to his vision – and to Ponting's superb eye – that we have this astonishing documentary feature record of his tragic quest, now restored by the National Film Archive as the centrepiece of the centenary reappraisal of the trek. Ponting captures the journey to Antarctica aboard the Terra Nova, life in camp, the indigenous wildlife – seals, killer whales and (of course) penguins – the landscapes and ice formations. Most remarkably, though, it records the men themselves happily preparing for the journey to the Pole, demonstrating how they will cook and eat and sleep in their tent on their three-month walk through the frozen wastes. Ponting left the expedition, taking his precious films with him, just after the men started their long trek to the Pole; the news two years later of the death of Scott and his party elevated the film from reportage into the documentation of a legend.
Screening Wednesday 20
Bryony Dixon writes about The Great White Silence and its restoration in the November issue of Sight & Sound
---
Sight & Sound will be reviewing more films and events in the London Film Festival as we see them. Check this website for regular updates!
See also
Tropical rocket: Tony Rayns on Apichatpong Weerasethakul's Primitive installation at Liverpool's inaugural AND festival (online, October 2009)
The best online videos of 2009 headed by Weerasethakul's Phantoms of Nabua (online, January 2010)
Pi reviewed by Mark Sinker (January 1999)
The Fountain reviewed by Michael Atkinson (March 2007)
Mumbai rising: Danny Boyle tells Alkarim Jivani about filming Slumdog Millionaire (February 2009)
The Beach reviewed by Xan Brooks (March 2000)
Vera Drake reviewed by Ryan Gilbey (January 2005)
The Death of Mr. Lazarescu reviewed by Michael Brooke (August 2006)
Born and Bred reviewed by Maria Delgado (September 2007)
Power games: Olivier Assayas interviewed by David Thompson (May 2004)
Late August, Early September reviewed by Chris Darke (September 1999)
I, A Man Of The Image: Jean-Luc Godard interviewed by Michael Witt (June 2005)
Éloge de l'amour reviewed by Keith Reader (November 2001)
Daratt reviewed by Roy Armes (August 2007)
Eastern promise: Nick Roddick on the Romanian New Wave (October 2007)
Mexico rising: Raúl Ruiz interviewed by Nick James (January 2006)
Family photos: Sukhdev Sandhu on John Akomfrah's Mnemosyne (January 2010)
Smoke gets in your eyes: Nick James sees Ruhr at the Rotterdam Film Festival (online, January 2010)
Emotional engineering: Nick James analyses A One and a Two… (April 2001)
'Underground', overground: Nick Bradshaw and James Bell on the 2009 London Film Festival's transport-themed archive screenings (online, October 2009)
Game for a century: Jonathan Romney interviews centennarian Manoel de Oliveira (December 2008)