Welcome guests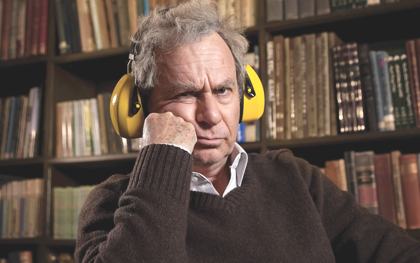 Geoff Andrew, 23 October
In terms of sheer fun, one of the most rewarding things about being involved in one way or another with the London Film Festival is always the opportunity it affords to meet up with filmmakers coming to the city from around the world. This year is no exception.
First up, flying in from Istanbul, there were Nuri Bilge Ceylan and Zeynep Özbatur, respectively writer-director and producer of Once Upon a Time in Anatolia, without doubt one of the monumental achievements of the cinematic year. Nick James has already written about the movie in rightly glowing terms and when the filmmakers and I returned for a Q&A at the end of a screening, most of the audience were clearly likewise impressed; why else would they stay on for more, at 11.15 or later, after a film lasting more than two and a half hours? Happily, Ceylan and his producer were in very eloquent form, so that even when we had to wrap up the Q&A just before midnight, hands were still raised for further questions.
Likewise articulate, after arriving by train from Brussels as part of a promotional tour taking in various European and North American cities, were Jean-Pierre and Luc Dardenne, in a Q&A hosted by Nick as part of the Sight and Sound special screening of The Kid with a Bike, which back in May had shared the Grand Prix with Ceylan's film in Cannes.
Where the Turkish movie is lengthy and slow (but never for one moment less than engrossing), the Belgian one is just 87 minutes long and quite amazingly pacy, deriving its enormous energy from its often frantic 11-year-old protagonist as he searches first for an absent father and then for a stolen bike. Heartbreakingly serious, the film is nevertheless notably sunnier (both literally and metaphorically) than the Dardennes' previous work; their jocular responses in the Q&A may have surprised (and delighted) all those unfamiliar with their on-stage appearances, but the many laughs they elicited never concealed the fact that the brothers knew, in each and every scene of their film, precisely what they were doing and why.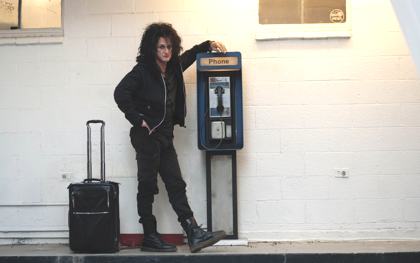 The same goes for Terence Davies, in from the wilds of Essex for a session with yours truly in which he chose and discussed a number of clips from films which had influenced him in one way or another. Of course, most of those familiar only with the great man's work may quite reasonably expect him to be a miserabilist through and through, but anyone who's had the good fortune to catch any personal appearance by the adaptor-director of The Deep Blue Sea – the Festival's closing night movie – will know Davies is a lively, engagingly irreverent and frequently hilarious interviewee. So it proved as he told the audience his various reasons for selecting excerpts from The Robe, Victim, Autumn Sonata, The Pajama Game, Merry Andrew and other titles; even this long-term Davies aficionado learned things new.
All the aforementioned filmmakers I've met a few times before, but I'm looking forward to a first encounter with Joseph Cedar, the writer-director of Footnote, a terrifically original, fresh-feeling movie that deservingly won the Best Screenplay prize in Cannes. (No mean feat when the two first prizes went to Malick, Ceylan and the Dardennes.)
I haven't seen the earlier features by the New York-born Israeli filmmaker, but was very impressed by my two viewings to date of this astute, acerbic account of the love-hate relationship between a father and son caught up in ferocious professional rivalry in Jerusalem's academic establishment. It's hard to persuade others – I know from experience – that a film about arcane Talmudic scholarship can be funny, touching and exhilaratingly inventive, but do take my word; this film has yet to find a UK distributor, and these festival screenings may be your only chance to catch a real gem which, apart from anything else, manages to find a narrative form that is at once wonderfully literary and supremely cinematic. Never has a tricky meeting in a cramped room been depicted so skilfully.
Finally, and sadly, it turns out Paolo Sorrentino won't be returning to this year's festival, but his fifth feature – This Must Be the Place – is something I highly recommend. If Italian cinema left its mark at last year's LFF with Michelangelo Frammartino's memorably unusual Le quattro volte, Sorrentino's film is this year's rich and strange equivalent. Michel Piccoli may make a particularly fine Pope for Nanni Moretti, but Sorrentino's weird and wonderful fable does have the edge.
« Rich and strange: The First Born
See also
Nuri Bilge Ceylan talks to Geoff Andrew about the origins of and ambiguities in Once Upon a Time in Anatolia (video, October 2011)
Early ups and downs: Nick James on his first week of LFF encounters (October 2011)
Three Monkeys reviewed by Jonathan Romney (March 2009)
The Son reviewed by Richard Kelly (March 2003)
Sound and the fury: David Thomson on Davies' The Long Day Closes (April 2007)
Le quattro volte reviewed by Nick Bradshaw (June 2001)
Prince of darkness: Paolo Sorrentino talks to Guido Bonsaver about Il Divo (April 2009)